Going on the belief that even the smallest cat is a masterpiece, and that I was made by a Grand Master,
Zoolatry
has made me into an artwork!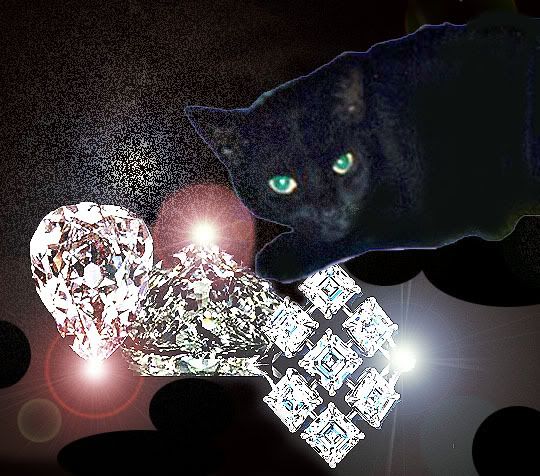 Last night I get new food - Purina Pro Plan Salmon and Rice crunch. Bean had give me Market Selects before she started pooring the new stuff into my feeder and at that point I suddenly just ignored the wet and started vacumming up the new stuff. Very good. I also get Mini-mice and feather butt mice. I almost forgive Bean for being being stupid.
But then she put Frontline in my furs and that did it. I hate that. Spent evening under bed. Best place to cat nap, they can't get at you with flashy box there.
Since she go to Pet Supermarket, she find out that the store on South Cleveland is doing vacinations on Sun., October 14 from 2:00 to 3:30 PM. Best not to go there, it will be packed. Unless you need vacine. You can find out more at www.animalhealth.cc.
I also want to mention there are two cat shows in Florida in October, both on the 20th and 21st. The CFA and
Cats Exclusive, Inc.
, is holding one in Fort Lauderdale at the War Memorial Auditorium. You can call Ray Cherrington at 904-269-5871 for more information. The auditorium is on 800 NE 8th St, and the show hours are from 9 am to 4 pm.
TICA and
Florida Sun Cats
presents a show in Green cover Springs at the Clay County Fairgrounds, 2497 State Rd. 16 West. Same hours as the other show. Call Laura Heineck at 706-374-4216 for more information.
I am not sending Bean to either. Last show she go to, she nearly come home with a kitten! I wanted toys, not brudder!
(And before anyone jump down my throat about how terrible cat shows are, go visit Cats Exclusive website and learn something. If they so terrible, I do not think no kill shelter would be sponsoring one.)