My Bean writes: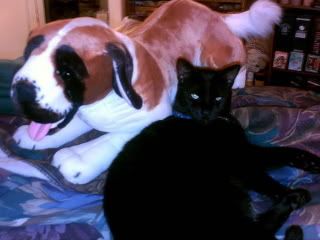 She's been in this kitty velcro mood again where she feels the need to stay attached to me. I don't mind this, except that it's taken a turn where she doesn't want to let me sleep.
Last night, I turn off the lights....get all settled in and....
::kneed::kneed::kneed::kneed::
I pet her and try to get her to knock it off so I can sleep but...
::kneed::kneed::kneed::kneed::
And she slobbers while she's doing it.
So I boot her out of the bedroom. I get up, a little while later to find her in the bathroom, laying on a towel on the floor with this mournful look on her face because I won't let her into the bedroom. Normally, being exciled from the bedroom, she'd go sleep on the sectional but no.
Oh, okay. So I let her back into the bedroom.
I give her a little kitty cuddling, turn out the lights and...
::kneed::kneed::kneed::kneed::
Dear god. Go do happy feets on plush brother or something. There is a time and a place and 2:45 AM is not the time.
I finally had to kick her out of the bedroom again.
Such a cruel human, am I.