I sorry I do not have a Floofyhead Friday today. There was some
baseball stuff
that Bean was involved in and I did not get pictures taken.
I do have the following picture though: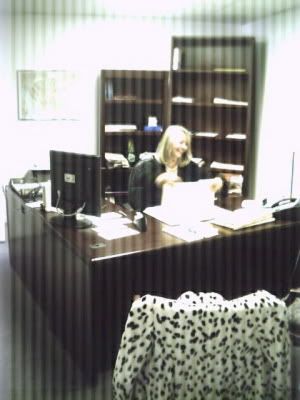 It seems that during the cold snap this week, one of the Beans were mine day hunts showed up with a faux-dalmation coat. She was immediately re-named Cruela deVille. They are trying to get her to dye half her hair black.
This picture was taken with the billion year old digital, and it needs new batteries put in it, so the quality is not very good.
We watched Howl's Moving Castle last night, which
Tybalt
recommended to us. I enjoyed it a lot and Bean was really impressed by the amount of work Disney put into the dubbing into English.
So now I'm wondering, if I get a speaking part in a moovee, who would I want to do my voice-over?
I think maybe Whoopi Goldberg. I know she hasn't done moovees in a while, but I think she would be good. What do you think?