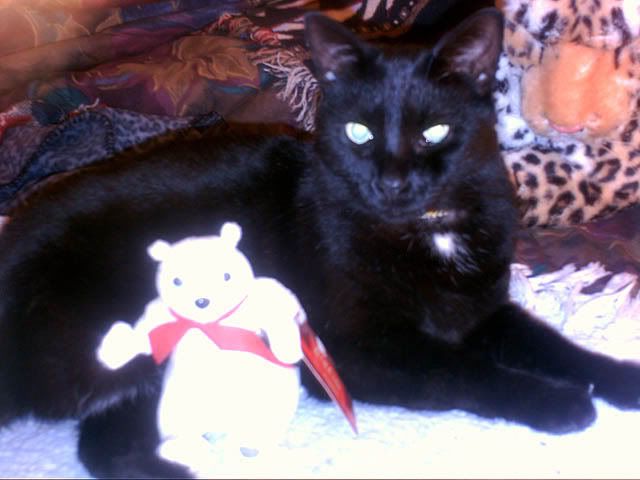 This is Coca-Cola Bear. He is
Jeter Bear's
best little friend and big brother. Even though he is smaller than Jeter Bear, he is the big brother because he is older. Bean get him in 2003 when she was still living on east coast.
She get him a 7-Eleven. He still has his tag on and I am not supposed to be play with him because he is a collectible. He's not as soft as Jeter Bear anyway, so I not really overly interested in him. However, his whiteness goes well with my black furs, don't you think?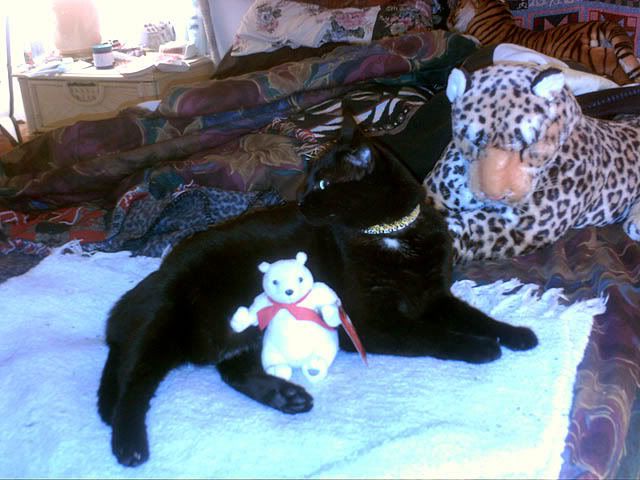 Last night we watch
Garfield - The Movie
. It was a little weird because it all real life except for Garfield, which was CGI animation. However, there were lots of cats in the moovee, so it was interesting.
It does show why I would not want a brofur or sisfur.
When Jon adopts Odie, he sort of cuts Garfield out for a while, the wrong thing to do when introducing a new animal into a household. You need make sure the ones that were there first continue to feel secure in their place. Jon fusses all over Odie instead and even takes him out on his date with Liz, leaving Garfield alone. Then to top it off he exiles Garfield from the house. How can you blame poor Garfield for the way he act after that?
I think I will stick to the plush brofurs and sisfurs like Coca-Cola Bear. They do not mind if I get all the attention in the household.
One thing I did think was funny though was in the beginning of the moovee when he was trying to wake up Jon, he gets cuddled and he's like "No Cuddling"! That is how I am. I will sit next to my Bean but I hate being cuddled! No thank you! I am not a cuddle bug!
I also liked his cannon ball to wake Jon up. Happily, my Bean is no where near as hard to wake up!
Speaking of which it is now wake up time for her, and breakfast time for me, so I will purr at you later!