This is Hibbing Husky with my treat box...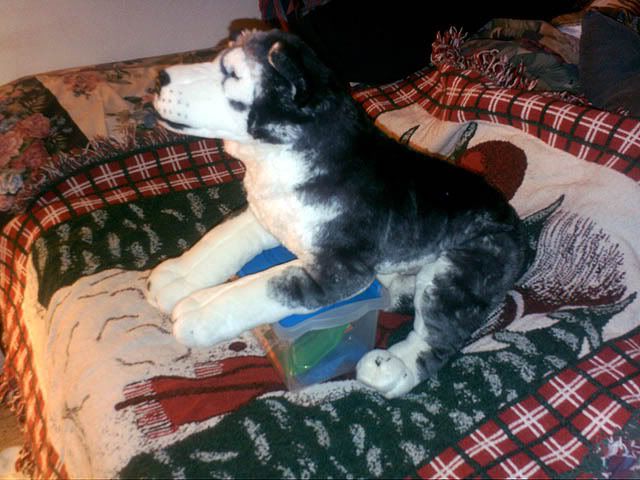 With the Cold we have been have experiencing, Hibbing has been doing duty as a draft dodger. That is, he lays down in a drafty place and stops the cold draft from coming in. He is good at this as Huskies like cold weather and he likes to lay down. But now he thinks he deserves a treat for being such a good Floofyhead.
Hibbing is named for Hibbing, Minnesota, the hometown of Eli Niphead. Bean was trying to think of a "cold" name for him, since Huskies, even floofyhead ones, like cold weather. Eli say it never unfreeze in Hibbing, which is in the
Iron Range
in Northeastern Minnesota. Bean said that she has since heard that it does unfreeze for about a month in the half in the summer, but as you can see in their website, it's a great place for winter sports.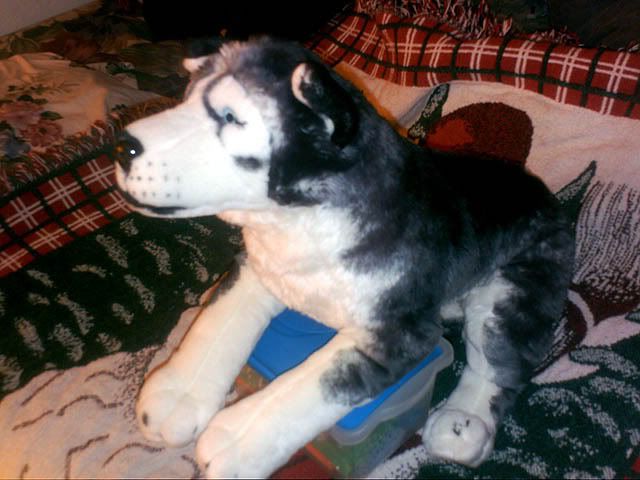 When he is not working as a draft dodger, Hibbing usually hangs out with a
pack of plush brothers
on one of my old beds that they have taken over.
He was adopted from the St. Andrews Greenwall Shelter probably just under a year ago. Bean says she was pretty sure it was after the start of Spring Training, because she almost never goes to that Greenwall, but she couldn't pick up the prints she'd ordered at her usual Greenwall because the photograph machine wasn't working. So she had to go to the St. Andrews one instead.
Furr those of you who left comments about getting space heaters, we have several although they are called Cat Heaters because they heat Cat, not space. We can usually get the bedroom pretty warm with them, but the rest of the house is too big to adequately heat that way. So when I get up in the morning, it was furry cold in the icy kitchen. Happily today was not as cold as yesterday, although Bean still bundles herself up like Nanook of the North before she heads out hunting.