Tigmut'hep has started a brand new Me-me and he wanted me to be one of his first
victims
participants.
It's nice and simple, all you need to do is tell everyone 3 things that are new with you! Link it back to
Tigmut'hep
and the purrson who gave it to you (also
Tigmut'hep
in this case) and pass it on to 3 more kitties you'd like to know more about! :)
So here goes, the 3 things that are new with me are:
1. I get Furminated on Saturday. I liked this a lot. At first I wasn't so sure, but it felt good having all the loose furs in my coat removed and I enjoyed it very much. My coat is also exceptionally soft and silky now (although it was pretty soft and silky to start with). It's also nice to get petted and/or scritched and not have a lot of extra fur flying around.
2. My new nickname seems to be "shortstuff". I do not know wny. I am and have always been a ruler, about 12 inches tall. I have not gotten any taller or shorter. I wonder how she would like being called "furless giant"?
3. I try a bagel. I did not actually eat the bagel, but I lick the butter and salt off of it. It was pretty good.
So now I get to tag three kitties for this me-me. So I tag
Jeter Harris
because I'd like to know what he is doing to get ready for baseball season;
Mickey the Black Cat
;
and
Mr. Hendrix the Kitty
.
Mr. Hendrix has also given me a
You make my Day Award
.
I also get this award from Gretchen before her Mom get so very sick. I hope her Mom will start to feeling better soon. I have already gived this award to four kitties (none of whom acknowledged it unless I pull their tail). Kind of like Tigmut'hep ignore the
Thinking Blogger Award
I give him before, but notice when
Bonny Underfoot and Victor Tabbycat
and
HRH Yao-Lin
give him one.
Purrrrhaps I should stop blogging in invisible ink, or writing such long blog entries that no one reads down to the bottom of them.
However, I would like to pass this award on to Dave at
Cat's Eye
. I read his blog every day and really enjoy it.
Just to note for Mr. Hendrix and Parker and anyone else who's resides in O Hi O: I hope your Beans never get sick and must go to hospital there. It seems my Bean's sister not only leave the hospital with some stomach crud that everyone seems to get - even my Bean's mother get it when she go in for surgery last summer - but she also leave with Pneumonia. I guess it's a "nice to have you, come again soon" kind of present. (My Bean says "and of course, having Pneumonia, does she stick a patch on and stop smoking? Noooooo!')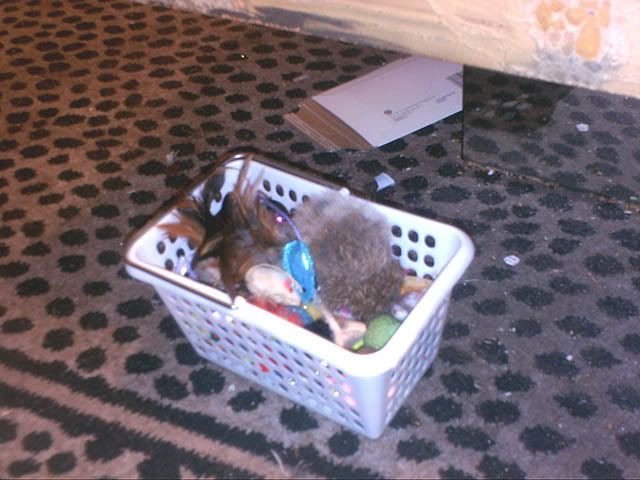 Now that it is Tattle Tail Tuesday, I must do my tattle:
Dear Bean, I was checking out my toysbox the other day and noticed that the rug seriously needs to be sucked. Please see to this immediately. Thank you.