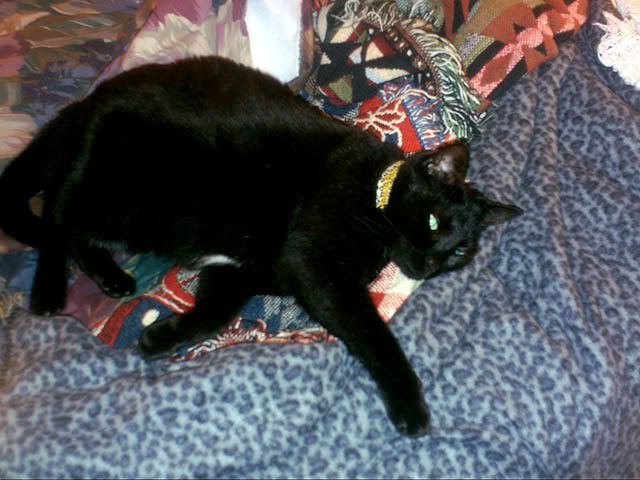 Easy like Sunday Morning
The Mosaic clan ask about Bean's sister. He go home from the hospital on Thursday, almost 2 weeks after she go in. She was supposed to leave on Wednesday, but had another seizure, fall down and hit her head and have to have stitches.
Bean's mother say she still not right, but Bean says she has always been "off". Just a matter of how far from normal you want to get. To date, she has been behaving herself at home and there is no drinking. Her S.O., George, is dishing out her medications so that she can't over medicate herself.
(It should be noted that George drinks this alcohol from time to time as well, and they were both off being roaring drunks at the time this whole episode started.)
Sadly, however, her husky Sky had to be helped to the bridge on Saturday. Sky have this epilepsy his entire life, but his health had deteriorated badly over the last year. Saturday he was so bad he could not lift his head anymore, nor get up to go outside to relieve himself.
A lady vet came to the house to help him to the bridge. Then they bury him the back yard.
They had found Sky many years ago as a 6-month old puppy wandering around their neighborhood. They checked all over, since was a valuable dog, but could not find an owner or anyone who claimed him. So he end up living with them. After his first seizure, they decided that someone who have him did not want the responsibility of taking care of a sick dog, and so they dump him.
Sky was over 10 years old now, probably around 12 or 13. He had to MCL replacement surgeries about five or six years ago, and recover from both.
Aside from Sky, they have a beagle and a big mixed dog that they recently get named Buddy. Buddy, when he come to the house, did not like Sky, who was old, and was alway intimidating him.
(Again, I am happy to be only Cat. No one to push me around.)
Hope you all have a peaceful Sunday, and I hope to hear that Annie and Maobert have come home safely.