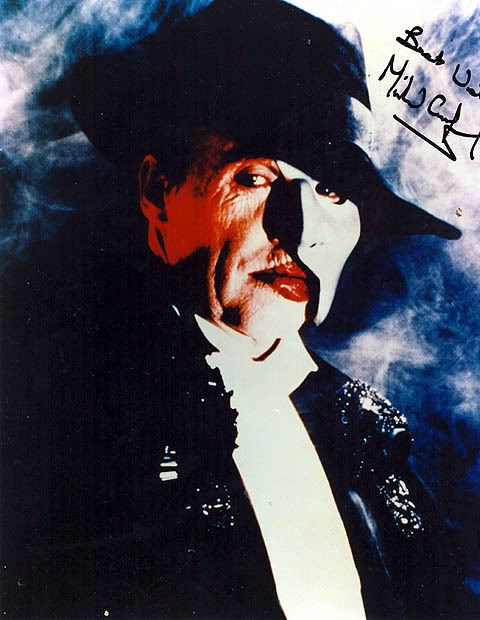 I am rather disinclined to tattle about my Bean today. For one thing, we watch
Phantom of the Opera
on DVD last night. It's gotten a bit on the chilly side, so while she was laying on the couch, I lay on top of her and we watch DVD together.
Humans are very warm. Their bodies give off enough heat in 30 minutes to bring half a gallon of water to a boil. So I was very happy, laying on her, being warm, getting petted and watching the DVD which had some very nice music. In fact, she say I look so contented it was pity she did not have a camera close by so she could get the expression of bliss on my face.
Anyway, Bean has seen
Phantom of the Opera
live several times and she likes Michael Crawford better as the Phantom then Gerald Butler. Crawford was originally cast to be the Phantom in the moovee in 1990, along with Sarah Brightman as Christine, but when Andrew Lloyd Webber divorce Brightman, the project get put on hold. The Moovee not get made until 2004, so they get new Phantom.
But she still like the film.
However, she know all the words to the soundtrack so for the rest of the evening she humm and sing to me.
You know, for a human that come from a musical background, she cannot carry a tune in a bukkit. It is painful to listen to.
So Bean, please do not try to sing anymore, kay?
On a side note, I sleep on her most of the night too. As I say, humans are very warm.
I get an award from Gretchen at
Paw Prattle!
The You Make My Day Award is presented to bloggers whose blog brings you happiness and inspiration and makes you feel happy about Blogland. The rules are to pass the award along to up to 10 Kitties.
So, I wish to pass this award on to Zed Monster at
Bad Kitty Cats
, Black Cat at
Black Cat Follies
, Tripper at
Life's a Trip
, and
PhyscoKitty
.
I would give one to Annie Mosaic but the Mosaics don't like it when I do that.