My Bean is a collector. This is just a nice way of saying she is a pack rat. Seriously. She even
admit she is packrat
.
While I believe that some of her things may be legitimate collections - like the curio cats - other things are just trash that she can't seem to bear to get rid of.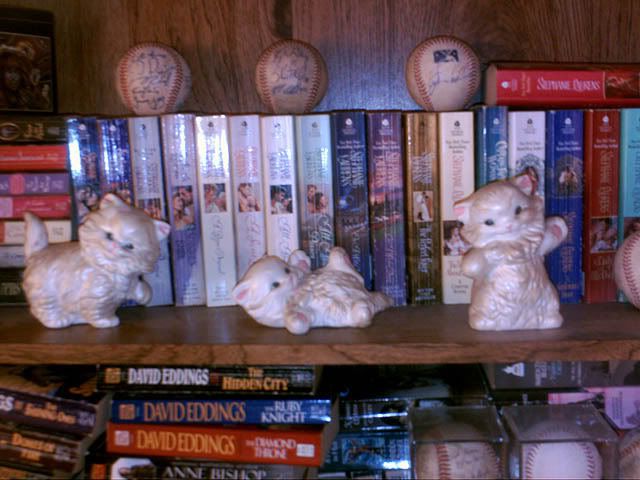 Once spring cleaning comes around, her ears grow long, her nose gets pointed and a tail pops out her back end. "No!" she wails, clutching some useless piece of garbage to her. "We may NEED this in the future!"
Oh, please.
SOME of these things might be worth something SOMEDAY down the road. Like the autographs for sports and entertainment personalities she collects. But broken bats from the worst hitters on the local teams? I know, she just want those to remember "her boys" by.
We also have collections of baseballs, hockey sticks and pucks, Miami Dolphin football things and other sports related stuff. Then there is all the books and CDs. I can
almost
even believe that her
used ticket stubs are a collection
but only because she keeps a ticket stub journal.*
But....how do you justify a collection of condiments?
I mean...what possible use could you have for rancid relish somewhere down the line?
At least she has not gone over into draconian proportions in her desire for material objects. At least, I do not think she has. But then she comes home from Blockbuster and say "Did you know they just released a new two-disc directors cut edition of Spiderman II?"
"You already have 2-disc edition of Spiderman II," I meow at her.
"But it's not a director's cut!"
See, then I worry. Because it not have pretty green cover it not as good? I mean really? I think we can live without this.
One day I must really clean the (pack)rat out of this house.
* Bean use materials she get from scrapbook shop for her ticket journal, but if you search on e-bay, you can actually find ticket journals for sale. I just thought I would mention before you ask.