You know how...like...when you are checking out something in your house - say the top of the bookcase - and something in the same area falls to the floor and you get blamed for it, even though you had nothing to do with the thing falling?
And, you how bent out of shape the humans get if that something breaks?
So, I just wonder, how come when like Underdog or Spiderman wrecks the whole city, nobody ever says anything to them?
Oh, I know, moovee not real, but it very unrealistic too.
I mean, we see him stealing - yes stealing - Italian food and a bagle in the movie, not to mention the sandwich he get when he crashes through the office building. Don't tell me doggie doesn't know he's stealing, doggies are the ones that are always barking to protect their property.
So, it's not okay that the humans steal jewelry, but it is okay if the beagle steals a bagle? From the police yet?
Then he apprehend "Cat" burglar - who happens to be human so I do not know why they call him "Cat" burglar, he not Cat - and drops him on the roof of the patrol car he just steal bagel from.
Who pays for breaking the hood of the patrol car? Maybe insurance cover it one or two times, but insurance company gonna start not insuring acts of superhero pretty fast if it keeps happening. Not to mention who the burglar who is the burglar going to sue for getting his back messed up? I'm sure the city will not be happy if he turns around and starts talking about use of excessive force when they catch him.
Maybe this is why superheros must wear costume and keep their identity hidden? So no one can sue them for property damage and injury?
Spiderman - you know - take out whole city blocks! Big chunks of concrete go falling down to the street, nearly crush the people.
Do you know the kind of trouble I'd be in if I was up on the roof and a chunk of the roof fall off to the ground? I mean, really! Peter Parker could go swinging around town without a mask and most people wouldn't know him - just look at the subway scene in Spiderman II. So why he wear a mask? It's probably so no one can send him a bill for the office building he destroy when fighting Doc Occ.
And James Bond in Casino Royal, he like totally destroy this one construction site while he chasing this guy. Okay, he get in trouble for storming the Nigerian Embassy, but no one say word to him about building? Do British Intelligent Agency play for the damage to building? I pretty sure Acts of James Bond not covered in insurance policy. He not God, for one thing.
You know in Spiderman that guy at the Daily Bugle that is always printing bad things about Spiderman? He should have newspaper on expose on property damage caused by Spiderman if he really want to write something bad.
Maybe that why we not have superheroes in real life? The cost of the crime fighting just too high for anyone to undertake?
So now you are say "Okay Diamond, what did you do that got you thinking about this?"
Nothing.
It's just that bounty hunters come back again yesterday and they park in our driveway and so Bean could not get in to park her car until they left. And they take up WHOLE driveway which you can usually fit three cars if you park close together. So she a little miffed about this.
I guess they really want this guy: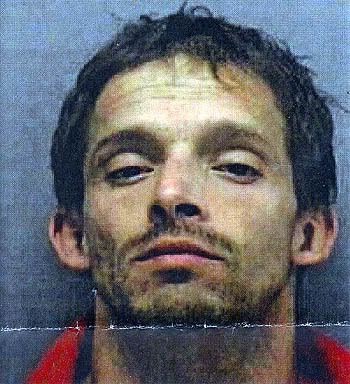 But she have same answer for them she give them before. She doesn't know and he still not look familiar. They leave flyer this time. They really want this guy I guess because he convicted felon, and beat up on Law Enforcement Officer (LEO). They offering $2,500 reward.
They decide to go check out Vincennes Court. She say that Vincennes Court have different number system then Vincennes Street but they can check it out if they want too. I think she just happy they get out of her drive way.
So, if having bounty hunters in her driveway get her upset, just think how she would be if Spiderman took out the front of her house!
MoMo
the Astro-cat has given me this Thinking Blogger Award:
Here are the rules attached to this award:
1. You must write a post with links to 5 blogs that make you think. (No fish or bird blogs, they'll just make you hungry)
2. Acknowledge this
post
so that everyone will know the origin of the award.
3. Optional: Proudly display the 'Thinking Blogger Award' with a link to the post that you wrote.
4. Go tell your humans to fork over the treats!
So, I want to give this award to
Mosaic Annie
for coming up with Tattle Tail Tuesday
Spying Cat
for keeping us guessing;
Jan and Misty at the
The Poodle (and the Dog) Blog
for all their informative posts;
Tigmut'hep
whose name alone is very thoughtful;
And Not the Moma at
Purrchance to Dream
for the great work he did on the House Panther's blog.