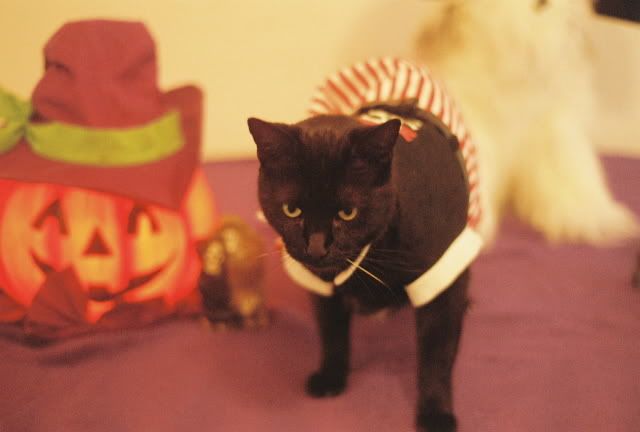 Here I am trying out for a role in the new Disney moovee: Pirates of the Caribbean - Quest for the Black Diamond
Did you ever wonder how to become a Celibri-cat? I mean, I know Chey has become a Celbri-Cat since she announce her candidency, and everyone knows Skeezix, but what if you want to work as a product spokes Cat? How about playing opposite of Toby Maguire in the next Spiderman film or purrrhaps being a Bond Girl?
There are several different agencies that provide animal actors for work on TV, moovees, and as product spokes persons. Sometimes a product will draft their own spokesfurson.
Morris for example, came from an animal shelter. He was layed back and didn't get scared when the talent scouts clapped a couple of trash can lids togther. So they take him.
If you are an average house cat however, you still might be able to active your dream of becoming a famous Celibri-Cat.
Hollywood Animals
allows yourself to register as an animal actor. You do not even have to have advanced film training, they can send an advisor to work with you if you are cast.
However, some of the behaviors that actor and actress cats do on request are as follows:
Snarl
A to B
Jump
Lie Down
Go to a mark
Run
Work together
Rub
Lie on side
Wave & swat
Candidates should know basic obedience commands (sit, down, wait, recall and stay) and have good leash manners. If you are in California, Hollywood Animals now offers a special Studio Dog Training Class, which is similar to dog acting school.
You should be able to work despite lots of distractions since all sorts of things will be going on around you while you are making a moovee. You should aslo be comfortable in crowds, with small children, with other animals, and around motor vehicles and machinery.
They suggest getting AKC Canine Good Citizen certification for dogs and/or Therapy Animal certification for Cats, Dogs and other animals.
The American Humane Association has been overlooking the use of animals in films and TV since 1940. Visit
AmericanHumane.org
to find out more about the Guidelines for the safe use of Animals in filmed media.
Remember, it may take some hard work to become a famous Celibri-Cat, but working in films and on TV can be a fun and rewarding experiencing, both for you and your humans.
Kitty Limericks
has given me a
Thinking Blogger
award.
Karen Jo writes: "I would like to pass this award on to Diamond Emerald-Eyes because her blog has so many posts about very interesting subjects that always make me think."
I have recieved this award once from Mo-mo, I am just being lazy about putting it on my sidebar. However, another one is most welcome.
I have already handed this out once, and so I will not do it again just now, but this does not mean I won't hand it out again later.