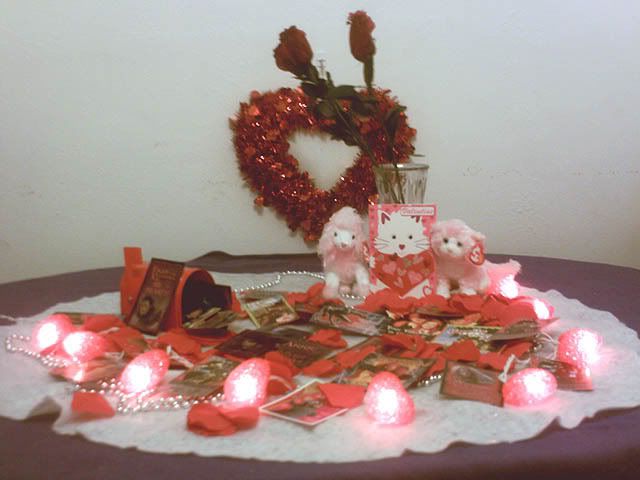 With Valentine's Day falling this Thursday, February 14th, I have a week full of love (more or less) planned for you here at my Lair.
However, today I wanted to address some things from the comment bag.
In regards to my artwork and my preferred media of Styrofoam, I do not eat the Styrofoam. I have learned that I only have limited room in my tummy, and I prefer to reserve that room for good things, like Temptations.
No, the Styrofoam does not stick to my furs. Because we do not use artificial heat in our house, I do not have a problem with static cling. I have noticed a number of cats do have this problem however. If you are having problems with static cling, have your human rub you down with a sheet of Bounce in-the-dryer fabric softener. This will defuse the static cling and there is nothing in the Bounce that is toxic to small animals, so it's okay to use on your furs.
Yes, she must use the sucky monster to get the Styrofoam off the carpet when I have finished with my projects.
Our sucky monster does not make a lot of noise however, so it doesn't really bother me to have it suck the carpet.
Gandoff and Grayson
mentioned about storing DVDs in books instead of in cabinets. My Bean does use books, mostly for her photographic CDs and some of her music CDs, but she prefers to hang onto the cases for the DVDs. She also keeps some of the music CDs in cases as well. We have a CD and DVD store in Cape Coral that buys and sells used CDs and DVDs, and if she does not have them in the original case, she can't sell them. Much like her books, she will occasionally cull her collection, taking in things she did not like so much in exchange for something she might enjoy better.
Tesla
asked about Catnip. Catnip can be used in toys or it can be used loose. It depends on how you like to enjoy your catnip. Many cats on the Blogosphere have catnip bananas or cigars that they like to play with and bunny kick. I do not like big toys like this, preferring to play with little toys, so I like to have small catnip mice. I also like to have my catnip loose because I like to roll in it and also eat it. To that extent I have a two playmats and as well as a boogie mat that I can have my catnip on.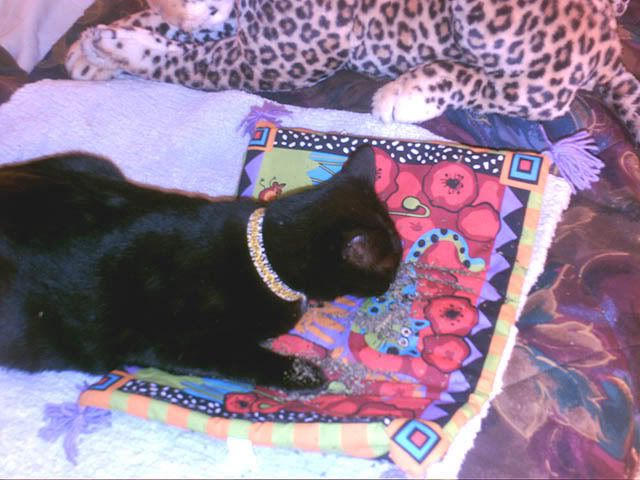 Catnip can be grown fresh and used by kitties that way, or it can be dried. You will find dried catnip available in most stores. Catnip does become stale after a while, so catnip toys will loose their potency and may be need to be either restuffed or replaced. To that end, several companies now make refillable catnip toys in which the catnip is contained in a little pouch that is secured with Velcro. After a while the catnip can be removed - sometimes it comes in what looks like a little tea bag, sometimes it just goes in loose - and replaced with ease.
I have two such refillable catnip toys...a nipmonk and a mouse.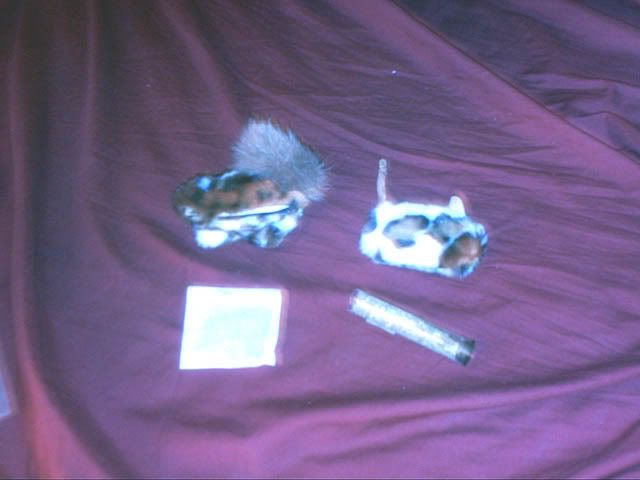 I want to thank Not the Mama for the Photoshop tips. We will by trying those out sometime soon! Stop by
House Panthers
to see what my Bean has one with Photoshop filters to date.
Finally,
The St. Louis Meezers
have given me an E for Excellence award.
This award is given to Blogger Writers of outstanding style and ability. It may be passed on up to 10 bloggers, but I believe most have already received this award.
However, I wish to pass this on to
Strayer
who writes quite a bit, mostly about her feral cats,
Bad Kitty Cats Journal
which always makes me laugh,
The Poodle and the Dog Blog
who writes many interesting things on woofies, and
I is Beethoven
a delightful newcomer to the Cat Blogosphere, who lives with the Giant Kitty.