It's nice to see
Mike
out and about again after his and Gretchen's MomBean's long illness. Hopefully this is good for his MomBean's heart too, to see Mike enjoying himself in the
Cat Realm
.
While I don't have anyone as adventurous as Mike the Mysterious here, I do have a black floofyhead. His name is Echo and he is my Mini-me: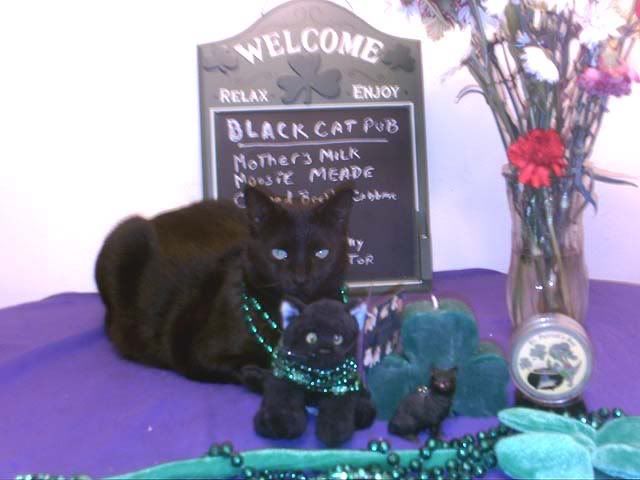 Here we are decked out for St. Patrick's Day. I think Bean still needs to get the green boa feathers she saw before to put down on the table for my St. Patrick's Day shots, and she also needs to fix and hang my Black Cat Pub sign.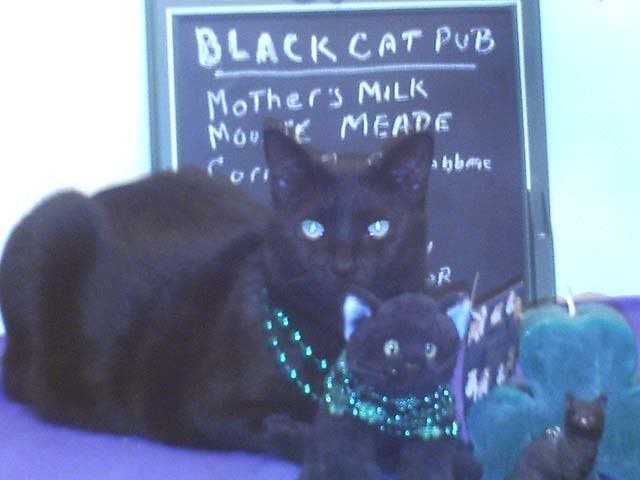 Echo has actually lived with my Bean long than I have. He was Mini-me of
Phantom
, who came before me. If you will look close in this picture, you will also she that Echo as a mini-me, that I have named Canyon. My next task, should I choose to accept it, is to find a mini-me for Canyon, but this may prove pretty hard, since Canyon is just under 2 1/2 inches tall.
As you can see, not only does my Bean like House Panthers, she like Mini-mes of House Panthers as well.
I would also like to find a Meezer Mini-me, so I can pretend it's my handsome Zed Monster and cuddle with it when he is not around. Purrhaps I can get Bean to order me one online.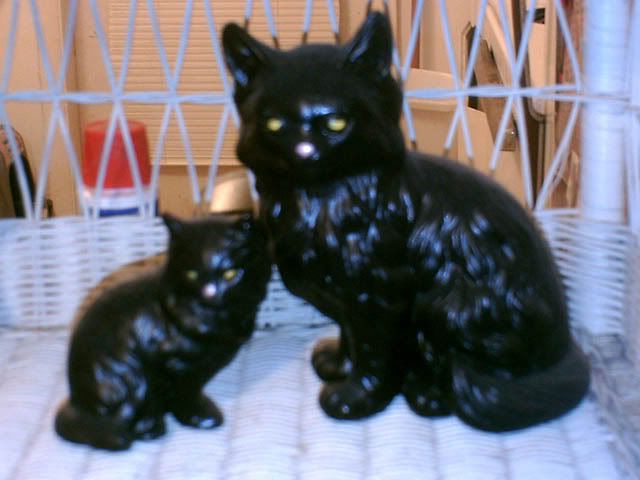 We also have a couple of Squillion mini-mes in the house, although these are mini-mes of Eclipse, the one who came before the one who came before. Bean was owned by Eclipse when she got out of High School and still lived back in O Hi O before coming to the Sunshine State.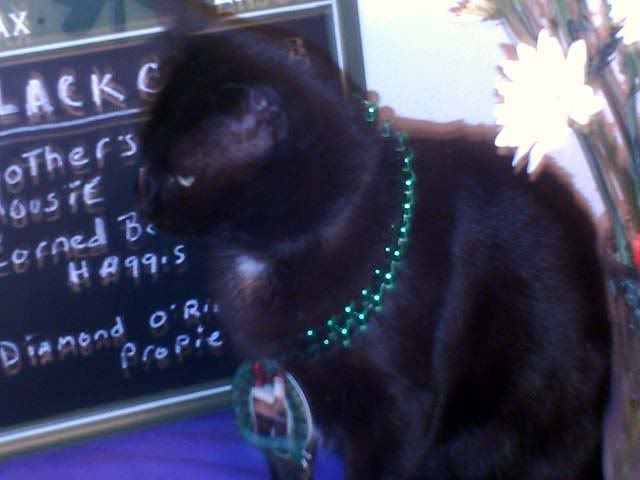 Bean was also trying to get a picture of me wearing the "Mother's Milk" flashy, but while I was more than happy to co-operating with taking pictures, I refused to stand "just so" with the flashy banging around into my chest. Besides must make it difficult for the human, can't let her think she's got me trained or something.
One hopes she is going to take the time tonight to put together my new header for the opening of the Black Cat Pub tomorrow. I know she's been stressed out by Day Hunting and especially by a pair of harpies she's been wanting to kill, but that's really no excuse to ignore my graphics work...is it?