It has been little while since I last do Floofyhead Friday, but I figured with the week of love and romance, I must introduce you to the most romantic floofyhead in the house.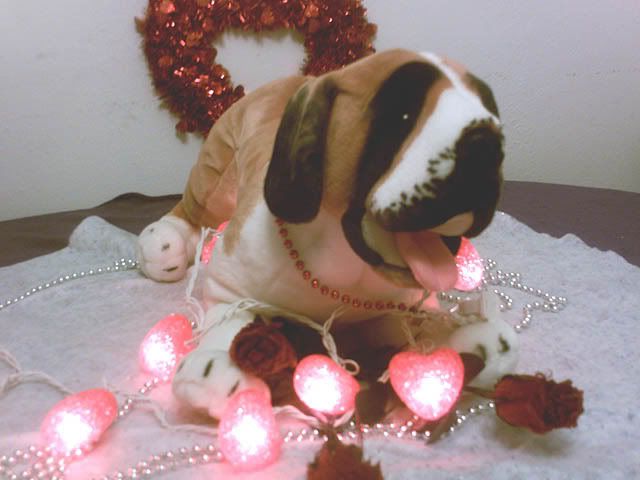 This is St. Valentine of the Snows. He is a real Saint...a Saint Bernard that is, and as such is enjoying the cold weather we've been having the past couple of days.
He is good floofy head and much like his brother, Hibbing the Husky, works in the house as a draft dodger. He does a very good job keeping the cold weather outside, where it belong.
He is also very popular when the tail grabbers come to visit because he has a very floofy tail (not that you can see it in these pictures) and is also very cuddly and huggable, although the tail grabbers say he is "huggaly".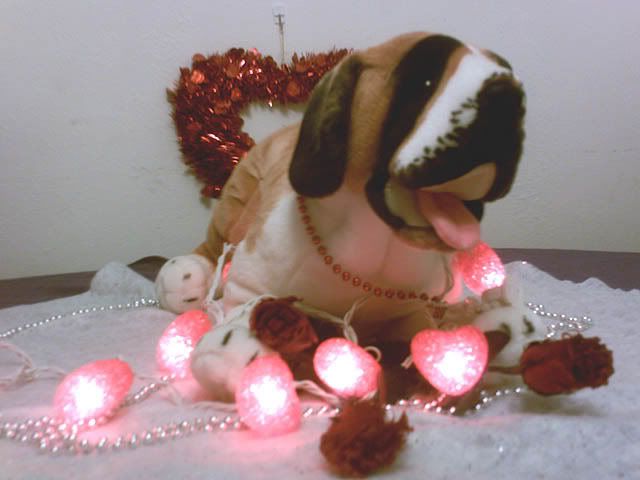 St. Valentine was one of the floofyheads that was rewarded last summer by being taken to a baseball game for Dog Daze of Summer. Sadly, the game he was at get cut short when it rained, but unlike many of the other woofies there, he did not mind the thunderstorm and was very well behaved while he was hanging out on the concourse waiting for the rain to end.
Otherwise Bean said Dog Daze sort of turned into a Mike Vick promotion, which was obviously not what was intended.
She introduce St. Valentine to the people at the A.K.C. table as a "Toy St. Bernard", because he is not as big as the St. Bernard breed of dog usually gets. They can stand as tall as 27 1/2 inches at the shoulder, while St. Valentine is only a little bit taller than I am.
I have never heard our St. Valentine bark, but given how broad his chest is, I imagine that when he bark it can be heard all the way to the Wall around the World.
St. Valentine is named for a character, and a place, in Marion Zimmer Bradley's Darkover series of novels. MZB is one of my Bean's favorite writers, one of the first females to use a strong feminine protagonist in her stories. As a result she had a very hard time getting published originally. She was one of the founders for the the Society of Creative Anachronism, and is credited for naming the group. She has also been responsible for a large number of women who have started writing novels of their own in the fantasy genre, having run both a Magazine to help aspiring young writers, as well as first publishing some of today's most successful writers in her Sword and Sorceress anthology series.
The name was chosen, largely because Saint Bernards are cold weather dogs and Bean wanted something to reflect that fact. Beside he is also a Saint doubly over now.
He was adopted last year from the Greenwall Shelter on St. Valentine's Day, which also factored into his name.
I want to thank all of northern friends who have been posting pictures of the weather they are having outside of their homes. You have inspired with me all that snow and cold.
The past couple of days I have woken up in the morning thinking I suddenly moved to Canada, but knowing that all of you are also suffering through the cold has made it easier to bear.
I have also taken for you - or had the human take actually - a picture of the weather we are having here so that you can see what I am suffering through.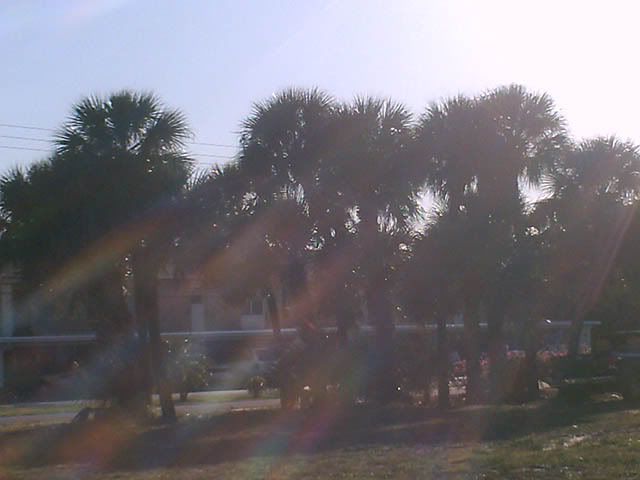 Looks terrible, does it not?
Finally, my Bean was digging through her collection of beads last night, and finded some nice antique rose beads. I have put these on and taken a picture for my beloved mancat Zed Monster: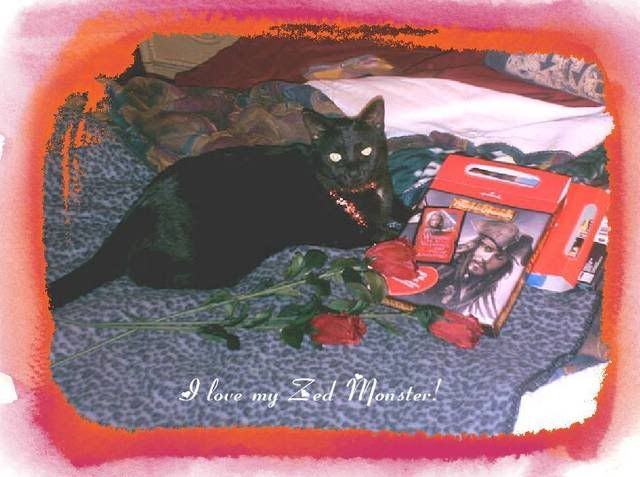 You can, of course, click on the picture to bigify it, so that you can see the beads better.
I do have to say that one of the things I really love about Zed Monster is that he is not one to write poetry. Although I must say he did an especially lovely job on the poem that he wrote for me on Bad Kitty Cats Journal.
After reading Tripper's poem to Parker, reading poetry is not something I wish to spend a lot of time doing. Not that there was anything wrong with that poem mind you. It's just that it's going to be really tough to top it!
Just a reminder that Merlin and the Snotfaced teen will he holding Bad Kitty Cats Festival of Chaos this weekend at Bad Kitty Cats Journal. Need I say the optional theme is Valentine's?
Since Not the Mama has been showing off the collages made for him by his friend Janna at Jannagraphics, perhaps I will fire up our collage making software and make a Valentine's day collage of Zed Monster and myself. It just seems appropriate!