Honeysuckles are arching shrubs or twining vines in the family Caprifoliaceae, native to the Northern Hemisphere. There are about 180 species of honeysuckle, with by far the greatest diversity in China, where over 100 species occur; by comparison, Europe and North America have only about 20 native species each.
The leaves are opposite, simple oval, and from 1–10 cm long; most are deciduous but some are evergreen. Many of the species have sweetly-scented, bell-shaped flowers that produce a sweet, edible nectar. The fruit is a red, blue or black berry containing several seeds; in most species the berries are mildly poisonous, but a few (notably
Lonicera caerulea
) have edible berries.
Much like Catnip, the scent of honeysuckle
wood
is mildly intoxicating to Felines.
Kitty Kottage
, in Edmonton, is one of the makers of a like of honeysuckle toys and sprays that you might enjoy.
Only the berries of the kind of honeysuckle used in the toys are reported as being mildly toxic to humans. The shrubs are harvested in the spring or the fall when there are no leaves or berries present. Only the wood of the shrub is used in the toys. Harvesting the honeysuckle at these times makes it easier to keep the honeysuckle wood free of leaves and berries.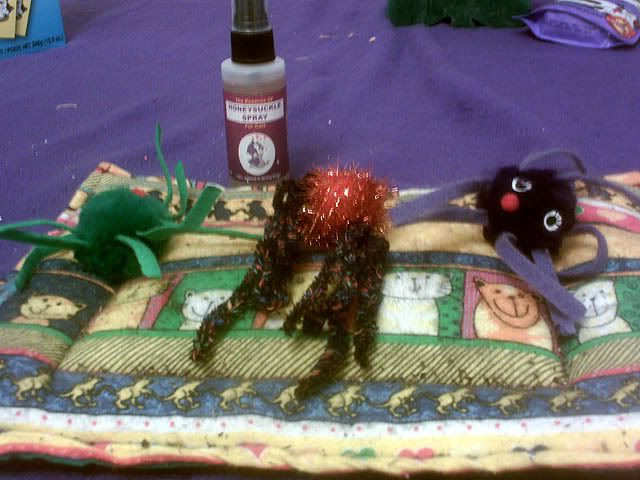 Honeysuckle toys made from the wood of the plant are 100% safe for virtually all cats. There has been one report of a mild allergic reaction in one cat to the plant, but this seems to be in singular incident in much the same way my human is allergic to certain forms of pollen.
I do not know if Cats which do not respond to Catnip will respond to Honeysuckle. This may be an interesting test if any one of you out in Blogosphere cannot use catnip, to try honeysuckle and see if enjoy it.
I get my honeysuckle - as well as my one pound bag of catnip which you see in Saturday's post - from
Catnipetc.com
. I get the Honeysuckle gift set which includes the spray, pom-poms, knots, bowties and spiders. I generally like the spider to play with better than the other toys.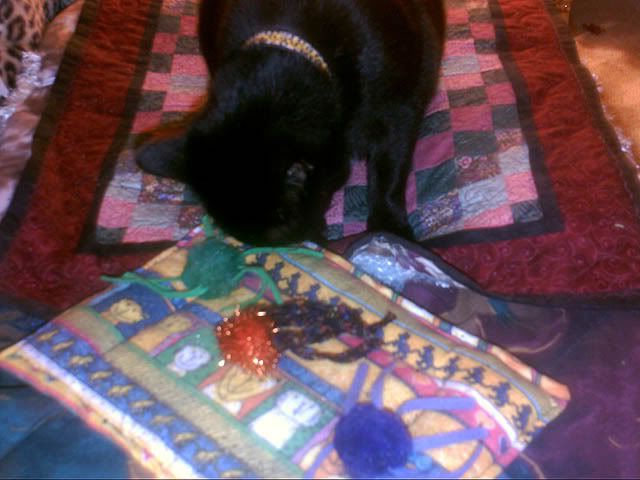 I do not like even the quiet sound the spray makes, so Bean will usually go into the other room to spray the toys before bring them into me to play with.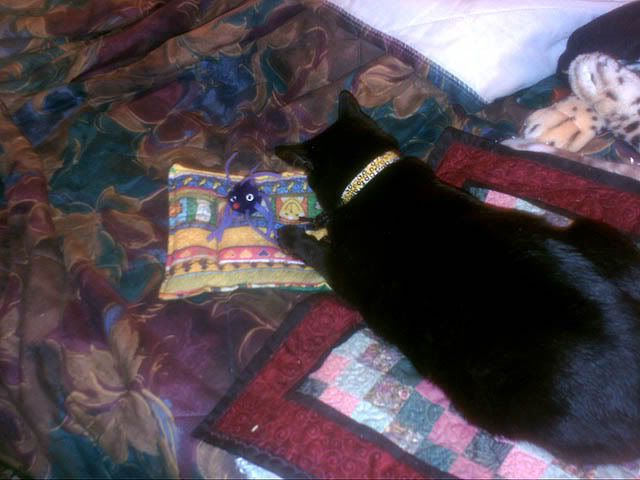 I do many of the same things when I am playing with honeysuckle that I do with catnip. This includes rolling around, cuddling the items splayed with the honeysuckle and trying to lick the spray off. I may become very aggressive during my play session.
Also like catnip, I will go into a catatonic state after I have played for about 10 minutes. I just tire myself out and need to rest for a while.
As I say, this is a nice alternative to catnip if you want to try something different. Not too many cats know about these products as they are not as widely distributed as catnip, but it is certainly worth checking into.