I was supposed to get this done on Sunday for Zed-Monster's
Bad Kitties Festival of Choas
. However, they are running a little late as well, so perhaps it all works out.
Mardi Gras (French for "Fat Tuesday") is the day before Ash Wednesday, and is also called "Shrove Tuesday" or "Pancake Day". Mardi Gras is the final day of Carnival, though the term is often used incorrectly to describe the days and weeks preceding Fat Tuesday. Carnival begins 12 days after Christmas, or Twelfth Night, on January 6 and ends on Mardi Gras, which always falls exactly 47 days before Easter. Perhaps the cities most famous for their Mardi Gras celebrations include New Orleans, Louisiana; Venice, Italy; and Rio de Janeiro, Brazil. Many other places have important Mardi Gras celebrations as well. Carnival is an important celebration in most of Europe, except in the United Kingdom where pancakes are the tradition, and also in many parts of Latin America and the Caribbean.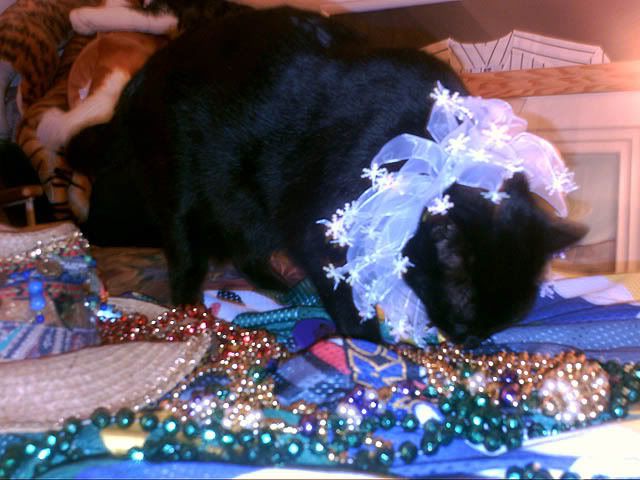 While not observed nationally throughout the United States, a number of cities and regions in the country have notable celebrations. Mardi Gras arrived in North America as a sedate French Catholic tradition with the Le Moyne brothers, Pierre Le Moyne d'Iberville and Jean-Baptiste Le Moyne de Bienville, in the late 17th century, when King Louis XIV sent the pair to defend France's claim on the territory of Louisianne, which included what are now the U.S. states of Alabama, Mississippi, and Louisiana.
The expedition, led by Iberville, entered the mouth of the Mississippi River on the evening of March 2, 1699, Lundi Gras, not yet knowing it was the river explored and claimed for France by René-Robert Cavelier, Sieur de La Salle in 1683. The party proceeded upstream to a place on the west bank about 60 miles downriver from where New Orleans is today, where a small tributary emptied into the great river, and made camp. This was on March 3, 1699, Mardi Gras day, so in honor of this holiday, Iberville named the spot Point du Mardi Gras (French: "Mardi Gras Point") and called the small tributary Bayou Mardi Gras. Bienville went on to found the settlement of Mobile, Alabama in 1702 as the first capital of French Louisiana, and in 1703 the Mardi Gras tradition began with celebrations by the French settlers in that city.
By 1720, Biloxi been made capital of Louisiana. The French customs were introduced there at that time. In 1723, the capital of Louisiana was moved to a new town, founded in 1718, called Nouvelle-Orléans (New Orleans), and the tradition would take root there also. In more recent times several other U.S. cities without a French Catholic heritage have instituted the celebration of Mardi Gras.
We do not celebrate Mardi Gras in Cape Coral and Fort Myers. However, Mardi Gras is celebrated in Florida. Pensacola, Florida hosts a Mardi Gras Celebration. The Pensacola celebrations also use Moon Pies in combination with beads, coins, candies & Krewe related trades. The Pensacola festivities and the Krewes that sponsor them often are more light-hearted and family-oriented than some in other venues. The name of a number of the Krewes are puns of the names of historic Krewes in New Orleans and Mobile.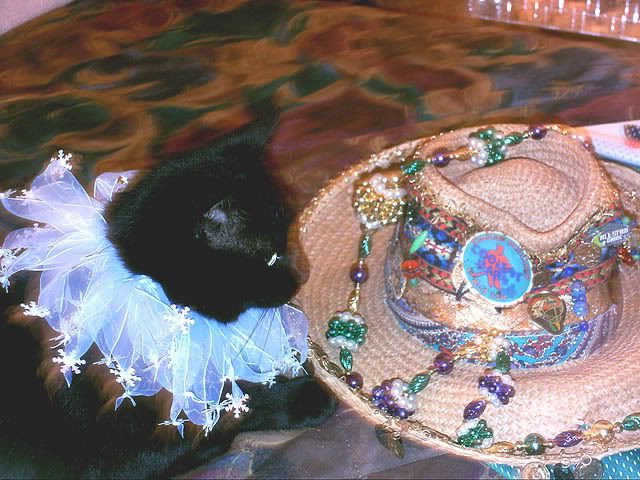 According to
MardiGrasDay.com
, Tuesday, Februray 5 is the date of the Mardi Gras Celebration for 2008 in the US. You can find all sorts of interesting things there including the Parade Schedule, Pictures, Press Releases, and lots of party plans and shopping so that you can celebrate your own Carnival in case you can't make to Nouvelle-Orléans or Pensacola.
Happy Carnival to you!