I'm afraid I did not do a good job snoopervising yesterday. Bean went Day Hunting and left Dick the Maintenance Guy here because the bathtub and toilet were draining slow again. The last time he was out, the good plunger vanished.
"Are you saying I took it?" Dick ask.
"Well, it didn't sprout feet and walk off on it's own," she tell him. So he said he would check his truck.
Anyway, I should have been snoopervising what he was doing, but it was nice day out - no rain - so I go outside to check it out.
Well, whatever it did, he make it worse, and when Bean come home there was sewage in the bathtub. Very smelly (so I guess now she knows her poop really does stink).
Happily, she seems to know what she is doing, so she managed to make it go away by late last night, but rotor rooter is coming out today. Part of the problem is that this old house, have small diameter pipes which get clogged a lot. She like old house though, so there is no arguing with her about it.
She says at least she knows the old house has been built well enough to survive numerous hurricanes, so she feels safe here.
So I feel bad because I not snoopervise well. Then she bring me roses when she come home so I can have nice candlelit dinner with my Zed Monster, and I feel really bad about whole thing.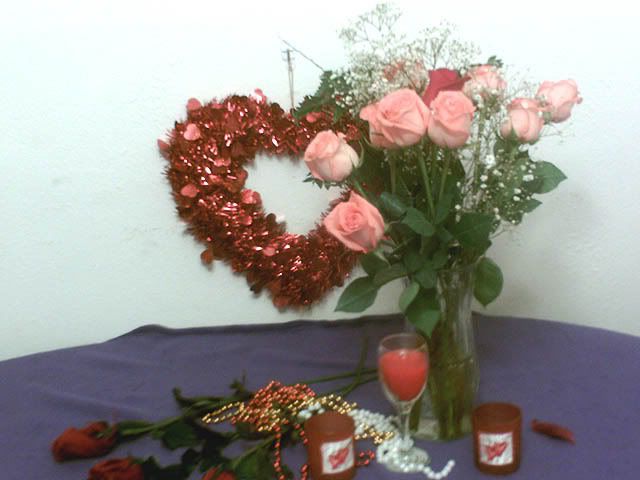 They are lovely though, are they not?
Bean stopped by Realty Office to visit Stinky Rental Kitty. Stinky, whose real name is Baby, just get groomed recently, so he not stink right now. When he has not been groomed, he smell worse than Baby Mao.
Stinky used to be feral kitty, but he was given a job at the Realty Office as part of a Feline Employment program in the city, and has now become quite the fat cat in the business world.
As you can he's quite the widebody style of tabby cat.
Stinky's main job appears to be taste testing the Bar-B-Que poolside that is served by the motel next to his office from time-to-time. He is also supposed to catch rodents, but I've never heard of him doing that. He claims he does not like to be picked up, but I know that he purrs and cuddles like a kitten when my Bean pick him up and start giving him scritches. Such a lush.
He is a longhaired domestic cat who also answers the phone at the office and is good with numbers, as you can see from these pictures. I do not know if he has sold any houses lately. I have heard the market is kind of soft right now.
Anyway, I guess I must go now and wait from Roter Rooter to show up. What a day!