Beowulf was released on DVD Tuesday so of course, human come home with directors cut last night. It use motion capture animation, So you get those weird looking sort of humans like in Polar Express, but there is really cool dragon in it. I just want to know if she is going to rush home next week with 101 Dalmatians for me, or if she make me wait until she can get it on previewed rack like she did with Jungle Book. She did buy me Cat Sitter DVD - I do not know if this is the same as the visual catnip DVD that 40 Paws get, but it kind of interesting.
Anyway, I have already showed you my
mousies
and my
little balls
, which is what I usually play with, but today I want to share with you 13 other toys I play with.
1, 2 and 3: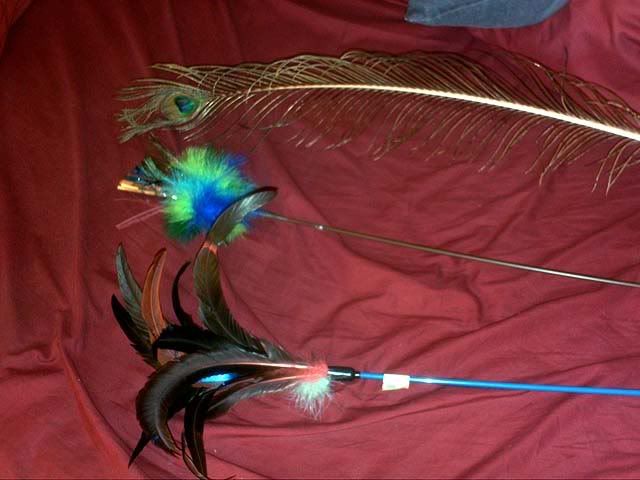 My peacock feather (top), feather sparkle wand, and birdy wand. I really like to put the bitey on the birdy wand.
4, 5 and 6:
Rainbow ribbon (top), sparkle wand, and cat lure. Rainbow ribbon is a really fun toy. The sparkle wand Bean uses a lot when we take pictures to get me to look at camera, or go where she want me to go. Cat lure is hand tied feather lure with is fun to chase.
7: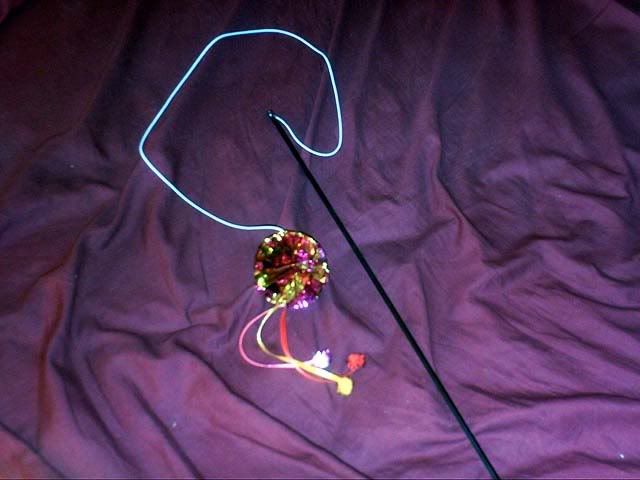 Giant Krinkle ball that I get last year for Eastern.
8 and 9:
Jungle Cat, which has a bell on it, and Morris Bag, which has cat nip in it.
10:
Radio Rascal, radio controlled mouse. I think Bean has more fun with this one than I do.
11 and 12: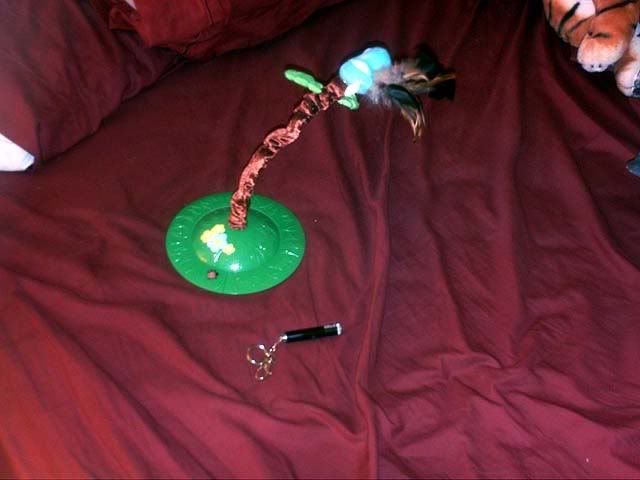 Twitter bird and red dot laser pointer toy.
I'm not really a big fan of either, the bird chirps and kind of freaks me out sometimes and I can't seem to catch that annoying red dot.
13:
Catfish tent/toy/sleeping bag from Petlane. My Catfish is a lot of fun!
As you can see, I am very fortunate feline to have all of these toys. Some cats not have any toys at all, let alone high tech ones like radio controlled mouse.
I have lots of other toys as well, the spiders you have seen, little bow tie toys to bat around and a kitten mitten to interact with my human. Purrhaps I will show you more on another T-13, but I think this is enough for one day.
The purpose of the meme is to get to know everyone who participates a little bit better every Thursday. Visiting fellow Thirteeners is encouraged! If you participate, leave the link to your Thirteen in others comments. It's easy, and fun!