I think my Bean is a Cannibal. I already talked about her baby eating tendencies in a
previous post
, but I think there is more to it than that.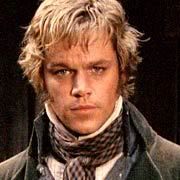 To start with, we were watching
The Brothers Grimm
moovee last week. I know that she like the Matt Damon actor because I hear her talking about him with her friend Dutchess Rowena the Evil Stepmother
(1)
. And we watch him in moovees all the time. But as we were watching this one, she kept remarking that he was just delicious. Now, Temptations are delic, but Matt Damon? So this was a little weird, but then she is a little weird anyway so I really did not think much of it.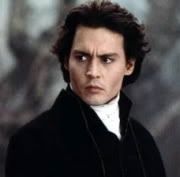 But then, on Saturday we watch
Sleepy Hollow
with Johnny Depp and she keep remarking that he is just "yummy". And like my Sheba food is "yummy". So I'm thinking that maybe she want to eat Matt Damon and Johnny Depp. But I do not know why she would want to do this because they could not make any more moovees if she eat them. And besides, I see where they try to eat Johnny Depp in
Dead Men's Chest
and he get away, so I do not think he'd be very easy to catch and roast.
At least she does not want to eat good little kitty cats. I would be VERY concerned if that was the case.
Meanwhile, I was going through her purse Sunday while she doing laundry, trying to find her plastic so I could buy me TWO drinking fountains, one of inside and one for outside. Anyway, I find tickets for where she is going to see Toronto Blue Jays on Sunday the 16th and Baltimore Orioles on the Sunday the 23rd. I think it very rude that she is going bird watching and did not invite me. I would like to go
kill
watch these Toronto Blue Jays and Baltimore Orioles too. Blue Jays are especially tasty.
Well, all this talk of food has made me hungry, so I am going to have snack, and then go cat-a-coma for a while.
(1) Rowena is neither a dutchess or a step mother, evil or otherwise. But her daughter have the Dancing Disney Princess DVD and the evil stepmother in the story is named Dutchess Rowena. She loved it so much, she now goes by that name!