My Bean is the least romantic human you will ever meet. You can forget mushy greeting cards, candies, flowers and candlelit dinners for two. Love poetry will like get you a black eye. Instead, a night out on the town involves sports bar hopping, and if you really want to impress her, but get tickets to the big game.
Valentine's Day is, needless to say, not a big holiday for her, and she's likely to spend it, at home, alone watching a DVD. And it's not going to a romantic comedy that will be playing because, well, those bore her to tears.
Yet for all this she does have one really strange inconsistency in her make up.
She reads Romance Novels. Not all the time, mind you, and not in any great number. In fact, after several years of experimentation, she's settled down to the works of only one author.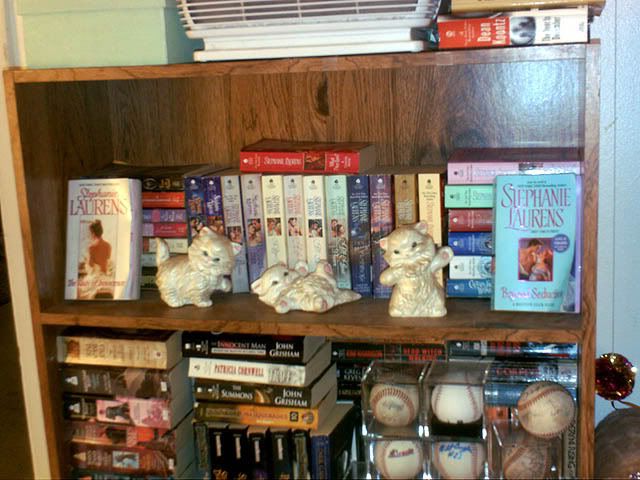 Stephanie Laurens writes two series of books that occasionally cross over, both set in and around England's Regency Era, with much of the action taking place in the London Ton. She's ready all the books ever written by Ms. Laurens, and she owns most of them as well.
I suppose that in some weird way, she wanted to be born into the regency era. I would point out that if she had been alive during that time, she'd not be a member of the fashionable ton. Oh no. Rather I could see her as a tavern wench somewhere and she'd probably be a good tavern wench too, as she could also serve as a bouncer. No, no bar fights in her tavern.
Given a choice between books, including those that she normally reads and enjoys - like Kim Harrison's Rachel Morgan series, which is urban fantasy, or one of Tony Hillerman's mystery books - she'll read the latest from Laurens first, and usually blast through it to the exclusion of all else.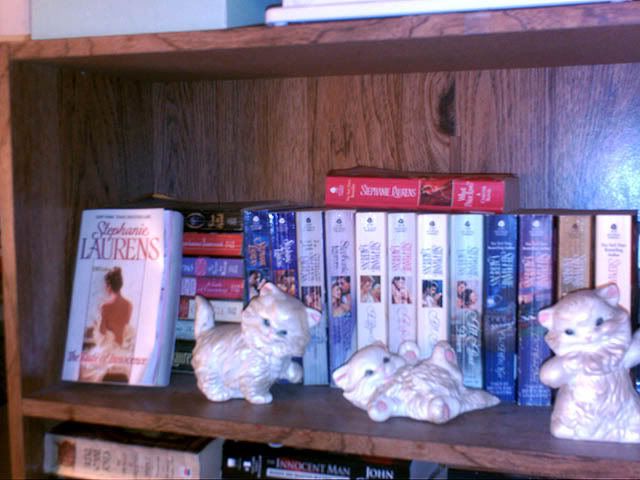 And of course she'll sit there and mutter about how stupid the characters in said romance are, but she seems to enjoy every last work of them, even the hot, steamy sex scenes which she classifies as soft porn.
What this says about her, I have no idea. I really don't care, one way or the other, as long as I am brushed, fed, petted, let outside, let back inside, given fresh water, and scritched on a daily basis. After all, I am the most important thing in her life. Sometimes I thinks he forgets, but I'm quick to remind her of it. Prince charming can wait, especially when I need to be furminated.
And I suppose I can tolerate her reading romance stories to me once in a while, although I'd rather she left out the steamy scenes. After all, I'm a cat, I have no interest in human mating rituals.
It's probably better the way it is. At least big games only come along once in a blue moon.
Mystery Man Cat:
I've had a couple of my feline furrriends ask for clues for my mystery man cat. I'll be doing an entry to Skeezix Valentines Day Contest, which I should get posted tonight unless a natural disaster occurs, but for the moment, let's just say he's a mancat with true southern style and charm. After all, I'm a Southern Belle, so what else would attract me except a Southern Gentleman Cat?
Believe me when I say I would rather stay home with my human slave, then running off looking for treasure and adventure!
My Bean on the other paw likes this guy...
Weird, isn't she?