Click the image to bigify it. For image info click here.
I would like to join
Attack of the Tabbies
. I know, you think this is silly, especially as
Attack of the Tabbies
has very little activity on it, but it a matter of principle.
Like all cats, I am genetically a tabby cat as I have outlined in my excellent article
You're a Tabby too!
. I am, of course a black tabby, that is a tabby with a black coat and black stripes.
But when I say, I want to join Tabby Cat Clan, Bean say maybe they want cats where they can see the stripes more clearly. So..okay, okay. I am now black coat with white stripes. Or is it white coat with black stripes. I get confused.
I do not know who is in charge of
Attack of the Tabbies
, so I cannot state my case to them. Nor do I know who is in charge of
Coats of Many Colors
. I write to "The Crew" but I not hear back from them, and I not sure who they are.
Ah well. I try, you know? It's all part of my plan of Blogosphere domination.
I still remain stumped as to how to masquarade as a Ginger Cat, but I'm working on that. I wonder if Simply Siamese will believe I am a black coated siamese with black points. I know I do not have the froot bat ears, but Bean says I talk enough that I must have Meezer blood in me.
In any case with Attack of the Tabbies doing a good impression of a dead blog, I suggest we do away with Tabby Tuesday and replace it with Black Tabby Tuesday at
House Panthers
. What do you think? I think it's a great idea! If you miss Monday you can take advantage of Black Tabby Tuesday! Now I must think up something for Wednesday...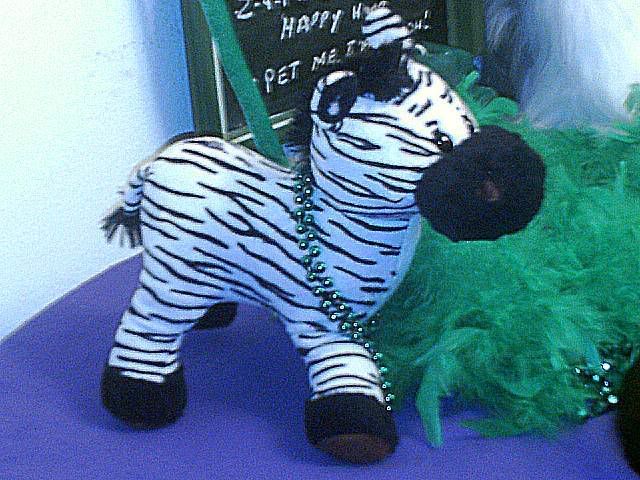 My new Tabby friend here needs a name. Suggestion are welcome. If I choose to use one of your suggestions, my Bean will make a scrapbook page for you that you can use either a wallpaper for your computer or which would be suitable for printing out and framing (your choice).