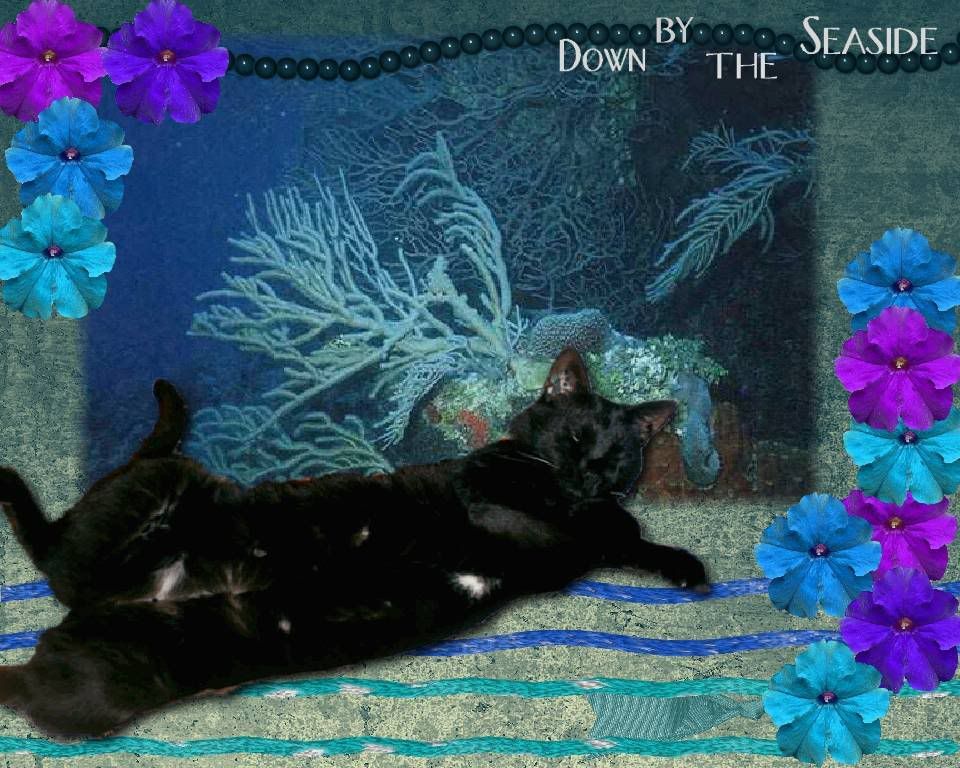 Click on the image to supersize the cuteness!
Even top feline models need some down time and a little vacation, so here I am resting on the Beach in the Grand Cayman islands. In fact, it's going to be a celebration of warm sand and roasting rays here on my blog all month long!
While the surf may not appeal to most domestic cats, certain breeds such as the Cornish Rex and the Turkish Van like water and actual enjoy swimming (::shutter::). Of course, it always amuses me when a human gets a hold of a video showing a cat swimming and are amazed by this feat.
I mean, really!
OF COURSE
we can swim! And unlike humans, who seem to have to learn to do
EVERYTHING
, we are born knowing how to swim. (And yet humans think themselves superior to us? Please!)
The thing is, being descended from desert animals, we do not have the sort of coat or undercoat that sheds water easily. So when we get wet, we tend to stay damp, all the way down to our skin - and you know how uncomfortable that is. (For the humans that may be reading this, it's sort of like sitting around in wet clothes.) And being creatures of comfort, we really don't like feeling uncomfortably damp for any length of time.
But of course there's nothing that says we can't go to the beach and in fact many colonies of feral cats make beaches their homes. After all, food washes up on shore nearly every morning in the form of tasty dead fish. Yum, yum. And that also helps to the clean up the beach so the humans can enjoy it later in the day.
And what is a beach really, except a lot of sand? Nothing wrong with a little sand is there...or a lot for that matter. I love digging as much as the next cat so having a whole beach to toss sand around on certainly makes me happy!
So come and out and join me here at the beach through the month of April. After April Fools Day on Tuesday, we've really got nothing else going on, so there's nothing wrong with a little bit of beach combing, now is there? Just ask Cecil. He's already
selling seashells by the seashore
!