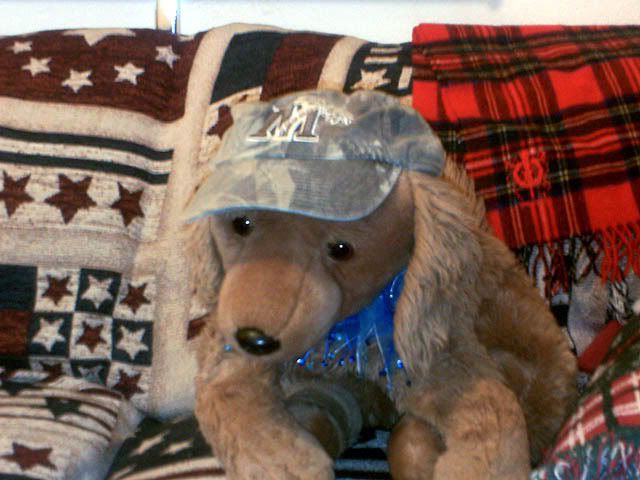 This is Faux Rutgers. He is a Floofy Golden Retriever and he was named for a real Golden Retriever named Rutgers.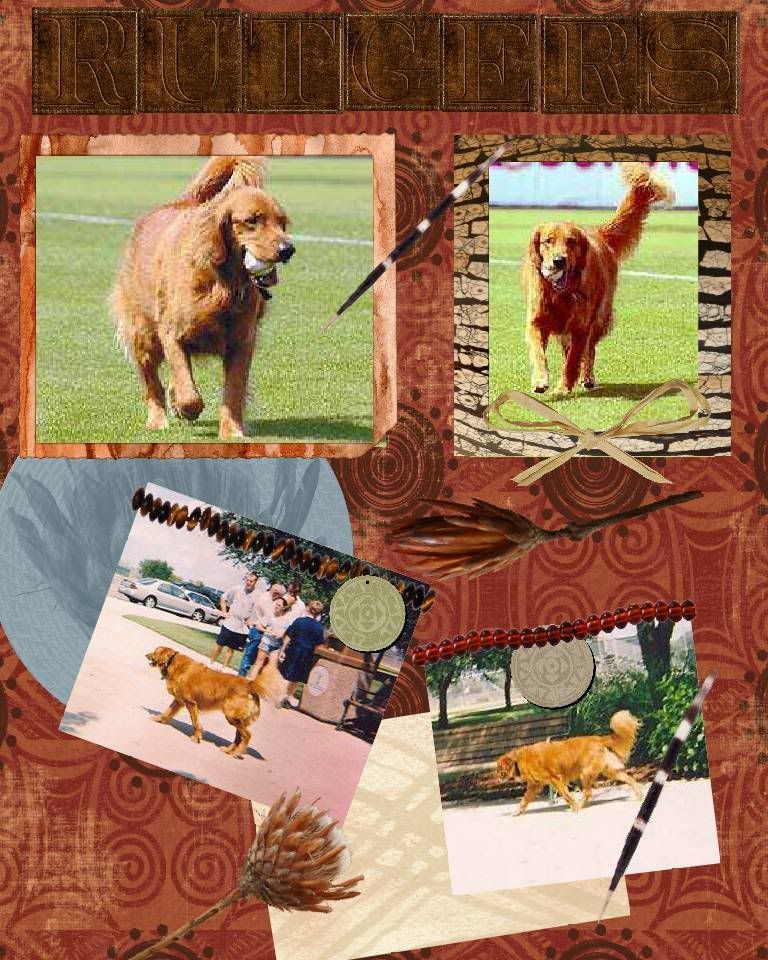 The real Rutgers was in turn named for the University of Rutgers, the alma mater of his owner, Dave. Rutgers was the mascot of our baseball team, the Fort Myers Miracle. He traced his linage back to Jericho, the first mascot the team had when it moved back to Fort Myers in 1992.
Rutgers was "traded" along with his owner to a team in the New York-Penn league following the 2003 season and things have sort of downhill ever since. He was replaced by a human in a smelly, ugly, furry suit, which is about normal for mascots.
What happened that last year in 2003 is that Rutgers was startled at the beginning of the season by Swampee, the Florida Everblades Hockey Team mascot. He was on the ice at the time and he slipped and injured his back leg. This required him to have MCL surgery and he was laid up for most of the season.
The Fort Myers Miracle are the High-A affiliate of the Minnesota Twins. One of the player's parents had come over from Australia that year to watch their son, and they had been collecting mascot dolls for every team their son had played on. They got to Fort Myers and inquired about a stuffed Rutgers.
The gift shop didn't have any. "Well why not, he's your mascot."
"He's not a mascot, he's a dog."
"Nonsense. I saw his picture on your website and it stated he was your mascot and I want a Rutgers."
So after hearing this story, my Bean trotted down to Toys-R-Us and picked up several Golden Retriever Dogs including this large one who became Faux Rutgers.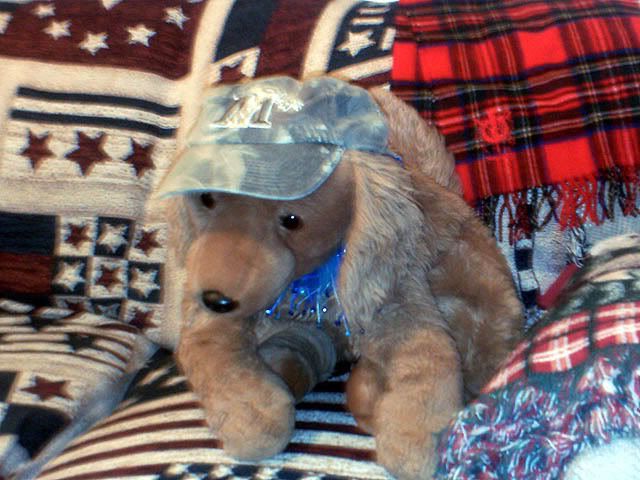 Faux Rutgers has seen better days, in part because once she took him to one game, she was instructed to bring him to all the games. With Rutgers in a cast and laid up, the intern staff decided to make use of the floofyhead one and pressed Faux Rutgers into service, walking - or being walked - around the stadium and giving hugs to children and even running the bases. Not that he ever won. He and the real Rutgers at least had THAT much in common.
He still knows several tricks, but being an aging floofyhead, it's harder to get him to do them. Like sit up. He does however play dead pretty well.
As our baseball season starts in just under 2 weeks, I felt it appropriate to introduce a bit of history to you.
It should also be noted that Golden Retrievers continue to serve as mascots for several teams. The Trenton Thunder in AA employs one. Jake the Diamond Dog is a traveling profession mascot that makes appearances with many teams in the Midwest and occasionally down into the South.
Pee Ess:
Smudge
when over the bridge last night. My poor little friend, I am so sorry to see you go. We will meet again sometime in the future during better days when you are not in pain.
Rest easy now in the temple of Bast.