Believe it or not, we are almost done with Floofyhead Fridays, although I suppose I could just back and check up on how some of the Floofies we've met in the past are doing. In any case today I would like you meet Johnny Rotty.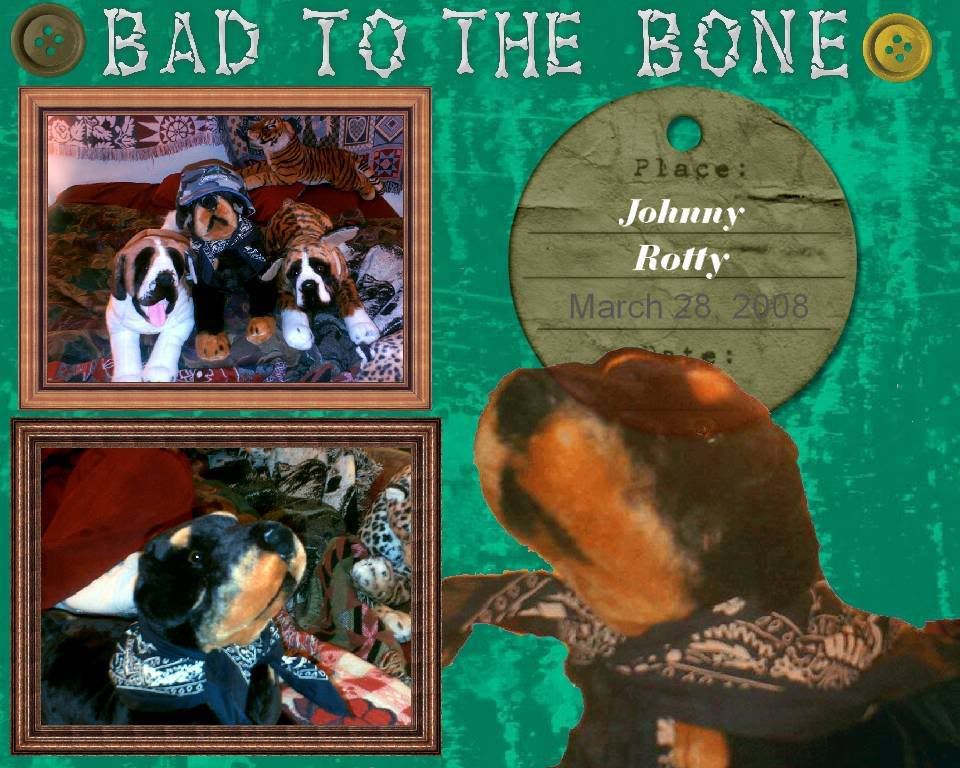 Click the image to bigify it, if you dare!
Johnny Rotty is the head of the Marauding Woofies pack that gets into all sorts of trouble all over the house. Don't let that innocent look fool you. He instigates everything. And he's very good at getting away with things. When something happen, much like Macavity, Johnny Rotty isn't there.
He tries to pretend he is a good dog, but we all know that is not the case. We all know that his theme song is really "Bad to the Bone" and that somewhere deep down inside, he it just totally and thoroughly rotten.
And yet the good woofies like Oscar De La Hoya and St. Valentine of the Snows, and even Hibbing Husky hang with him and try to be just as cool. Faux Rutgers is wiser though and will not join their pack. And Ray Old Shepard Dog keep trying to form his own pack, but no one like him so no one will hang with him.
Me, I usually just hang out with Savannah, my floofyhead sisfur and my new tabby furriend Pooka.
And now for your cute cat fix for today:
Click to supersize the cuteness
The answers to the moovees you cats missed in yesterday's Thursday Thirteen are as follows:
5. Spiderman III: Peter Parker apologizes to his landlord for flying off the handle about the broken door, and his landlord says this line.
8. Bladerunner: Rutgar Hauer's monologue at the end of the film after he's chased Harrison Ford up onto the roof. He follows this with "Time to die." and then he does.
9. The Bourne Identity: Marie, after Jason says they have to stay together to get out of Paris.
11. Pirates of the Caribbean: At World's End. All you Pirate cats should feel ashamed of yourself for missing that one. This is a line by Lord Cutler Beckett.
Still, I think you all did pretty good. It's hard to pick out quotes from moovees and know or remember them, especially films you've not seen in a while.
Speaking of moovees, don't forget to visit Tybalt for
Tybalt's Take
today. I look forward to seeing what moovees Tybalt has picked out for us this week. Being the big moovee buff that he is, I think he'd be a good one to do the Moovee Me-me for an upcoming T13.
On a Finally Friday note:
Tax season continues, and Spring Training is mostly at an end. We also need more memory and hard disk space on our computer system, so Bean says she is going to address that issue this weekend. She is also supposed to go by the Twins complex and pick up the roster to post for our baseball team this year. She says there will likely be a few changes to start the season, but our baseball season opens on Thursday. Lots of excitement, but that may cut back a bit on my computer blogging time.
I have moved all the Purr and Purrayer's banners on my website onto their own page -
The Temple of Bast
. There is a link on my sidebar so it's easy to find. I should probably do the same with my awards - those side bars are getting crowded.
That is all for now. I think my blog is going to the Beach for April. Maybe we can catch some fish? (And we will certainly do some catching, not fishing!)