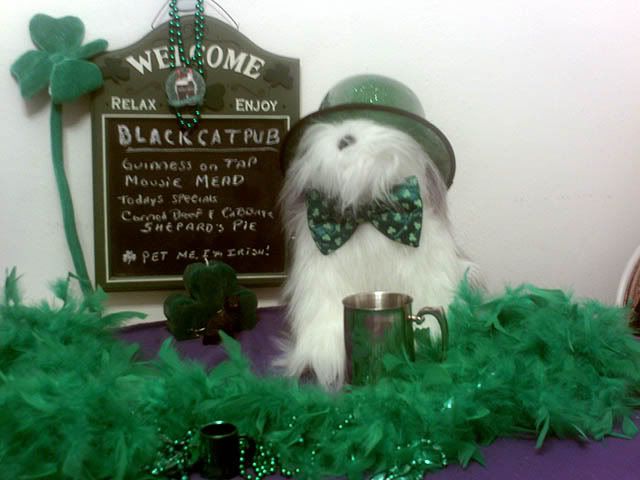 Ray Old Shepherd Dog has lived here for about a year, and no one really likes him. That's because he's a camera hog. I mean really. He'll play dress up for days and hours and weeks on end, he never complains about it and he never asks for any treats. That makes him not a professional, since he doesn't get paid for his modeling jobs.
Happily, he took the Christmas season off, but he was a complete pain for Howl and Scream.
Here he is, pretending to be Captain Barbossa. I mean, look at all that loot! He like being Barbossa because the name have "Boss" in it and Ray Old Shepherd Dog is nothing but bossy!
Ray Old Shepherd Dog make his first photographic appearance last year for Eastern, where he posed as the Eastern Bunny. There was some discussion that the Eastern Bunny was afraid to come to my house, because I might eat him. So Ray Old Shepherd Dog deliver the toys and treats instead. I thought this kind of a rip off.
However, we have worked together many times since then and will probably work together many times again in the future. He is a good size to be in the pictures with me, as we are about the same, height wise. He is much fatter than I am though.
He does have eyes, but you can't see them because of all the fur!
Remember to vote in Latte's
Spring Has Sprung
Contest. Voting closes tomorrow, on March 8th with the winners announced on Sunday Evening, March 9th.
My entry is
Diamond Dreams of Exploring Spring
and I hope that you will consider casting your vote for me.
To vote, leave your vote in the comment section
Here
. A number of cats have voted, and they have removed some of the comments so that no one can tell who is leading.