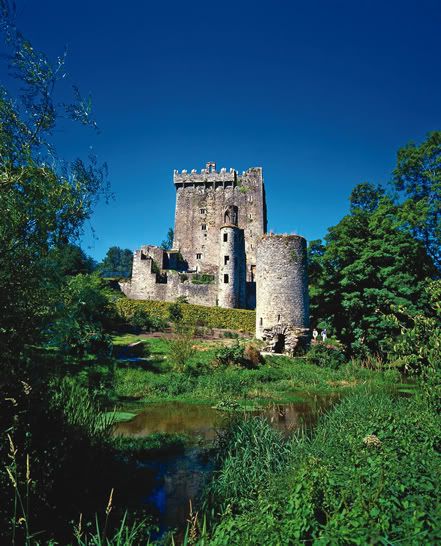 The Blarney Stone is a block of bluestone built into the battlements of Blarney Castle, Blarney about 8 km from Cork, Ireland. According to legend, kissing the stone endows the kisser with the gift of gab (great eloquence or skill at flattery). The stone was set into a tower of the castle in 1446. The castle is a popular tourist site in Ireland, attracting visitors from all over the world to kiss the Stone and tour the castle and its charming gardens.
The word blarney has come to mean clever, flattering, or coaxing talk. (As in "That's a bunch of Blarney for ya.")
The stone, which is believed by some to be half of the original Stone of Scone, was presented to Cormac McCarthy by Robert the Bruce in 1314 in recognition of his support in the Battle of Bannockburn.
The proprietors of Blarney Castle list several alternative explanations for the origins of the Stone and its supposed powers, all of which suppose that the Stone had previously been in Ireland but was then taken to Scotland and returned to Ireland in 1314. The stories they list include:
the Stone was the stone that Jacob used as a pillow, and was brought to Ireland by the prophet Jeremiah
the Stone was the pillow used by St. Columba of Iona on his deathbed
the Stone was the Stone of Ezel, which David hid behind on Jonathan's advice, while fleeing from King Saul, and may have been brought back to Ireland during the Crusades
the Stone was the rock that Moses struck with his staff to produce water for the Israelites, during their flight from Egypt
in Ireland, the Stone was known as the Lia Fáil or "Stone of Destiny", part of the king's throne, with mysterious powers
the stone's powers were revealed to the McCarthys by a witch who had been saved from drowning
It is claimed that the synonymy of "Blarney" with "empty flattery" derives from a circumstance in which Queen Elizabeth I, while requesting an oath of loyalty to retain occupancy of land, received responses from Cormac Teige McCarthy, the Lord of Blarney, which amounted to subtle diplomacy, and promised loyalty to the Queen without "giving in". Elizabeth proclaimed that McCarthy was giving her "a lot of Blarney", thus apparently giving rise to the legend.
You can visit the
Blarney Castle
website to view the castle, the grounds and the Blarney Stone. You can also send an E-Card with pictures of the castle or the grounds on it.