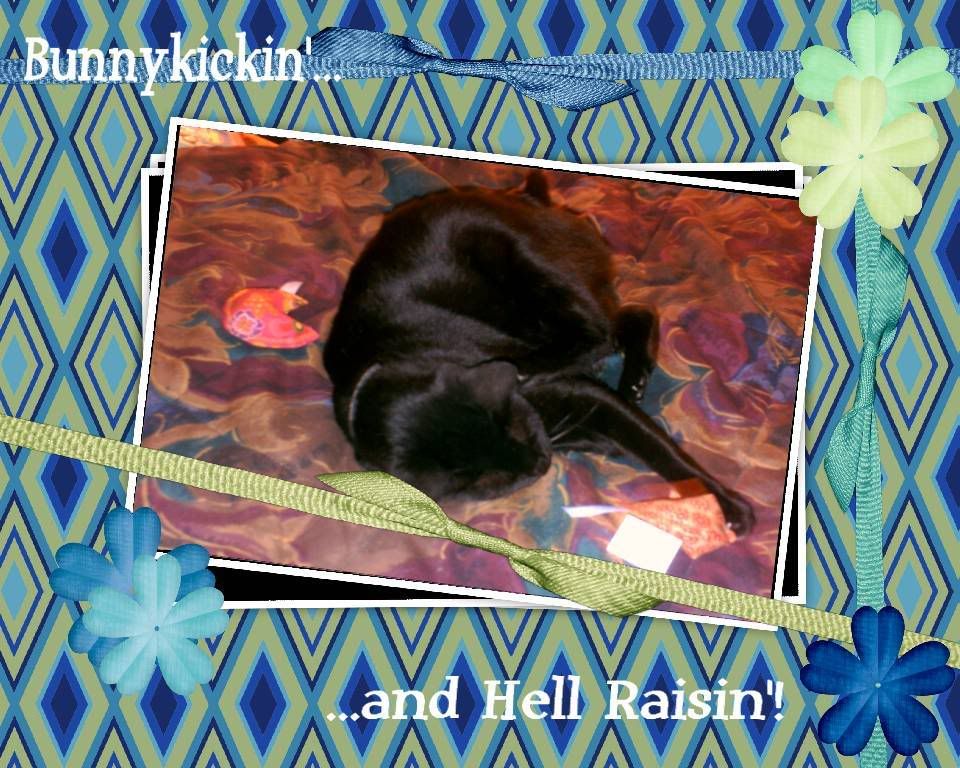 Click on the image to supersize the cuteness!
I have been asked by
PetSaleAve.com
to review a new toy for them. It is called Lucky Catnip Fortune Cookies and it is made by Jake and Micah. The cookies - there are three - come in a cute little Chinese take out box with paper noodles. Each cookie comes with its own fortune, but your really don't need a crystal ball to know that I'll be taking a long and peaceful nap in the future after I get done playing with a primo nip toy.
These toys are big enough (3.5 inches) for bunnykicking, but not so big as to be overwhelming. They come in appealing colors, and are filled with 100% organic catnip.
The fortunes are sewn onto strips that are attached to the side of the toy. The cookies are well constructed and the fabric stands up to all the biting and kicking that I inflicted upon them. Some of the other fortunes are "You purr is a gift to those who love you", and "Trust your intuition to scratch things". I did that too, scratching my ears most thoroughly before getting very involved in the aggressive end of the review.
I have to say I enjoyed these immensely. Despite having a night to dry out, the fabric is still slightly soggy today, so you can tell I had a good time.
You can find pictures of my play/review session
HERE
. As you can see I took the review process very seriously. The paper noodles were quite entertaining as well.
The same company also make catnip sushi and wantons. I sense a theme here! They also offer contemplation/play mats, lucky cat collars (please remove bell), and some very attractive kitty bandannas. While their tag line reads "for super lucky pets!" they are themed more toward the feline crowd.
PetSaleAve.com
has been, to date, largely geared toward dogs, so the inclusion of new cat products into their catalog would certainly be welcome. (This the company that referred me to Caitlyn's K-9 where I get my Party Collars. They also have model sign up form. I need to sign up!)
In short, after thorough testing by me, I find this product more than meets my exacting standards and I give it a five star rating!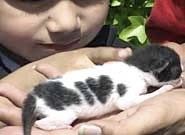 How cool is this? A new born kitten has a message in her fur that says I "heart" dot. Her mother's name is Dottie!
This is somewhat more fun than a message in a bottle!