It is time for us to set up for Eastern and so I wanted to show you some of what goes into the set design. We start out getting all the basic items we will use out of the box of Eastern decorations. While we were doing this, Bean finded her KissMouse Stocking she could not find in December. Of course it makes purrfectly good sense to store it with Eastern stuff, does it not?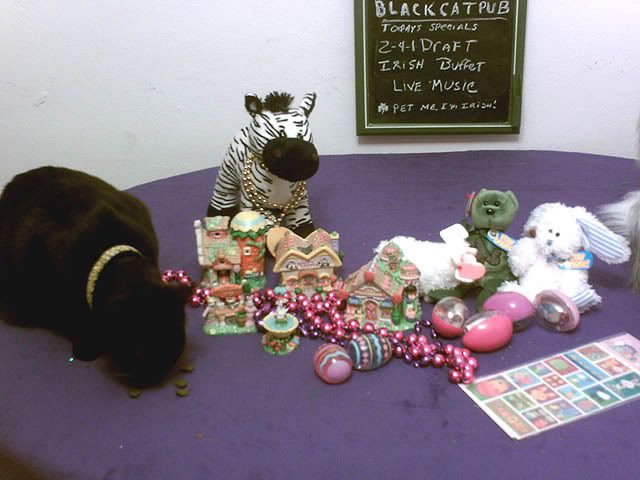 Here is Ray Old Shepherd Dog showing up his back of disrespect.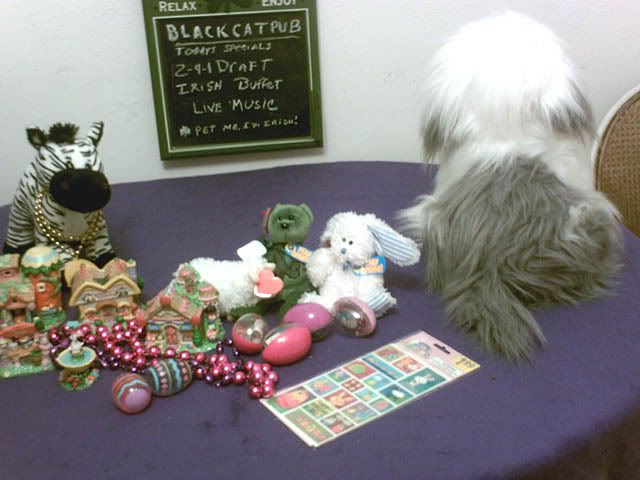 I think the little buildings for the Eastern town is very cute.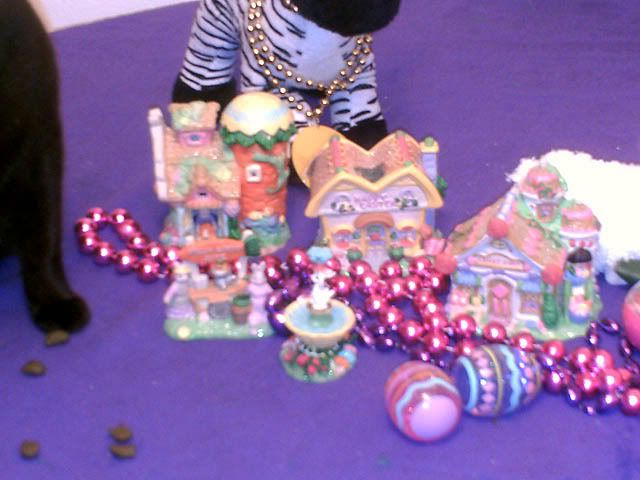 The Stork went to visit Daisy Curly Cat earlier this week, and it stop by bring me three new kittens as well: 2 floofy white ones and one which must be a Sphynx kitten as it has no fur. It also green, which I think was kind of an odd color.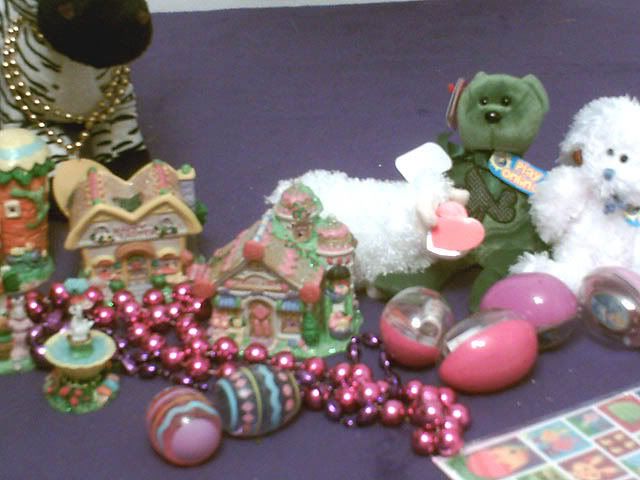 Now we start getting things in order: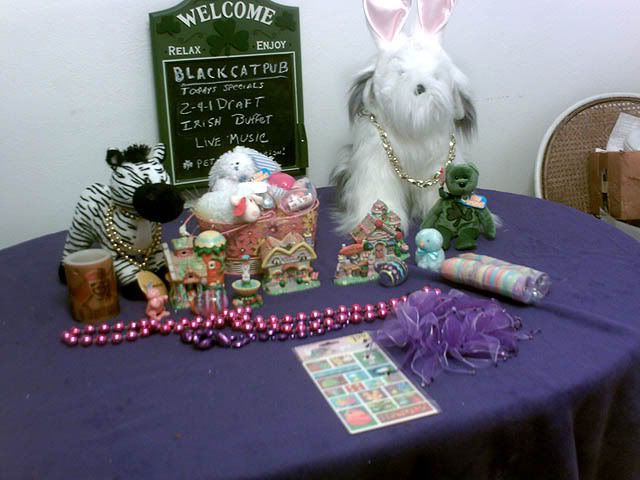 Obviously, some things need to go. I trade the green sphynx kitten for my pink floofy one, as it fits in more with the other colors. I put Black Cat Pub sign away. I still need backdrop for this. Bean could not find anything suitably Easternee in the store so far.
Now we do some test shots. In some I am in front....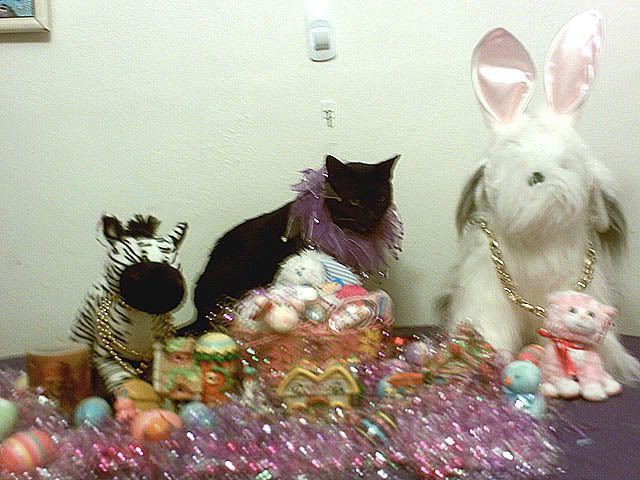 And in some I am in back. This was only a test to see what needs to be changed around and how to make it better. We still need something behind, or at least, we need to take the hooks off the wall.
Setting the stage for my shots is very important, as I'm sure you know. This was a dress rehearsal as I have my floofy color on.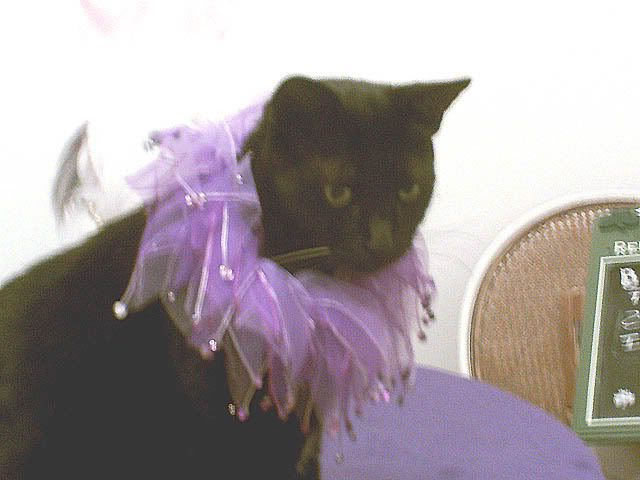 I think I do pretty good job. More Eastern pictures can be found
in my Eastern album on Photobucket
.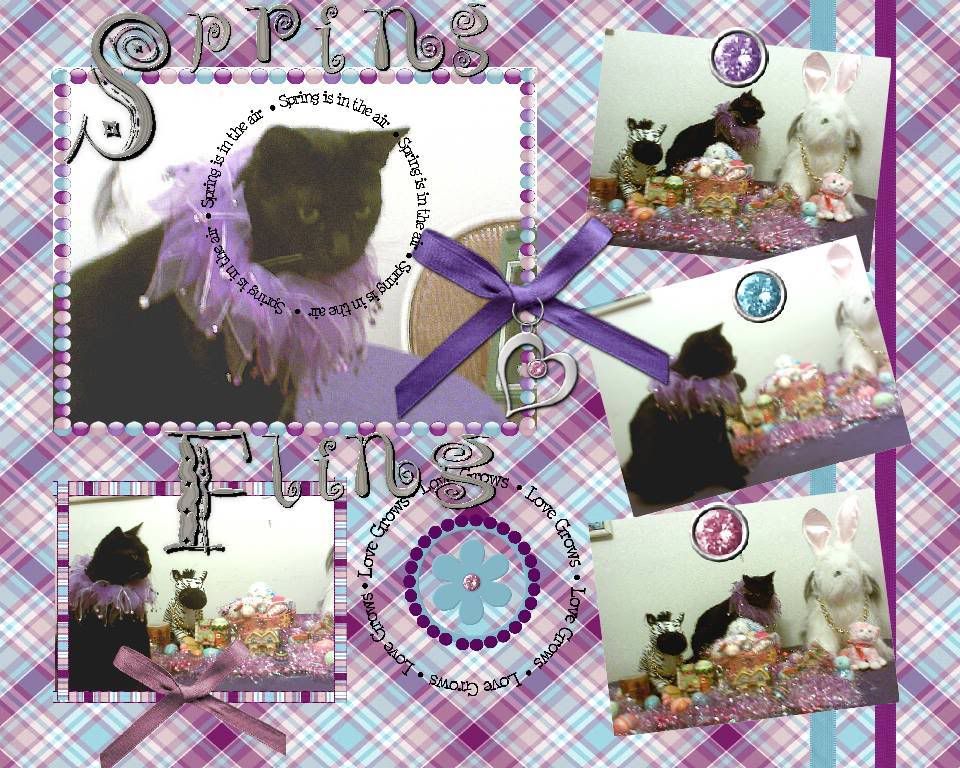 Some Notes:
Bean want me to do Woofie Wednesday, I want to do spring and bunnies. Bunnies look tasty. I have never caught one.
A clarification on the Coyotes. They are way far south of here. And they do not have money for the toll bridge, so they couldn't get over the river even if they weren't way far south of here. I live on Cape, surrounded on three sides by water. We don't even get many squirrels here because they can't get across river. Raccoons on the other hand steal toll money and have no problem.
We are featuring Kodak today on
House Panthers
. I also talk about Arthritis in Cats, and we'll take a look at senior cat care for rest of this week. There are many senior cats out there and even I am starting to get a bit older, so some information on that is not unwelcome.
I would like to apologize for lack of commenting this last week, but I have been furry busy kitty. I do read all your blogs though, but given that I end up with 70+ postings daily on my reader, I don't always have time to comment on them. I should note that with Sassy, Momo, and Cat Realm et al taking their grand tour of Scotland, I see a number of repeat postings. In that case I might comment on one blog, but not on efurryone's different blogs. Maybe you all should consider a shared trip blog instead of reposting the same thing in 10 or 15 different locations?
Mr. Hendrix tagged me for a me-me, which I
posted yesterday
, in case you missed it.
I think that all for now. Don't forget to check out
Digicats (and Dogs)
and see Bean's latest additions. And of course
Black Cat Pub
is still open and ready to serve you.
Pee Ess:
My Bean was talking to her Mom last night and I guess she see on Tee Vee where they have
cat wigs
. (Which are like $45.) And she said on the program they were wondering what cat would wear one of these. I guess she said to herself "Oh, my Grandcat would wear one of those!" Actually, I do not like having things on my head. But it kind of a change around from last September when she was telling my Bean to stop torturing me by putting outfits on me. Dress up still not my favorite game to play, but it not so bad as I thought it was going to be.