Yesterday I show you a little bit of what goes on behind the sets before a photo shoot. Today I want to show you my Eastern Village. Eastern Village is new to me this year, it is 3 buildings, and two smaller pieces, a carrot juice stand and a foutain.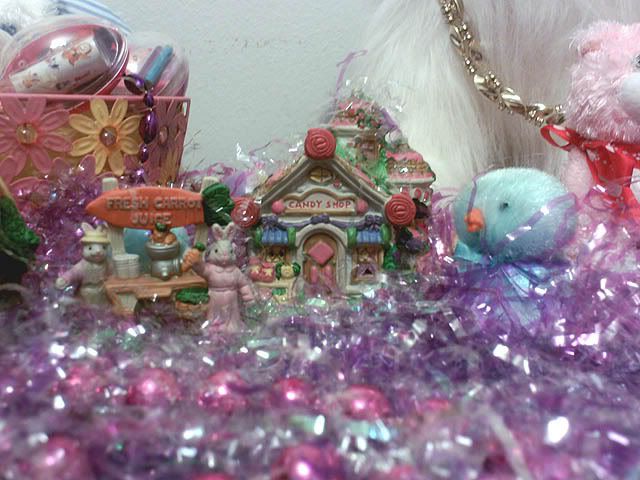 This is the Candy Shop and Carrot Juice Stand. The Candy Shop is where the Eastern Bunny buys the cat candy that he delivers to good cats' Eastern Baskets on Eastern. The Carrot Juice stand is where he gets some refreshing carrot juice after he has made his rounds. (You can click on any of these images to bigify them.)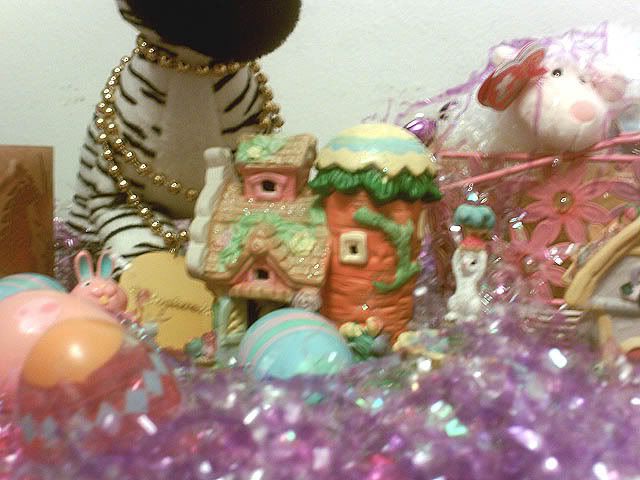 This is the Carrot House and Bunny Fountain. The Carrot House is a hotel for all visiting Eastern Bunnies. Any bunnies can stay there that need a place to stay. You can see a pink bunny in the background behind the eggs. He is going into the Carrot House. The Bunny Fountain does not have any real water in it, because the bunnies do not wish to get wet.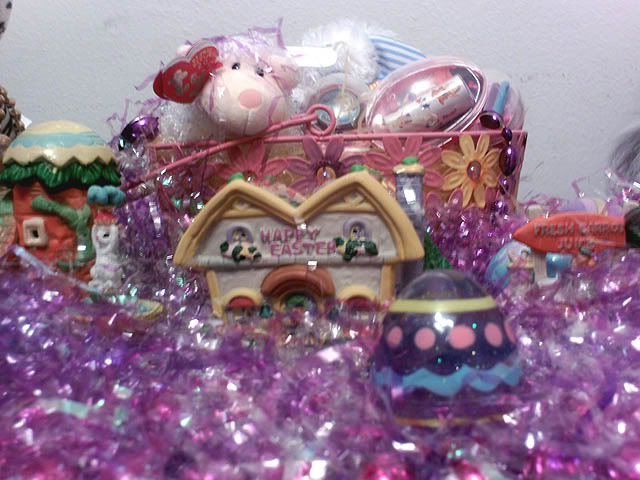 This is the Eastern Bunny's House. The fountain is to one side and the Carrot Juice stand to the other. This is where the Eastern Bunny lives when he is not delivering candy, toys and Temptations to good cats.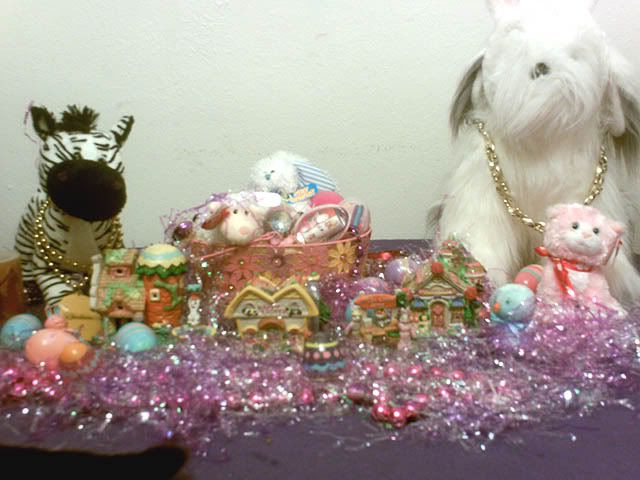 This is a panaramic shot of Eastern Village. You can see all the eggs and my Eastern Basket, and of course Pooka and Ray Old Shepherd Dog are helping out with the photo shoot.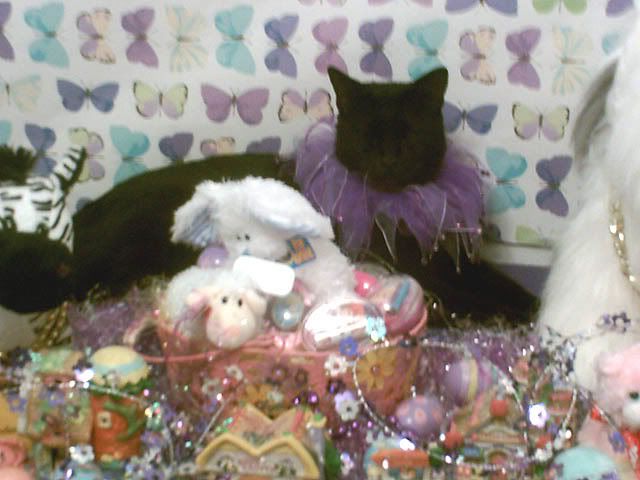 I should note that despite my talent, and training at the Daisy Curly Cat School of Modeling, that being a Model is still hard work. You must know how to sit or stand just right. You must look at the camera, even when you would rather check out the noise in the backyard. However it can be a very rewarding career for a working girl.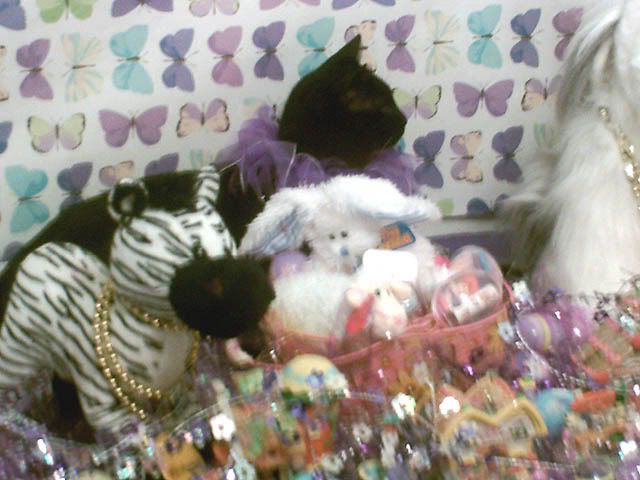 I hope to use my modeling skills to launch my acting career. I do hope I do not have to move to Hollywood to become a MooVee star, as I kind of like it here in Cape Coral, with my Bean.
Modeling is also very tiring, so one should be ready to take a nap anywhere on the set anytime there is a chance. You many have to be up for a long time while you are doing a photo shoot. We probably shoot about 40 pictures yesterday. They have yet to be processed and put on line, but don't worry, everything will be ready for Eastern morning!
Around the internets:
Today is Grr-Day on House Panthers. I was also tagged by Spooker, Little Isis, et al, for the Make a Wish me-me, and I post my response there. So please visit
House Panthers
to see what I wish for. Sadly I do not think I wished hard enough as I now hear that Smudge will be helped to the Bridge today. There is also an article on Holistic Care for Senior Cats that the 10-and-over crowd should find of interest.
Over at Black Cat Pub, the Leprechauns finally showed up! They get lost for a while. And then only 9 of them came. So I had to dig up 4 more to make today's
Thursday 13
.
Today's lunch special at Black Cat Pub is our Roast Beef Sandwich. For dinner we are offering our Salmon of Knowlege, with warm Blackbird Bread Pudding for desert. And there are 2-for-1 Draft and Niptinis during Happy Hour from 4 to 7 PM GMT.
Odds and Ends:
Great Britain has such interesting things. For example, in the United States, we get Liberty Bell stamps. In England, they get...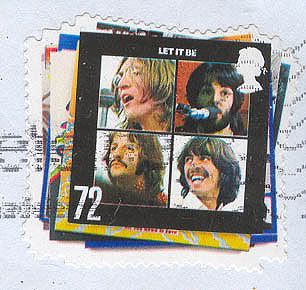 The Beatles and ...

James Bond. You have to admit, those are much more interesting than the Liberty Bell!