I get me two Floofy Collars yesterday from Caitlyn's and we take pictures of me wearing the blue one. The look of long suffering on my face has to do more with some bad acting by Arnold Schwarzenegger on the TV, than by having to wear the collar. No wonder California is in the mess it is in.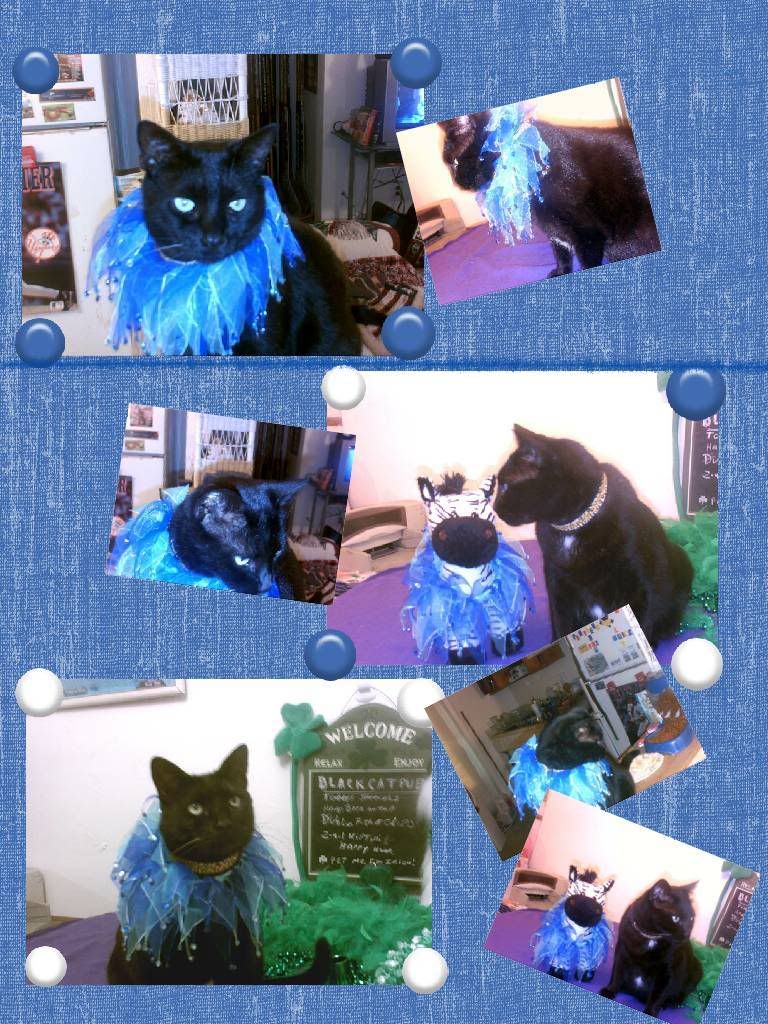 Click on the image to enlarge it. Click HERE for composition information.
Anyway the collars are made by
charmingpetproducts.com
. I go to look at their site, which is mostly stuff for dogs, but here are 13 things that look interesting:
1.
L'Amour Rouge Necklace
2.
Leopard Stole
. It Faux Furr, of course!
3.
Fuschia Roses Collar
.
4.
Brown Leopard Animal Print Collar
. Goes with Stole, you know?
5.
Zebra Animal Print Collar
. Needed it this last Sunday!
6.
St. Patty's Day Collar
. I will never get this in time for Monday! Unless Dog Bakery has one. Bean Said she would go check.
6.
Skulls & Crossbones Collar
. Should work for both Halloween and Meow Like a Pirate day!
7.
Tiger Stripe Pet Throw
. Looks comfy!
8.
Classic Leopard Pet Throw
. Looks comfy too!
9.
Patriotic Stars Collar
. 4th of July coming up!
10.
Light Pink & Lilac Bunnies Collar
. I am going to wear the purple one for Eastern but this so much more appropriate!
11.
Autumn Rhinetones
. Must plan ahead for fall wear!
12.
White Pearls & Bows Wedding Collar
. A Lady Cat can dream, cant' she?
13.
Party Hats!
I doubt I'd wear them, but they look really cool!
I also like the heart pet charm, but I already have charms that I keep taking off my collar because they bother me. So it kind of pointless to get another one.
Bean also say yesterday I will need wardrobe case to keep all my outfits in. I not know what this is, but I suspect Daisy have one. But Bean say Daisy Curly Cat probably have whole bedroom closet for her outfits!
Also, Adan and Miss Peach were modeling their Kimonos and I thought these looked interesting. You can find them online at
Gramercy Pet Boutique
. The also have Tuxedos and Wedding and Bridesmaid dresses.
of course, with the Kimonos priced at $82, I will have to save up my
allowance
earnings to afford one.
Meanwhile, don't miss out on my other T-13 post at
Black Cat Pub
!
The purpose of the meme is to get to know everyone who participates a little bit better every Thursday. Visiting fellow Thirteeners is encouraged! If you participate, leave the link to your Thirteen in others comments. It's easy, and fun!