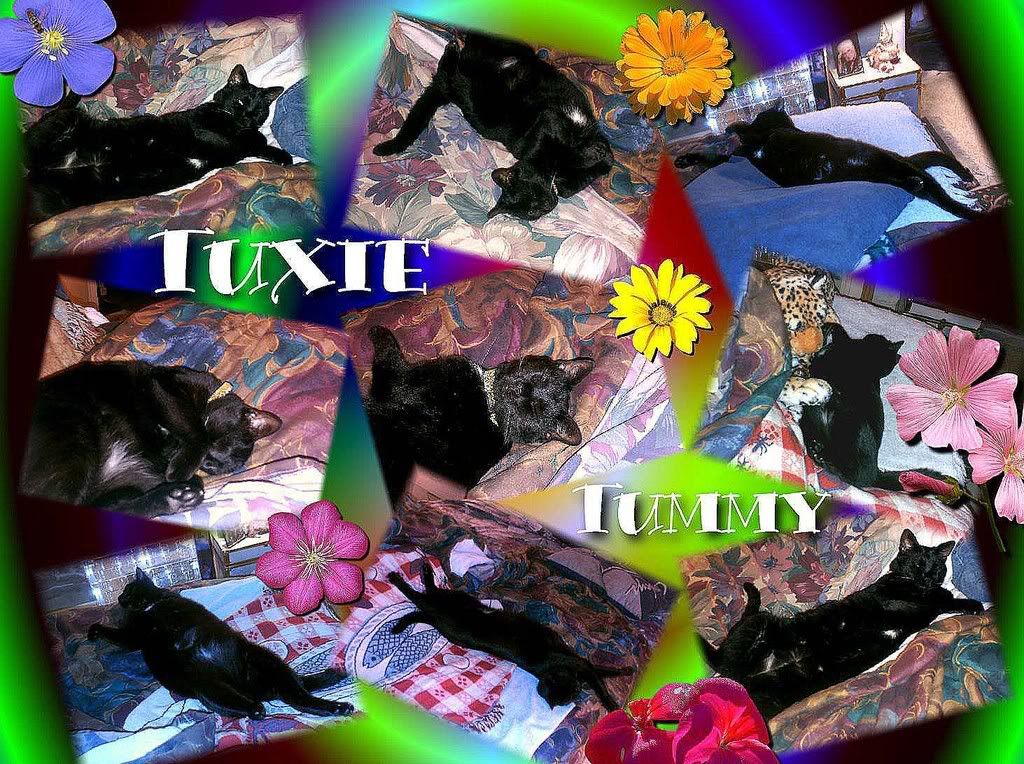 Yup, another collage, this one showing off my Tuxie Tummy. You will want to click on the image to bigify it, so you can see it better.
Notice how I also worked in toesies, nosey and tail in there? Not to mention some nice spring flowers!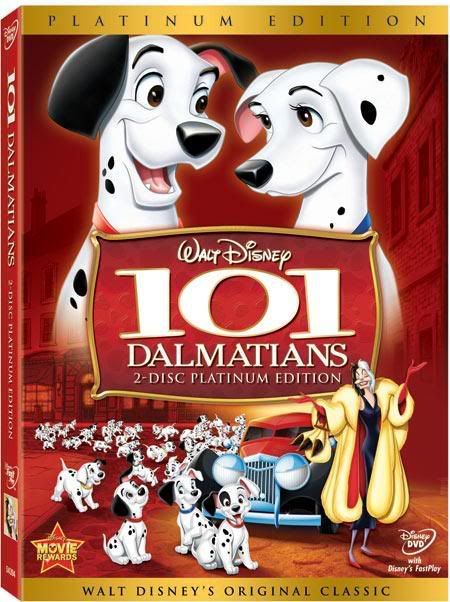 Disney's animated classic 101 Dalmations is being released in a 2-Disc Platinum Edition today. Originally released in 1961, this has long been on of my human's favorite Disney moovees. I figured it would take her forever to get me a copy of it, but much to my surprise, she came home last Friday night with a pre-release version of it.
She says I'm not supposed to say anything or the FCC will come and get her and lock her way. (Not sure what FCC is, but this comprises the Tattle Tail portion of my post.) In any case, Saturday, when she come home from Day Hunting, we watch 101 Dalmatians.
While this is primarily a woofie moovee, there is hero cat in the film, a Tabby Cat named Sgt. Tibbs.
It starts out with two spotted woofies Pongo and Perdita meeting, falling in love and getting married. Perdita is all set to have puppies when an old school chum of her "pet", Cruella DeVille shows up. Cruella likes fur, but not on the things the fur was born on. So she is looking the buy the puppies to make them into a Dalmatian skin coat. But the pets are wise to Cruella and will not let her have the puppies. One day, while Pongo and Perdita are out taking a walk in the park, Cruella's henchmen force their way into the house and steal the puppies.
After all normal forms of investigation fail - the police, Scottland Yard, etc. - the woofies take things into their own paws, turning to the Twilight Bark to find their puppies.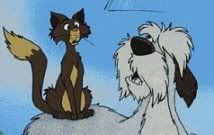 The bark finally reaches the ears of the old Colonel, and his faithful Sgt. Tibbs who report that puppies have been heard over at the old DeVille place. Tibbs is sent in to investigate and the Pongos are contacted. However, instead of the 15 puppies in Perdita's litter, Sgt. Tibbs finds 99 puppies!
Things go from bad to worse when Cruella shows up and demands that her henchmen knock off the puppies and skin them before she returns in the morning. With the Pongos still in route, it falls to Sgt. Tibbs to keep the puppies away of the henchman's cudgle and skinning knife.
I should note that while Tibbs is referred to as a Tabby Cat in the film, the stripes are not really noticeable in the animation. The animation of the film itself is a little different from other Disney moovees, kind of a more watercolor artsy type of background. The film is very nicely done and the puppies are precious, even if they are puppies.
Since she bring this home early, I guess I have to take back all the bad things I say about her. She really is a very good Bean, most of the days.
I know there have been a lot of questions about Black Cat Pub and I will try to get a post done sooner rather than later that will answer many of them and get the ball rolling. We have been working on a number of things and I need Bean's help for some of them. Unfortunately, she is still very busy with this Tacks Season and needs to get some sleep in too. I think you will get a kick of of it, so hang tight just a little while longer.