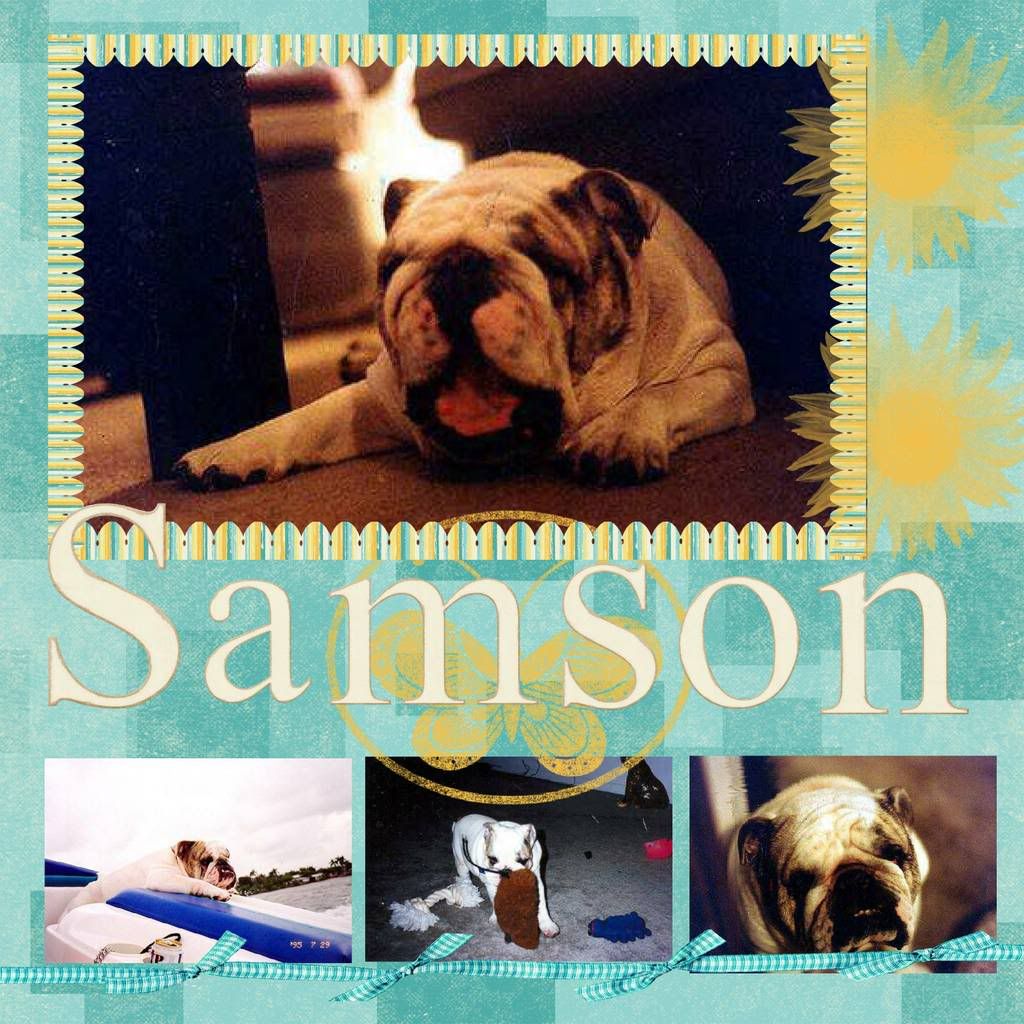 Click the image to bigify it. For composition information click HERE.
This is my Bean's old bulldog Handsome Samson Sourmug. He go to the bridge before I come to live with my Bean, so I never know him.
He is an Old English Bulldog, a breed which recently make the top 10 list (in the 10th position) of most popular breeds in the United States. It's the first time in 75 years that the Breed has made it to the list. Labrador Retrievers continue to top the list, followed by Yorkshire Terrors, German Shepherd Dogs, Golden Retrievers, Beagles and Boxers.
"This breed appeals to a very wide range of dog lovers so it's no surprise that it is a favorite amongst AKC's 157 breeds," said AKC spokesperson Lisa Peterson. "The Bulldog is both docile and adaptive, and can thrive in small or large homes. It's an excellent all-around family pet."
The Bulldog was first recognized by the AKC in 1886 – just two years after the organization's founding – and was most popular in 1915 when it peaked in 5th place. The breed's popularity ebbed and flowed throughout the mid-20th century, but since hitting a low of 41st place in 1973, its ranking has steadily increased.
Dachshund's and Poodles who once ranked #1 (Dachsies in 2006 and
Puddles
Poodles in 2005 are in the 7th and 8th spots respectively, tying for 3rd place. The Shih Tzu (bless you) is in 9th, followed by the Bulldogs.
Orginally bred in the British Isles for the handling of cattle, the Bulldog that America knows today bears little resemblance to the bulldog that once participated in the bloody sport of Bullbaiting. Working bulldogs bore more resemblence to the so called American Bulldog, which is not an AKC recognized breed.
While the general confirmation was much the same, working bulldogs were bigger, more agile and the muzzles were not as pushed in. The current trend in the exagerated short muzzle has lead to the breed having a short mouth and respitory problems when the short pallet overlaps the esophogus.
The bulldog is also hard to breed and not recommended except for experienced breeders. They litters are small, usually only one or two pups and the these often have to be delivered via ceaserian section as the large heads get stuck in the birth canal.
After bullbaiting was outlawed, the need for the breed began to wain and enthusiests worked to develop the Bulldog into a pet. The aggression was bred out, leaving the modern bulldog with a very gentle disposition toward humans. They are also fiercely loyal and very tenacious. The are not the most active of the breeds and can handle apartment living better than breeds that need a lot of room to run. They are not the best of watchdogs, but are fiecely protective of their family and their property when arroused.
On the down side, they are generally stuborn as a breed and can be difficult to train. They are prone to obesity, and they also will develop food aggression, trying to deny other dogs in their household access to communial meals. This must be trained out of them as puppies. They also require sepecial care for their wrinkles and are prone to genetic faults from irresponsible breeding.
Like many purebreds, any number of them end up in rescue organizations.
The Bull Dog Club of America
deals with Bulldog rescues across America and provides food, medical care, shelter and training to bulldogs awaiting adoption.
Bulldogs generally live 8 to 10 years.
Some have asked about Samson's registered name in the past. "Handsome" was because he is/was, "Samson" was his breeders name - his sire was a Samson and his grandsire was a Samson as well, and "Sourmug" is an affection given to the dogs over the years by many fanciers.
Since Samson has gone across the bridge now, he does not blog, but he does have a
tribute page
on Pikapet where you can find out a little more about him.
Name the Zebra Tabby:
I have been offered the name ZeeBee, Pooka, Mr Zeeby the Tabby, Zeke, Streak, Zoe, Zibbrizh, Zabby, Zebabby, Zippy, Zeus (or Hey Zeus, or Jesus - but you're a God either way, right?), and Wannabe.
Zippy was first name I think of. But he not really Zippy. In fact, I think he has been taking advantage of the all-you-can-drink Guiness program for household employees and tends to fall over a lot. So I think maybe we will go with D-Man's suggestion of Pooka, because given tendency to tip over onto his face, he'd be a nightmare to ride.
And besides, maybe all the falling over has to do with having one leg being shorter than the other, kind of like my friend, Pookie. (You can see in the
Stripes
picture how he sort of list to one side.) Their sideburns look totally different, though, I think.
As for if I have been playing with him, yeah, I bunny kick him a few times. Need to show him who is boss and keep him in line.