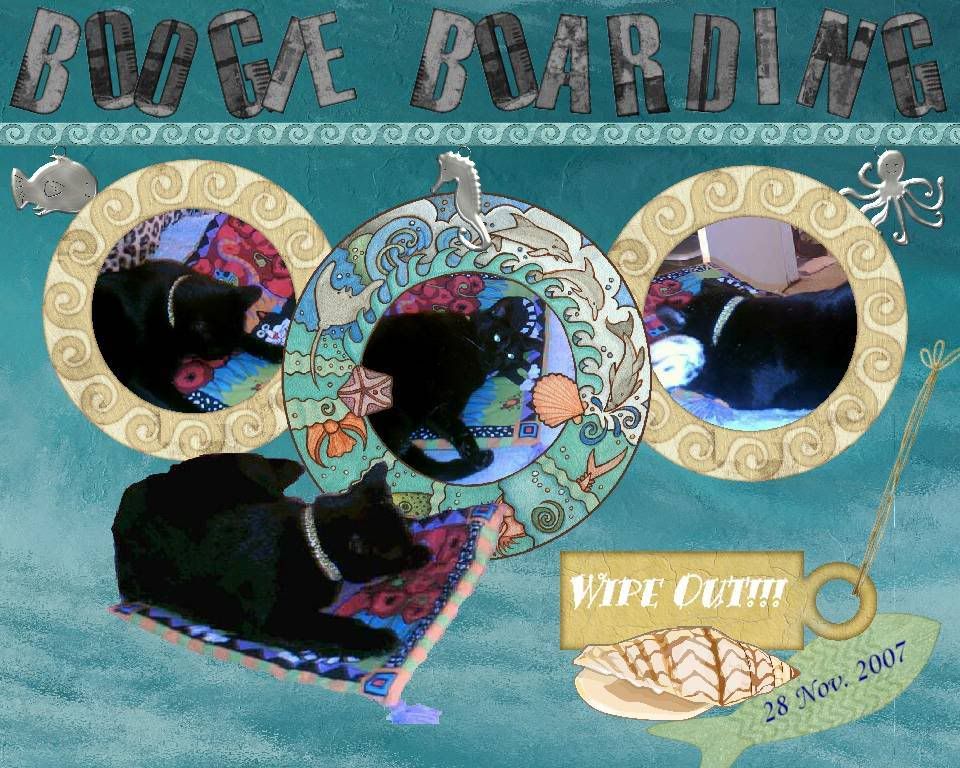 Click on the image to bigify it.
A public service announcement:
Tuesday, I fall off the table. I was just catnapping there like I have been doing since Eastern, when all of the sudden the table shove me off of it and I end up on the floor along with all the other stuff that was on the table including the motorcycle and Bean's Camera.
Thank Bast the camera not break, but then, it would not be my fault anyway. I was just sleeping.
I think it important that you must be aware that this could happen to you. Furnitures seem to have their own agendas and could turn on you with the least provication.
You know, who always hear about the dangers of the outside, but never about the dangers of the inside. You can be hurt inside too, so BE CAREFUL!
That being said, I thought I'd try a less dangerous pursuit, like boogie boarding.
You know Tyler, who is our featured cat today on
Digicats
, reviewed
Alice in Wonderland
, but I am more in the mood for some surfing moovees this weekend. Sadly, Bean is in the mood for
baseball
, so I won't get too watch too many moovees. Purhaps I will spend the time hunting Blue Jays.
Tyler's human Grandpaw is going in for surgery today, so his family needs your purrs please.
Huggy Bear is our featured Panther today on
House Panthers
where we also talk about cats amazing senses of sight and smell. Did you know, for example, that we have 3 times the number of olfactury nerves in our noses than humans do? And that we can hear with our eyes? It's true!
I hope efurry cat has a good weekend and can outside for at least a little while and enjoy some of the spring weather.
Purrs and head-butts to you all.