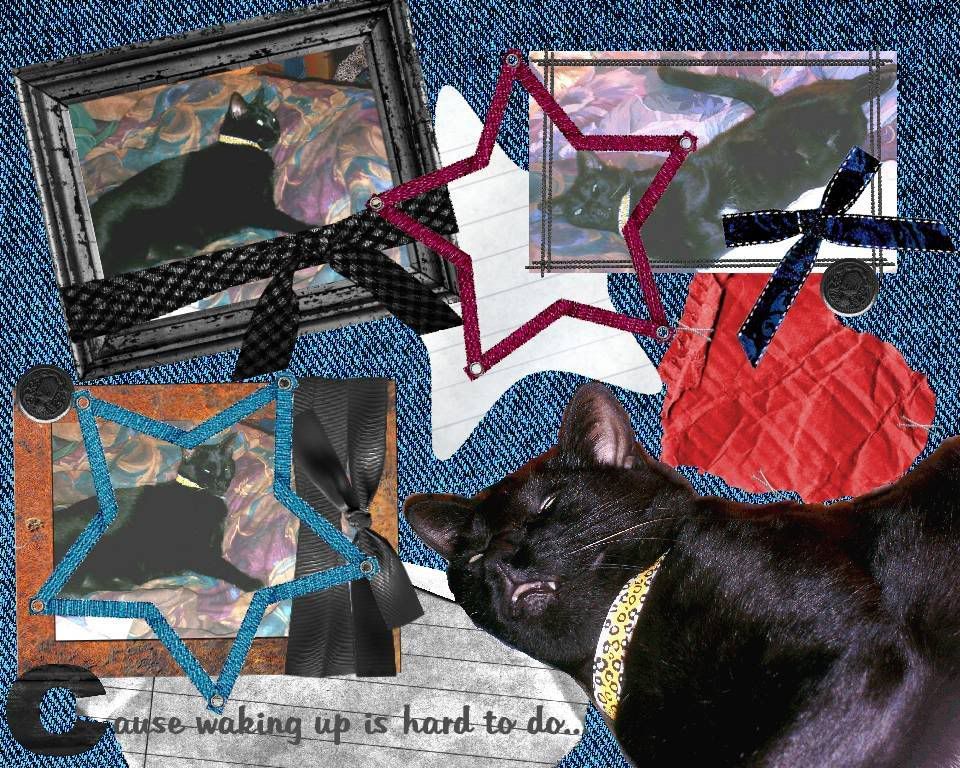 Click on image to bigify.
Clicking on image will not wake up the cute cat.
They say that waking up is hard to do
Know I know, I know that's true
Don't say this night's at an end
Instead of waking up I wish that
we were going to sleep againI beg of you, just say goodnight
Can't we give that bed just one more try
Come on baby, let's Snooze a new
Cause waking up is hard to do.
I have to say Carnival of the Cats of was great fun, but it was also a lot of work. Then once I get done with carnival, I teleport over to
Samanatha Black and Mr. Tigger's
for house wrecking party while their humans are away.
You know old saying "When the human's are away, the cats will play."
I would like to host other Carnival, but Bean says we must wait until fall. She did not get to write her FSL report because I using computer for carnival, nor could she go to baseball game today because I need her here (which was kind of good thing, to my mind).
But yes, come fall, we will host more Carnivals and maybe even Bad Kitty Cats Festival of Chaos (even though I good cat-cat).
If you have not yet done so, check out the
215th edition of the Carnival of Cats
. Much fun stuff can be found there.
I do have one comment. When I log into submission mail, I find a very dirty litter box with many past carnival submissions and a TON of spam in there. Please, if you are hosting carnival, take a few moments to delete the spam and also move the submissions for your carnival to the PastCothC box in the e-mail program. None of us like to use a dirty litter box!
So today is a very laid back Midnight Monday as we recover from all of the fun. I hope that my fellow black cats will be sure to stop by
House Panthers
and submit your post to our Midnight Monday roundup.
Purrs and headbutts to you all!
Now...for a nap!