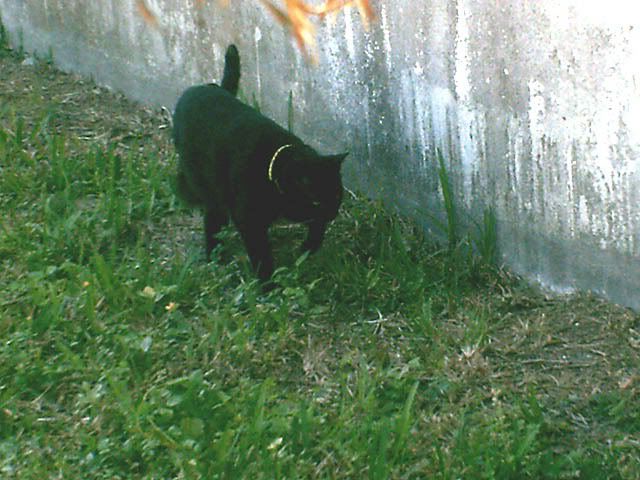 Well, come along. I want to show you my back yard.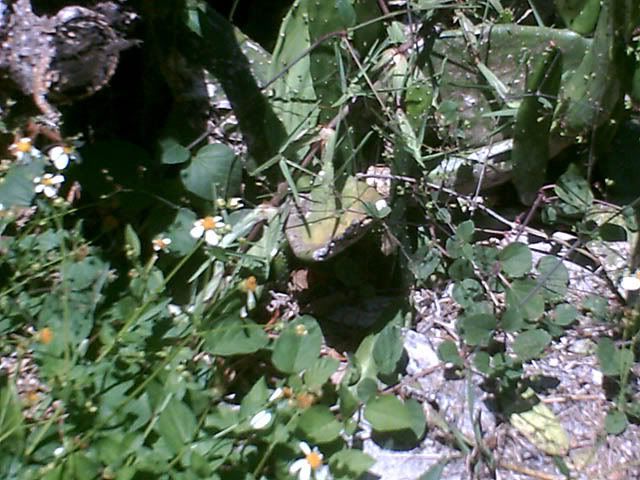 We used to have a
big cactus
, but it get blown down last year during a storm. But it is not totally dead, as you can see some new cactus starting to grow where the old one was.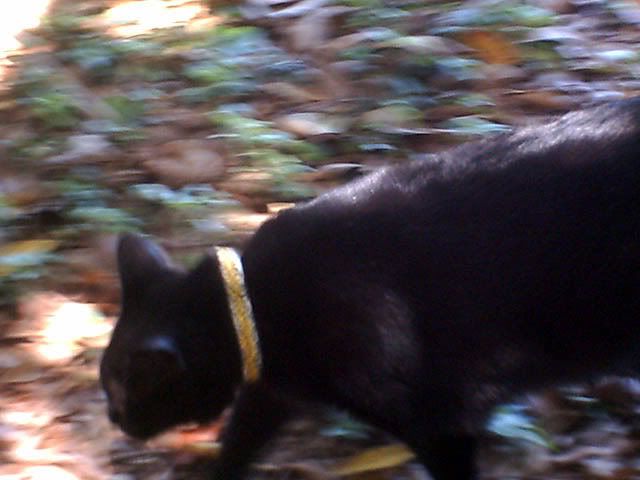 It is going to take a long while to get as big as the last one was.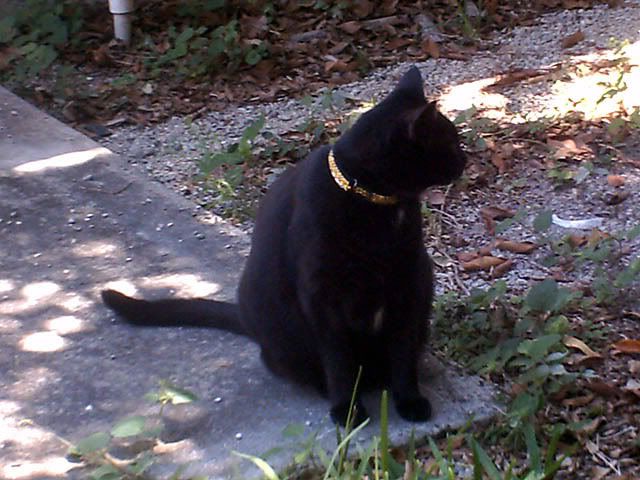 This is my patio. Everything is currently pushed to one side until it can be swept up and cleaned up all the winter debris. We have a table and chairs out here and a bar-b-que.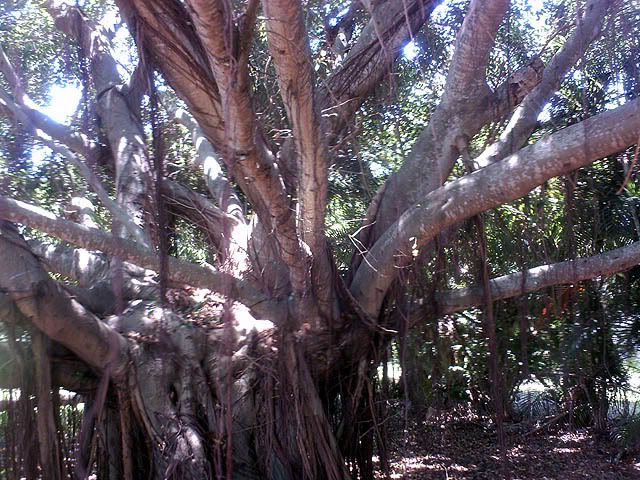 This is my Banyan tree. We do not have a very green lawn like the neighbors, but he have the bestest climbing tree in the whole world.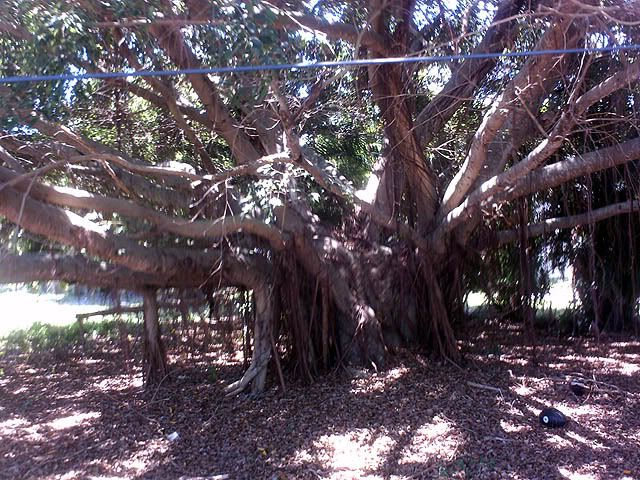 Big Banyans like this one are pretty rare even in Florida. Although Bean say she take cruise to Bahamas one time and they go to this botanical garden. After a tour of this garden they get to then to show them their crowing piece, a Banyan. Her friend Dennis look at her and say "We came all this way to see a Banyan?"
Hey, not every house on the block have one! This is one of the reason Bean wanted this house, as she knew I'd have many hours of fun climbing tree.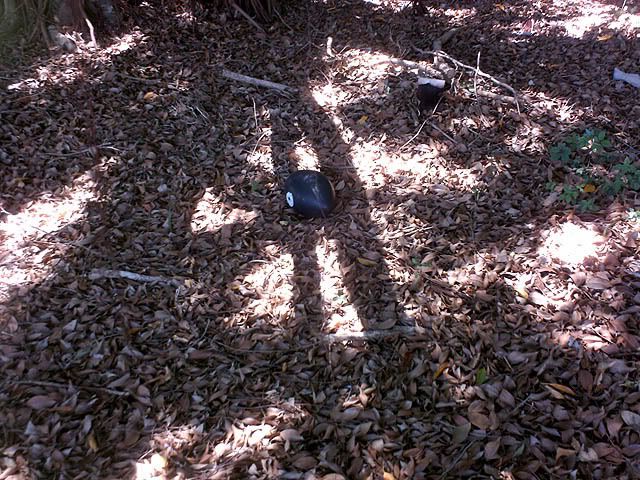 Under the tree, it appears the raccoon have been playing football. I wonder what down it is?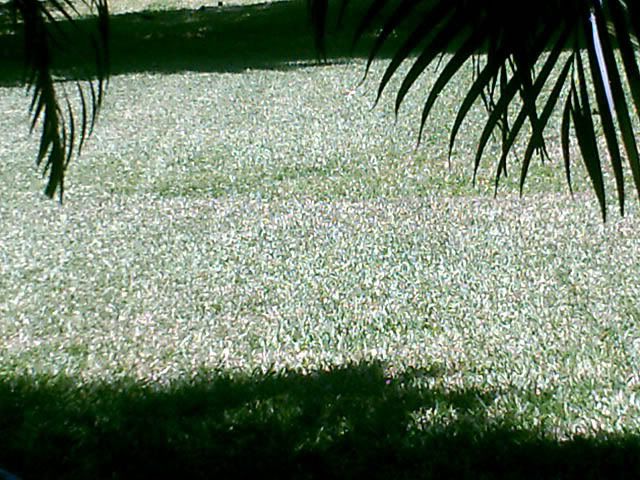 The neighbor's lawn - he who does not obey the water restrictions - is much green than ours. But it is not as shady.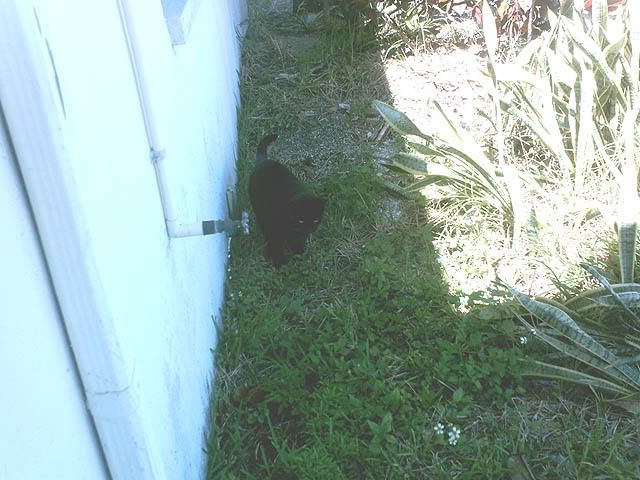 This is the scary part of the tour. See this thing on the wall. This is where Bean make water come from. It scare me. Water is coming from it now, and I do not like to go by it.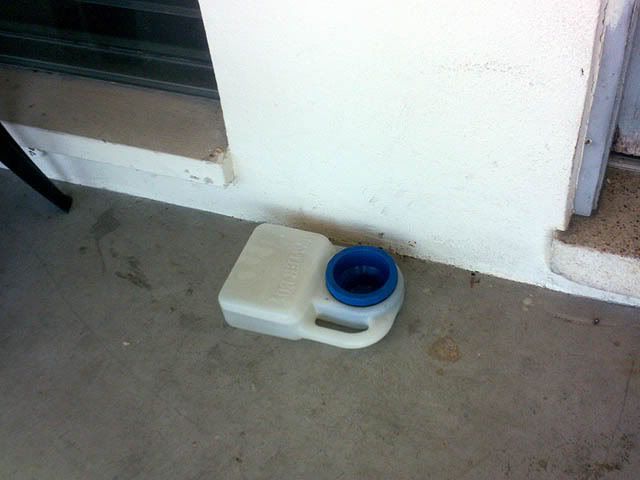 If I want water, I will get it from my waterboy drinking station.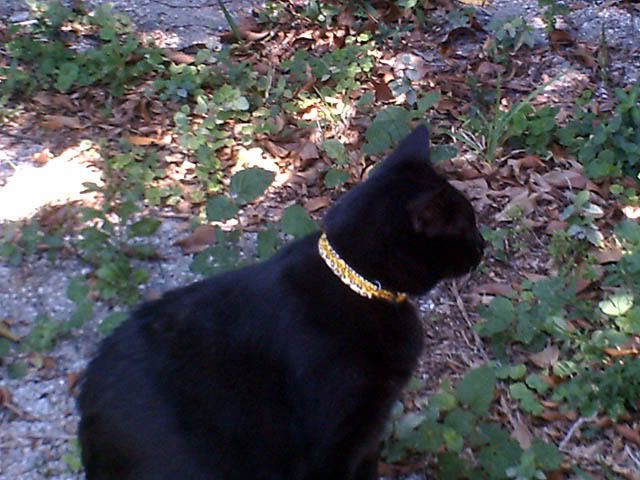 This concludes our tour of my back yard.

It has been
a furry sad weekend around the Cat Blogopshere.
Sweet Miral has gone to the bridge despite our best purrs. She as been furry sick. Her humans came home to find her. It appears whe passed to the bridge in her sleep. Also Her Majesty of the Feline Sextet passed to the bridge as well. It was 2-weeks ago, but it was just learned about yesterday. I know the Feline Sextet mom has not been with her kitties because of some human reasons and she just find out the sad news for their intrum caretaker. Her Majesty was almost 14-years-old.
Still no word on Mu Shue, Lilly Lu and Baby Iris. The patio door was open when the fire started, so there was a good chance they managed to get out of their apartment and escape into the woods. So far they have found no little feline bodies, but they have found no little felines either. The ASPCA is helping those humans who may have lost pets in the fire find out what happened to them.
There is a new
Gizzy Quilt Raffle
to help Mom Laura through CFHF. There are also a number of other fund raising projects going on, so stop by
Cat Blogosphere
for all the latest information.
We have a layout for
Sir Dante
on Digicats today. He is first mate on the Black Furball and living quite the Pirates' life under Captain Jack.

I have featured
Kon
as our House Panther of the Day. Kon is Sly's brofur and best friend. He likes chips. We also have a cat dictionary available in case you need to look up the meaning of the words Purr-ade, Purr-anoia or Purr-chase.
Enjoy your Sunday and please!!! No more sorrow this weekend. We've had our fair share of troubles of late.