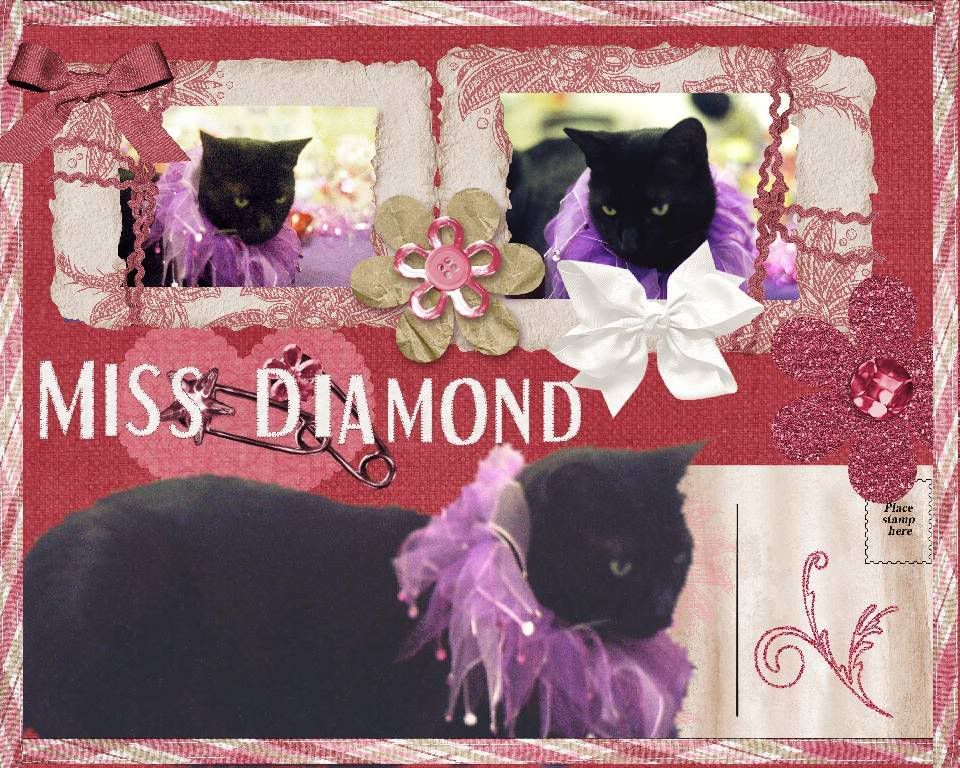 Click on image to enlarge
Kellie the Orange Cat say "Your Mum is very talented, oh wait, was it you or your Mum that did the digital scrapbooking?"
It is my Bean that do the scrapbooking but I snoopervise most of the time by sitting on her mouse hand. If I not like what she doing, I will nip at her hand so she will do something else.
This is especially true when she is making layouts of my furriends. They must be of suitable quality, you know?
The above piece is a "doodle" we do last night where we work with the pieces of a kit, in this case "Flowers for Mom" so she get a feel for things. We have to do card to send to O Hi O to her mom for Mother's Day so she is trying to get an idea of what she want to do.
I will still have to pose for pictures because her Mom like me in the pink boa, so I will wear that.
I should also note that I know many cats and or woofies refer to their human caretakers as their Mum or Mom or mommy. I do not. As near as I can tell, she is not a mom, as no one ever call her that. When people say "where is your mommy" I get confused, because I think the are refering to people I used to live with, who are not here now.
I do not actually associate a name to this Human, because she live alone and I never hear anyone call her anything often enough to figure out what her call word is. I do know my call word (name) and a lot of other words, but not the word for her. But she is my Human Bean and so that is how I think of her, Bean.
She is my friend and my companion. She take very good care of me. She respect my space and let me make my own decisions about things like staying inside or going outside. I have food when I want it and do not have to ask. She groom me and pet me. I purr and I kneed her. I catch the rats and the bugs that come in the house. When I find something wrong, I tell her. We friends.
When I first some to live with her I not happy bout it, because I live with Loretta-Bean and like it there. But she say I cannot stay there and must go with this Bean. I do not know then how this Bean will treat me, but I think she do excellent job. So I am very happy here with this Bean.
Anyway, I could not come up with something for T-13 today, and besides, there birds in my tree and I want to go check them out.
So I go do that now and Bean go to day hunting.