Hey wait! I thought you said my picture was going to be on the cover of VOGUE Magazine!!!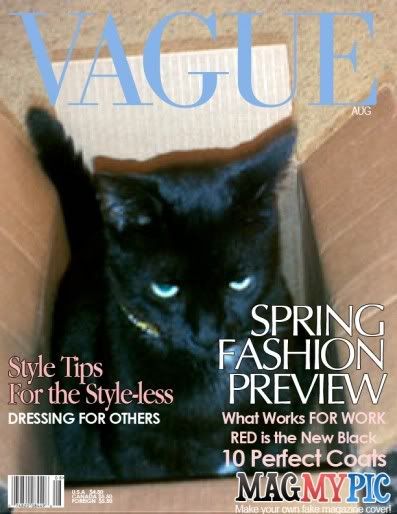 Six month ago, I was stuck in a dead end job as a residential exterminator. While I made a comfortable enough living, prey animals where not always available and I did not always earn the praise and treats that I felt I deserved.
But then I read about the Daisy Curly Cat School of Modeling. Daisy Curly Cat's patented system make it easy to learn all the skills you need to launch your self into a new career as an international feline model.
This learn-in-your-own-home system meant I never have to leave the comfort of my own territories. The materials were very clear and well thought out. There were plenty of illustrations, and I could learn at my own pace. And if worse came to worse, I could always contact Professor Daisy by phone or internet and get an answer.
Using Professor Daisy's system, I learned all about how to stand and sit, and how to wear costumes gracefully. I learned the attitude necessary to make me a success. I learn all about facial expressions and how to get the most out of a picture session.
I also learn about fashions, what to wear, and how to accessorize to bring out my best features.
The only thing it not come with is tape measure, which seems to be hold up in getting my model application in to Petsaleave.com.
Today I find I have many fans, all over the world, that eagerly await my next releases. I earn mega treats and eat only the finest of foods. I have best medical care available and everyone know and love me.
You too can take advantage of this marvelous career opportunity. Just call 1-800-Curl-Cat today to reach the Daisy Curly Cat School of Modeling and have your first set of instructional materials rushed to you.
Mancats, too, can learn from Professor Daisy's school, so call 1-800-Curl-Cat now to get started on a new career of international feline modeling.
Believe me, you will not regret it!
Special:
Sign up today and get Rocky the Gutter Cat's booklet "How to forge a portfolio". These tips are guaranteed to fool the pros and get you hired now! No experience necessary! Earn While you learn!

Squillions!
My Bean come home with four genuine, authentic, purebred Squillions from the Green Wall Shelter yesterday:
I do not know where she plan to put them, she said probably with the big gray kitty. Aren't they cute? She was surprised to find them because she say the Green Wall Shelter by us never have anything in stock when she want it. They do not have any gray tabby Squillions, but I do get a Meezer Squillion, as well as the Ginger Squillions.
Beach Report
As you probably know,
the Peach has hit the Beach
and what a sun bathing beauty she is! We're hoping she brought some sunblock with her so that fair skin of hers doesn't get burned. Meanwhile, Gretchen and Mike have know taken the plunge, but we're wondering if they'll be brave enough to take their boards out as
Surf's Up
here at the sea side.
Coming up soon, we have more water sports plus some deep sea fishing. You certainly don't want to miss out on the catch of the day! Who's gonna be the next feline furriend to brave the beach?