Click on image to bigify.
Many people know what dogs were domesticated from wolves, but what about cats? How did they come to live with humans? A study published in the July 2007 issue of the journal "Science" helps answer that question. Using genetic methods, scientists from the National Cancer Institute and the University of Oxford report that the origins of the common household cat can be traced back 100,000 years to ancestors in the Middle East. This much earlier than the earliest archaeological evidence of feline domestication that dates back 9,500 years to
Cyprus
.
By looking at the DNA of wildcats and domestic cats, the research team found five matriarchal lines from which all modern domestic cats have descended. Their ancestors, the
Near Eastern (Asian) Wildcat
(
Felis Sivestris Ornata
), still lives in Israel, Saudi Arabia and other Middle Eastern countries. It is believed that the domestic cat's ancestors become helpful to early farmers by hunting rodents and that domestication evolved out of the relationship between humans and cats. In turn, cats followed their human companions as they migrated across the globe.
"The cats just sort of domesticated themselves. People today know that you can't keep a cat inside [without barriers], and 10,000 years ago in the Fertile Crescent you couldn't just shut the window," said geneticist Carlos Driscoll in a
National Geographic article
.
Cat studies of all types are hindered by the many physical and behavioral similarities between domestic cats and their wild relatives. In fact, it is often difficult or impossible for even the trained eye to tell them apart, and interbreeding has created many hybrids of the two.
It is still however, believed that domestic cats developed their long standing relations with humans in Egypt, and that the spread of domestic cats across the globe started with domestics smuggled out of Nile Region. (It was illegal to export a cat from Egypt.)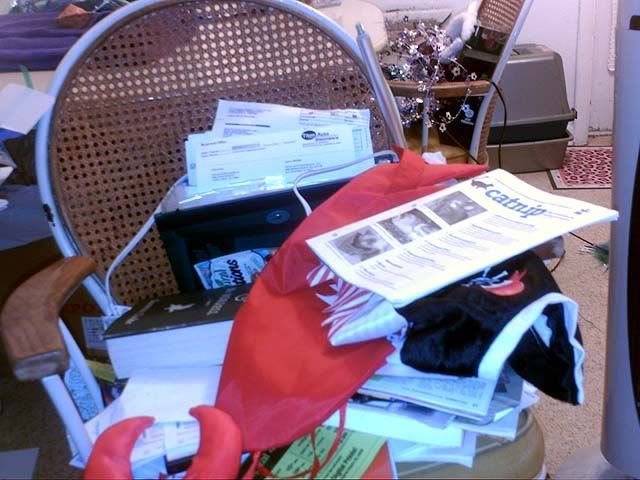 I was tagged by
D-Man
for the book meme. Here are the guidelines:
1. Pick up the nearest book.
2. Open to page 123
3. Find the fifth sentence.
4. Post the next three sentences.
5. Tag five people and post a comment to maybe
Empress
of
-d
(or Mickey or D-Man or...) once you have posted it.
The nearest book is the Minnesota Twins media guide from last season. Josh Rabe is on page 123. I think we will skip that.
Instead I am going over to the chair (which is you can tell is in the process of being organized and will grab the rather large volume that you see there, which is Susanna Clarke's
Jonathan Strange and Mr Norrell
.
It's a novel. It also makes a good doorstop based on weight alone.
Anyway, here we go...
"Or stray dogs, I wonder? This is not the sort of magic which civilized men wish to see practised in England nowadays!" He glared furiously at Vinculus and, as he did so, something caught his eye.
Fun stuff, right?
I wish to tag
Chey
,
Eric and Flynn
,
Mosaic Annie
, and
Tesla
, unless they've already done this one. Then forget it you don't have to do it again.