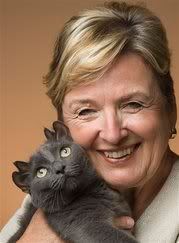 The latest Celebri-cat to hit the feline scene is Yoda, a four eared cat that live in Downers Grove, Illinois. That's right. Four eared.
Yoda became famous when his picture was posted on the internet. Since then, his family could use a couple of extra hands as they have been fielding calls and appearance offers from "Good Morning America," "Fox News" and "The Tyra Banks Show." The cat's photo has graced the London Guardian and a British tabloid. The Daily Mail said if Batman had a cat, it would be Yoda.
Ted and Valerie Rock said they found Yoda in a Blue Island bar in 2006 while they were watching a Chicago Bears game. The bar owner was keeping the 8-week old kitten in a cage where he was providing "entertainment" to the cruel and evil patrons who mocked his appearance, calling him names like "Devil Cat" and "Beelzebub."
The Rocks felt sorry for the kitten and offered to adopt him from the bars owner. While it was not love at first sight for the Rocks, the slightly demonic looking cat has certainly swept the hearts, and curiosities of people around the world.
For now, Yoda is considering his appearance schedule and keeping an "ear" out for the just the right opportunities. You have to admit that is man-cat is certainly a devilish little heart-throb!