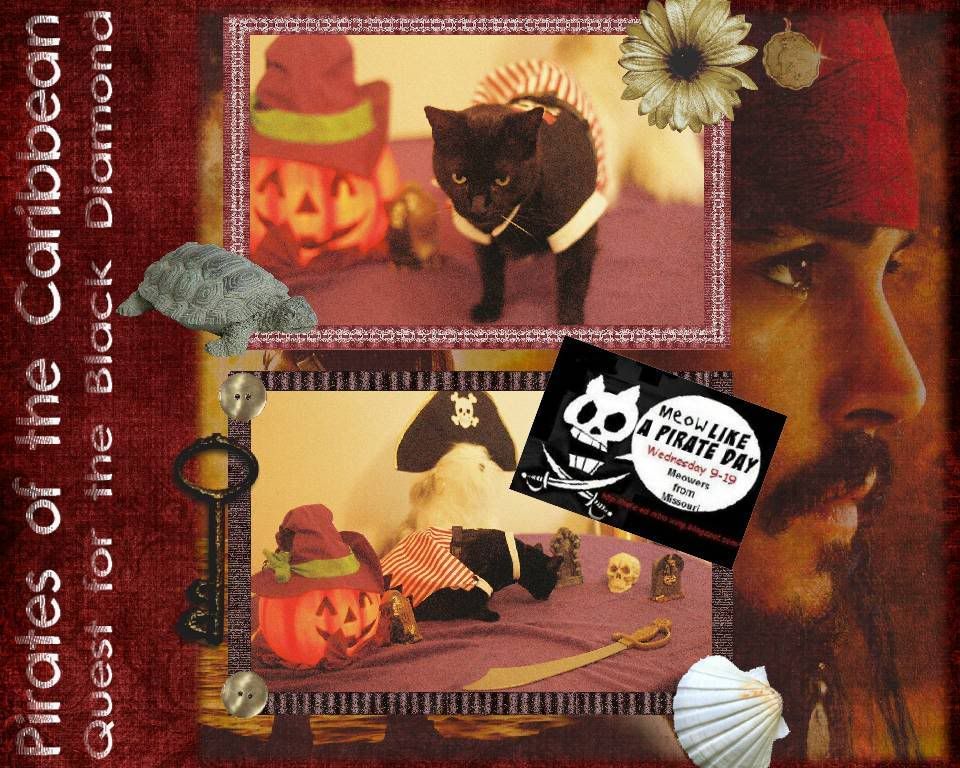 Ahoy there Mateys, Captain Diamond here also known as Diamond the Black come to give ye a bit of a lesson in Pirate speak here on this Meow like a Pirate Friday!
In case ye didn't know, the word I just used "
Ahoy
!" is a very simple word that just means "Hello!".
Now then, ye might have heard this word "
Avast
" All that word there means is to stop and give attention. It can be also be used in a sense of surprise, "Whoa! Get a load of that!" which today makes it more of a "Check it out" or "No way!" or "Get off!" type word.
Now, then, when I gives an order to my crew, I expect them to reply with and "
Aye aye
". What that means is they'll be gettin' right onto the task I have assigned to them if they know what's good for them. I run my ship with an iron claw and I expect a prompt response from my crew.
When ye just use the word "
Aye
" by itself, what it means is "Why yes, I agree most heartily with everything ye just said or did."
One of the most common words in a pirate cat's vocabulary is "
Me'Arrr
!" This word is often confused with
me'arrrgh
, which is of course the sound ye make when ye sit on a belaying pin. "
Me'Arrr
!" can mean, variously, "yes," "I agree," "I'm happy," "I'm enjoying this grog," and "That was a clever remark ye or I just made." And those are just a few of the myriad possibilities of Me'Arrr!
Now, here's a couple of not so well known words that ye probably should be aware of.
Grog
– An alcoholic drink, usually tuna rum diluted with water, but in this context ye could use it to refer to any alcoholic beverage other than beer, and we aren't prepared to be picky about that, either. Call yer beer grog if ye want. I won't stop ye! Water aboard ship was stored for long periods in slimy wooden barrels, so ye can see why tuna-rum was added to each sailor's water ration – to kill the rancid taste. Drink up, me hearties! And call whatever ye are drinking grog if ye want to. And if ye're looking for the best Tuna Grog in the CatBlogoSphere, well, ye've found it here at Capt. Diamond's Grog Shoppe, no doubt about that!
Land Lubber
- This refers to a cat that has never sailed the seven seas and doesn't wish to. They're not tough like a Pirate Cat is. This is a grave insult in Pirate Cat lingo. In most cases, yer human is probably a land lubber, but what can ye do? We need slaves to function!
Bilge rat
– The bilge is the lowest level of the ship. It's loaded with ballast and slimy, reeking water. A bilge rat, then, is a rat that lives in the worst place on the ship. Here's an example of a Bilge rat: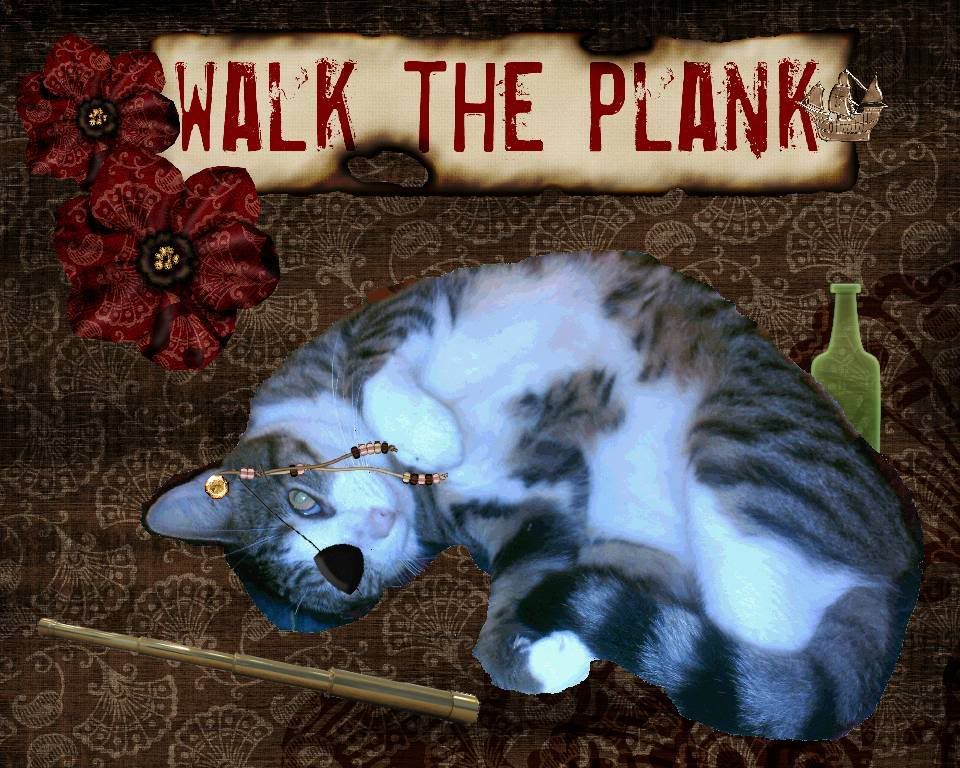 As ye can see, he's had too much Tuna Grog, is useless for look out duty and doesn't have enough sense to go walk the plank in shark infested waters. Seriously, what's a fierce Pirate Cat to do with a lazy scoundrel like this?
Be that as it may, ye now know the basics of Pirate cat speak and should be able to Meow like a Pirate with the best of them.
Happy sailin' Matey!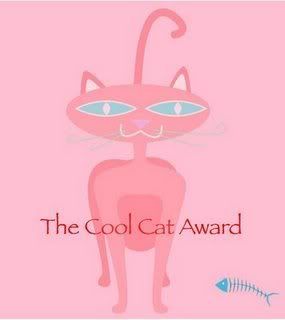 Thanks to Sunny & Ollie for this award!
I'd like pass this award on to the
Dread Pirate Diego
,
One-Eyed Jack, the Pirate Cat
, my good friend
Misty, the terror of Loch Michigan
,
Stygia, the Stygian Panther
, and the crew of the good ship
PB&J
.