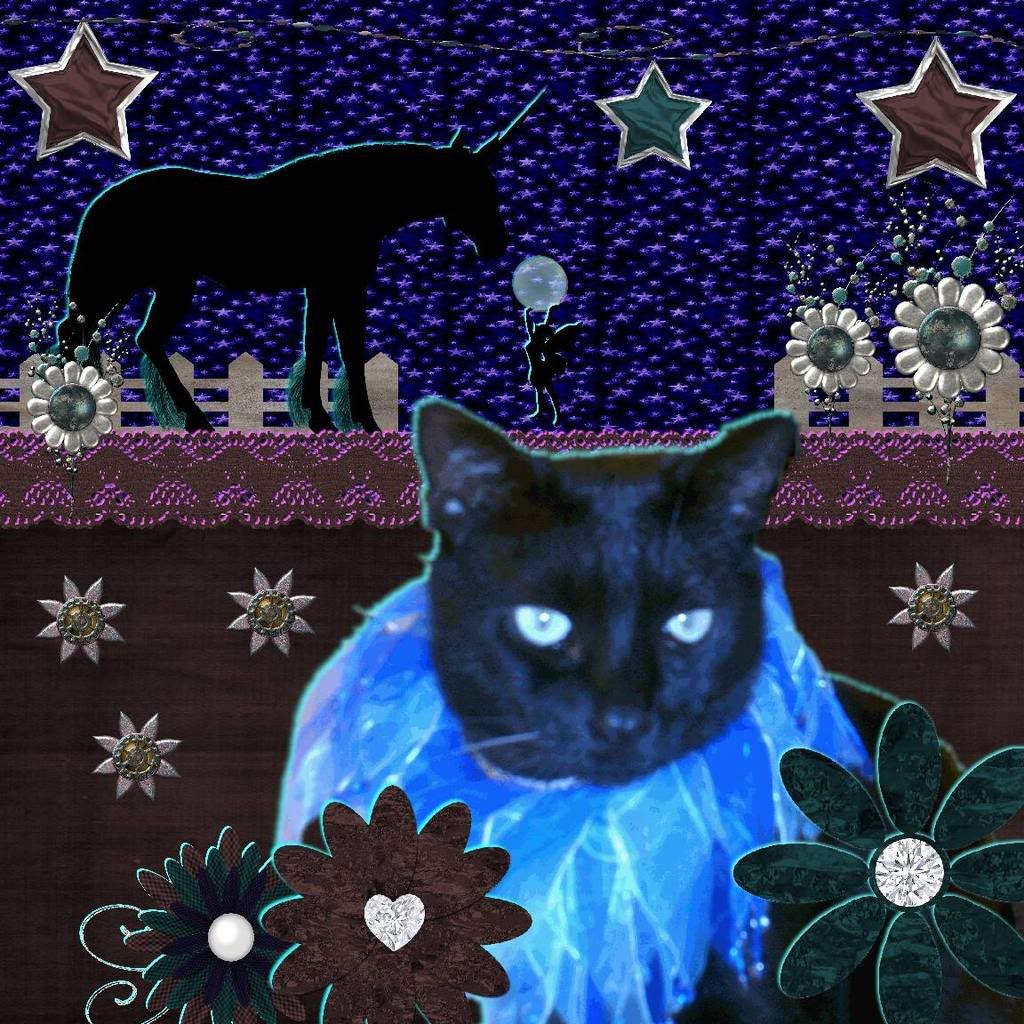 I had a unicorn come to play in my magickal midnight faery garden. It was a very special occasion for all of us to see this mysterious creature up close.
While there is certainly no solid physical evidence to base the belief on, some hold unicorns to be an extinct species rather than a mythological creature. Certainly, if they existed they hold little resemblance to the modern popular image of a unicorn - that of a horse with a horn on it's forehead.
The traditional unicorn most certainly was smaller, probably the size of a deer or a pony, had billy-goat beard, a lion's tail and cloven hooves. It was always held to be elusive and solitary, and mysteriously beautiful. That it's horn was said to neutralize poison would have been more than good enough reason for medieval hunters to harry the poor beasts to their final end.
Unicorns are not found in Greek mythology, as is the case of many fantastical creatures, but instead in accounts of natural history. They were said to be located in India and the earliest description is from Ctesias, who described them as wild asses, fleet of foot, having a horn a cubit and a half in length colored white, red and black. Aristotle mentions two one-horned animals - an Oryx and a so-called "Indian Ass", Oryx - a kind of antelope - actually do exist, and when seen in profile appear to be single horned.
Strabo says in the Caucasus, that there was a one-horned animals with stag-like heads, while Pliny the Elder mentions both the Oryx and the Indian Ox, though to be a rhinoceros, as one horned beasts. Additionally he lists the Monoceros, a creature with the head of the stag, the feet of the elephant, and the tail of the boar, while the rest of the body is like that of the horse; it makes a deep lowing noise, and has a single black horn, which projects from the middle of its forehead, two cubits in length.
Chances are good however that either the Oryx or the Eland, South African antelope which appears to have one horn when seen in profile, gave rise to the accounts of unicorns. Many narwhale tusks were also passed off as unicorn horns in market places, furthering the belief in these creatures. Another possibility came to light more recently with the discovery roe deer in Italy with a single horn. Single-horned deer aren't unheard of, but it's rare to find them with the horn in the center, as it the case with this one. However, it's possible that if one existed, others have as well giving rise to tales of the creatures.
The belief in unicorns really took off in Medieval Britain, with it appearing in heraldry and numerous tales. It has long been identified as symbol of Christ by Catholic writers. The original myths refer to a beast with one horn that can only be tamed by a virgin maiden; subsequently, some Catholic scholars translated this into an allegory for Christ's relationship with the Virgin Mary. Interestingly enough, the collective term for a grouping of unicorns is "a blessing of unicorns".
Certainly, the unicorn is the only beast - fabulous or otherwise - that does not seem to have been conceived out of human fears. In even the earliest references he is fierce yet good, selfless yet solitary, but always mysteriously beautiful.