Here are some of the pictures that were taken of me at the Walgreens Call to Action Photo Shoot. My bean has added the frames and the word arts to the pictures:
I was not rolling my eyes at the photographer. I was trying to look spooky.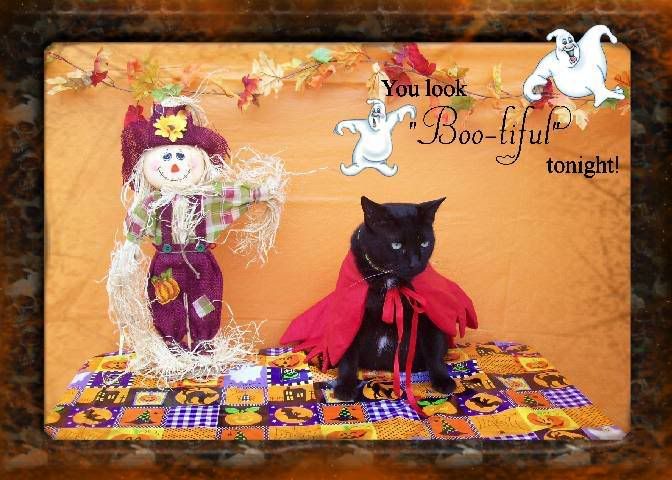 Despite the fact that this held outside, I behave myself and hold very still, just like I learn at the Daisy Curly Cat school of modeling.
Here I think I look especially menacing in this picture!
I wish to say I was a VERY GOOD GIRL. We get in the car to go to the photo shoot and I do NOT go in the PTU. I behave myself very well in the car. Then my bean hold me while we wait for Roscoe the Woofie to get his pictures taken.
Then it my turn. I sit on a little table and they put my little devil cape on me. They have bandannas for pets not have costume, but I bring my little devil cape.
Then I do my posses and the photographer was VERY impressed by how I sit so well for the camera and not need leash or anyone to hold me while I get my picture taken.
After it is over, I get back in the car - but NOT in the PTU - and we drive home. By this time I was very hot and tired out, so I was happy to be in the air conditioning with a big drink of cool water, lots of treats and then a catnap.
I also get a very good feeling knowing that I have helped out Best Friends Animal Society and the Delta Society, two very good organizations.
On a side note, Disney Family is holding the
Bow-Wow-Ween Contest
for best woofie costume pictures. I guess they do not think cats can dress up. I am going to enter, just to show them different.
I do not know what I would do with a year's worth of dog food, but I can assure you that I do cute and cuddly better than any woofie, and I think it very unfair that cats are always left out of contests such as this. When my picture get posted, I will let you know so you can vote for me!