What Lo Knows
has tagged us for the 5-things Blogging me-me.
The rules for this me-me are...
1. Write about 5 specific ways blogging has affected you either positively or negatively;
2. link back to the person who tagged you (See above);
3. link back to the parent post (Sadly, this link is gone);
4. tag a few friends or five, or none at all.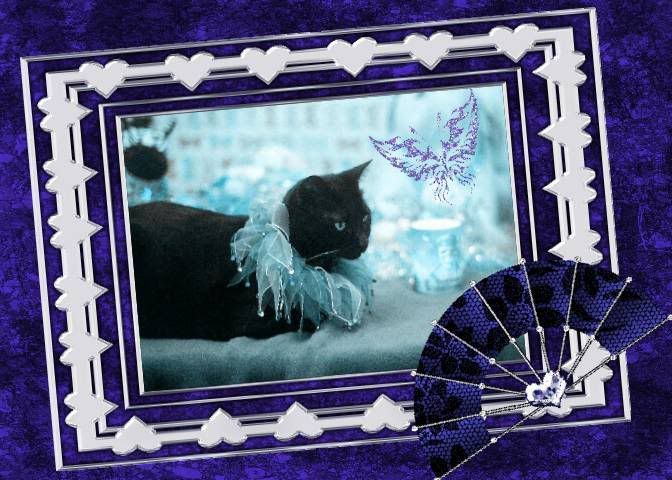 1) For me, the most recent effect blogging has had on me was to get me interested in digital scrapbooking. It probably wasn't that much of a stretch, since I've always enjoyed regular scrapbooking and it ties in with my photographic hobby as well. It's also given a me a new love for for computer graphics, something I've usually hated in the past and always dug my heals in about working on.
2) Diamond likes to be the center of attention and gets treats and pets, so for her, blogging has allowed her to become something of a celebri-cat, at least in her own mind. It also allows her to be vocal about the issues she cares about (like Domestic Violence and the price of Temptations).
3) I have found that I have fans in far flung corners of the world, who almost ever write me, and lots of people who hate my guts who always do. As a result, I now have a hide so thick not even the horn of a rhinoceros could penetrate it. I am sure this will serve me well, should I actually end up as one of the featured Bloggers on the Fort Myers News Press next year (as Ed and Ed seem to be planning).
4) I've discovered that if I don't blog for a few days, nobody really cares, but if Diamond takes time off, it's a major CAT-A-Strophe. She also has more friends then I do, which is why I won't let her have her own myspace page.
5) It's allowed me to explore different places in the world that I most certainly wouldn't get to if I had to travel. I'm nearly as bad as Miss D about going places, although cars don't bother me much. Airplanes and buses are a whole different situation.
On the whole though, I've blogged for so long - even before there was "blogging" per se - that it's really hard to say it's affected my life one way or the other. It's certainly made my website(s) easier to update as push button publishing is a heck of a lot easier than building a site in xhtml from the ground up.
As for passing this one on, we'd like to tag
Daisy the Curly Cat
, as I'm sure her answers would be most edifying,
Not the Mama
whose comments would be interesting to read I'm sure, Rocky and the crew at
Artsy Catsy
, who inadvertently introduced Diamond and I to the Cat Blogoshere,
MoMo
, down under, who I'm sure is looking forward to summer, and the Hotties, over at
House of the (Mostly) Black Cats
.
---
Diamond would like to thank
Mr. Hendrix the Kitty
for her wonderful Brilliant Weblog award. (She does so love to get awards.)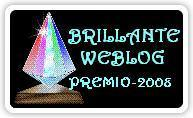 Here are the rules:
1) Put the logo on your blog.
2) Add a link to the person who awarded you.
3) Nominate at least 7 other blogs.
4) Add links to those blogs on yours.
5) Leave a message for your nominees on their blogs.
Diamond and I would like to nominate the following blogs, which enjoy reading on a regular basis:
Cat's Eye
Sandwiched Mom!
Team Tabby
Tybalt, the Prince of Cats
T'Abby Normal and the Stygian Panther
Our life by Eric and Flynn
Purrchance to Dream