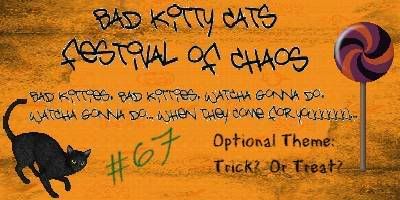 A cold wind has been blowing down from the North and so purrhaps, the thoughts of most kitty cats have turned to Kissy Mouse in some not so few months, and the arrival Sandy Claws. So Bad Kitty Cats Festival of Chaos get off to a woefully slow start as everyone pretending they be Good Kitty Cat.
National Feral Cat Day was Thursday, and so Rahel starts us out with a look at a some feral cats,
Two Grays, and a Tabby
that live in a colony near a downtown restaurant in Jerusalem.
We get a look at another tabby, this one not feral, as Debra presents
Finally Friday
at
Manx Mnews
.
Parker corners the market on cute and shows us what a contented formerly feral tabby looks like on
Formerly Feral Friday
at
Perfectly Parker
.
House of Chaos
had some feral visitors who prove to be
Frolicky Friends
.
Meanwhile my brofur, Tristan Tabby Cat Longtail has a tale to tell in
Along came a...
at
Tabbylicious: Tristan's Place on the Internet
.
Hey wait a second...that's not a bug. That's MY SPIDER TOY!!!
Cheysuli
would like to remind us to "stand by your friends" on
Meezer Rule Wednesday
. (He's not furiend. He's my family! That different!)
Mog shows us a look that needs no words on
Wordless Wednesday
posted at
Mind of Mog
.
Meowza and Infidel
engage in a bit of nose kissing on
Tuxie Tuesday
. With Tristan and I, it more like nose butting then nose kissing.
Meowza
displays her tummy for out enjoyment on
Tummy Tuesday #111
.
Speaking Tabbies, T'Abby Normal lays down
some threats
for the errant Ms. C at
T'Abby Normal & The Stygian Panther
.
And see seems like such a nice Tabby too!
NO tabbies, but lots of tuxies on a
Tuxie Tuesday
at the
House of the (Mostly) Black cats
.
Daisy the Curly Cat
had a great idea the other day, but Mr. Shrill had other ideas as we find out at
Mr. Shrill's Big Escape
.
BTW, not submitted to the Festival, but of great importance anyway, is the fact that
Harley has indeed found his 4-Ever home
!
Luna is doing some
Weekend Cat Blogging: Rest and Play
at
catsynth.com
.
We're off to visit with one of my favorite Bad Kitty Cats, as
Mr HendrixBendrix
explores the
Forsaken Souls Prison
.
FAZ
has a favorite trick in which
she likes to pretend to want her tummy tickled
than bites the hand that tickles! (I do this trick sometimes myself!)
Dorydoo
of the Ballicus Blog
celebrated her fourth purthday
this week, one day before my slave celebrated becoming a member of the San Francisco Football Team. (Well, she says she's a
49er
now!)
I think she should stick with them, as they can't be any worse than the Dolphins this season!
Meanwhile, Samantha and Mr. Tigger had some really cool artworks to share with us at
Life from a Cat's Perspective
.
Willow
too, has some
wonderful artworks to share
! (I thinks she has been inspired by the work of my creative team!)
If you need more chaos, and if you missed the grand opening of our T-13 Monster Movie extravaganza, well...
it's always a movie night
at
Castle Diamond
! Grab some popcorn and enjoy!
Oh...and the original Bad Kitty himself, He, Zed Monster, stopped by to express his love and to tell me how he got
FANGED BY A SNAKE
. The poor, sweet dear. You can read about the adventures of he, Zed Monster, on
this post at Castle Diamond
.
SQUINKS AND PURRS AND LOVE LOVE LOVE to you my Zed Monster!
That does it for this week's edition of
Bad Kitty Cats Festival of Chaos
! The Festival will return to Castle Diamond on November 16th, so mark your calendars!
Now, if you'll excuse me, I have to go try to turn Daisy green...
Got Comments?