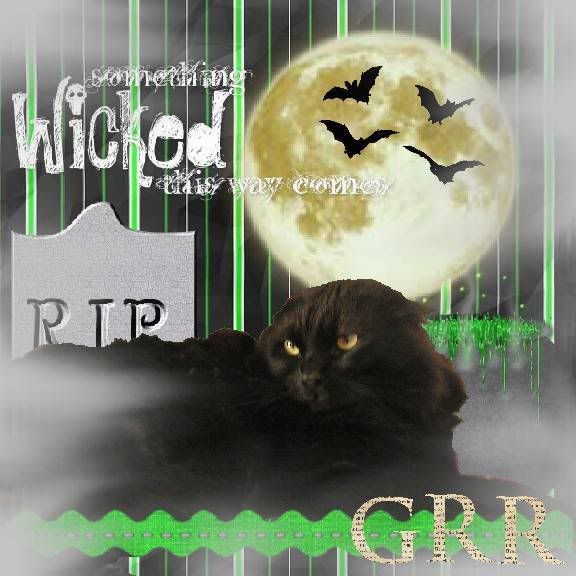 Daisy asked yesterday "Is that what you call scaredy cats?"
Cats on the whole are more cautious then afraid. After all, discretion is the better part of valor, is it not?
But when something threatens, a cat my react in a one of several ways.
I myself like to puff up my furs when threatened, and make loud growly noises. If anything gets to close to me when I am outside though, I will retreat, usually up to the roof or up in the tree, where ground animals cannot get me.
Many cats however, lay back their ears and hiss. Some have theorized that as most creatures have an inbread fear of snakes, it is to the make the cat appear more snakelike. Certainly, we can whip our heads around quickly in snake like manner when we have to, and our warning hiss does sound very mike the sound a serpent might make.
We do have some formidable weapons in our claws and our fangs. Even declawed cats can pose a threat in battle situations just from using their fangs, their body weight and their back claws to do some damage. Most cats will not however take on foes that are much bigger than they.
(Although my bean will tell you the story of her mother's cat Juliette, who ruled the household with a iron claw. My bean went over the house after work one wintery day to find Nicky, the family german sheperd, curled up in the snow in the yard, shivering. She could not understand why he not in his dog house, until she look and find Juliette had made herself quite at home in straw and would not let the poor woofie in!)
There was a story not to long ago about the cat who treed a bear. This is more the exception than the rule however. While we were defend our territory, we'd rather do it by bluffing, than by getting into a an actual fight.
Loud hissing, meowing and growling are all parts of the bluff, as it the laying back of ears and the lashing of tails. We threaten with body language, but in many cases it is a defensive sort of body language.
Humans should be careful though and never try to break up a tense situation between to cats by touching one of them. It is a good way to get bit or scratched, as we are likely to attack first and ask questions later when something startle us. If you should need to break up a fight between two cats or a cat and another animal, turning a hose on the combatants is usually a good way to do this. Even a woofie who might be attacking a cat will be surprised by the water and most likely retreat.
Loud noises sometimes work, but getting physically involved is not a good way to break up a fight.
In most cases, we will work out situation between ourselves without the outside help of our human friends, bu we certainly appreciate the help, should we get into a situation we cannot handle.
Speaking of human intervention, I came inside with a number of burrs in my coat, and so my human wish to groom me now.
Thanks for visiting. Remember, tomorrow is Spooky Saturdays over at Boolatry: