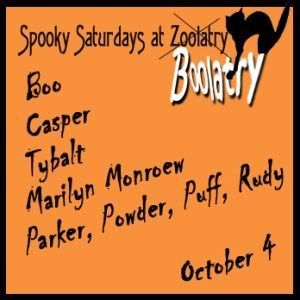 As you have probably heard by now, I have been selected by Zoolatry to help them with their Spooky Saturday's during the month of October.
Zoolatry
Boolatry is one of our favorite cat artists, so to have them ask to used some of our spooktacular scrapbook cats for their Spooky Saturdays was quite a surprise and an honor.
But never fear! We will continue to feature our own Spooktacular Cats for T-13 every Thursday here at Diamond's Castle. This week, we will be treated to a grouping of ghostly gatos. If you're interested in a sneak preview, you can head over to
Digicats (and Dogs)
for a preview of our ghosts as they are created, along with production notes on each. Plus there are some great tips for those of you who enjoy digital scrapbooking.
My Creative Team (a.k.a. my bean) has also started playing with tubes and doing some tube tags, which you will find there as well.
Thanks for dropping by, and I hope you enjoy your stay at Castle Diamond!