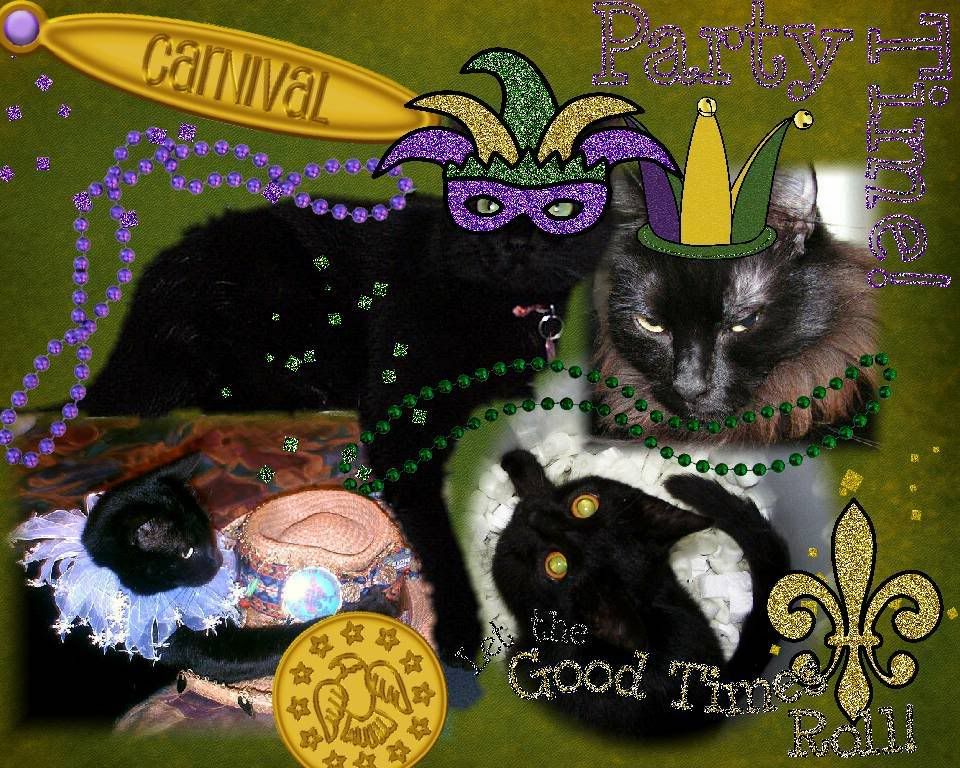 This not really classify as a Myth, but I am doing it more to demystify you. I have couple of furson's say they not know what a blog carnival is.
A
Blog Carnival
is a type of blog event. It is similar to a magazine, in that it is dedicated to a particular topic, and is published on a regular schedule, often weekly or monthly. Each edition of a blog carnival is in the form of a blog article (called a carnival) that contains permalinks to other blog articles on the particular topic.
Kind of like a Reader's Digest verision of Cat Blogosphere.
Carnival posts are generally collected by the host of the carnival by soliciting relevant contributions from interested people. The host collects links to these submissions, edits and annotates them and publishes the resulting round-up to his or her blog. Many carnivals have a home page or principal organizer, such as
BlogCarnival.com
who lines up guest bloggers to host each edition. This means that the carnival travels, appearing on a different blog each time.
Communities of blog readers, writers, and edition hosts form around specific carnivals. The carnivals provide an summary of recent posts by the community on a given topic, and the host provides a level of editing and annotation that helps readers find posts they are interested in. Writers who submit their articles to blog carnivals are rewarded with traffic (if the host decides to give them a link and, perhaps, a positive review).
The earliest blog carnival, so named, was the Carnival of the Vanities, announced at the Silflay Hraka blog in September of 2002.
Cat Blogoshere bosts three Carnivals that run on a weekly basis:
Carnival of the Cats
,
Bad Kitty Cats Festival of Chaos
, and
Weekend Cat Blogging
. The first two run their submissions through BlogCarnival.com, the last one is external and asks readers to leave a comment on a specific post in order to be included in the Carnival.
In the end, inclussion in the Carnival is up to the Carnival Host, but unless the post is not feline related or in bad taste, it will likely be included because we all like to meet as many cats as we can and see what they are up to.
Blog Carnivals should not confused with
"Synchronised Blogging"
, or "synchroblog", where a group of bloggers agree to post on their own blogs on the same broad topic on the same day. The titles are circulated a day or two beforehand, and each blogger includes links to the other blogs.
Cat Blogosphere has it's own schedule of synchroblogging, and also occasionally uses outside events, like the current "Tocktober" photo post or the Blog Blast for Peace on November 2nd.
The current schedule for Cat Blogosphere's Sychroblogging is as follows:
Monday:
Meezer Monday for all Meezers with
Simply Siamese
Midnight Monday - for all Black Cats aka
House Panthers
Mancat Monday for all ferocious Mancats (sponsored by
The MCats Club
)
Movie Monday for our Feline Fellini Furriends (Post a video of yourself or link to your favorite feline Video.)
Tuesday:
Tabby Tuesday for all
Attack Tabbies
(or other sorts of tabbies)
Tuxie Toosday for all Tuxedo Cats at the
Tuxedo Gang Hideout
Tortie Toosday for those with Tortitude
Tattle Tail Tuesday (for tattling on your beans or fursybs)
Tummy Tuesday for showing off all those kitty tummies
Toesies Tuesday for showing those claws…errrr… toes
Cats on Tuesday
(Weekly postings on all things feline)
Wednesday:
White Wednesday for all Whitsters!
Whisker Wednesday … show off your whiskers.
Wordless Wednesday or Wordy Wednesday, you decide.
Wednesday is Gingersday too for all
Gorgeous Gingers
Meezer Rules Wednesday
(My brofur wishes to start Wacky Weed Wednesay as well, a celebration of all things
catnip
!)
At House Panthers, we also celebrate Blue Wednesday, for all our Russian Blue or Gray Cat House Panther members.
Thursday:
Thursday Thirteen
, da big meme, aka TT or T13
Thankful Thursday
It also
Grr-day
, for all who are fans of Grr.
Friday:
Feline Friday (for all things Feline)
Foster Friday started by
Kat's Cat of the Day
Formerly Feral Friday for all formerly feral kitties
Fractious Cat Friday in honor of Texas started by
KC
Frootbat Friday for cats to show off their big ears
Fashion Friday for our furry fashion diva furriends
Finally Friday (post your weekend plans!)
Friday is also the day that kitties can
Board the Friday Ark
. This is a carnival run on a weekly basis by The Modulator.
Saturday:
Caterday sponsored by the cats at
Coats of Many Colors
.
It is also Photohunter's day, which is a synchroblog hosted by
TN Chick
. Photohunt provides a weekly theme and you must come up with photo to fit that theme.
Sunday:
Easy Like Sunday Morning
(Started by the Good Cats)
Strolling Sunday
Spotty Sunday
So, yes, this can be very confusing, especially to a newcomer.
Mr. Linky's Magical Wigets
is a service that has helped make Sychroblogging a bit easier, by allowing cats participating to leave their links on your page.
(This is used on Cat Blogoshere every day!)
So now you know the difference between a Carnival and Synchroblogging, and hopefully, you are now up to date on all the happenings around the BlogoSphere.
If you have any questions on the BlogoSphere, don't be afraid to ask one of the repurrters. Or you can ask me, if you feel more comfortable doing it that way.
Just...