Today is my bean's purthday. It is a "9" purthday for her, but she says on the whole this not mean anything. After she have another six more, she will quality for senior price for Spring Training tickets for Twins, which is all she care about. Then she will be celebrating!
(Note: we do not do anything for her purthday as she slave, not special, like me.)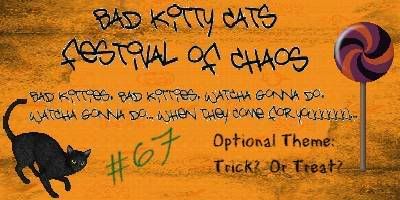 This week I am hosting the
Bad Kitty Cat Festival of Chaos
, edition #67. Our optional theme is
Trick? or Treats?
This my first time hosting Bad Kitty Cats Festival of Chaos, so I hope that you will help make it a success by submitting your posts,
You can
Submit you post here
or if the submit form not working, you can e-mail your post to festivalchaos-AT-gmail-dot-com.
Check back on Sunday evening to enjoy the Festival of Chaos!
I will be hosting the
Carnival of the Cats
on November 9th at House Panthers, so mark your calendar. It's always an exciting time when Carnivals and House Panthers come together.
Last, but not least, I will be hosting
Weekend Cat Blogging
here at Diamond's Lair on November 28-29th. That is my purthday - not to mention Thanksgiving - and I hope that you will all help make that a very special weekend.
Don't forget that tomorrow is Spooky Saturdays at Boolatry. Check out this week's group of Specters: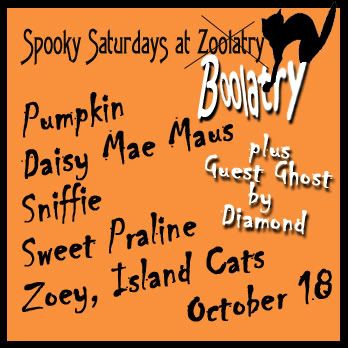 As for T-13, the theme for the October 23rd issue is "Costumed Capers". If you'd like to be one of our guests for T-13, please email me at diamond_cat3-at-yahoo-com. You may send a picture if you wish, or just include your blog address and we will go find a picture to use.
We could not work Miss Peach into this week's T-13, so she will be our first Costumed Creep for next week!
Thursday was
National Feral Cat Day
and I very sorry I could not work that into my post for Thursday. I will post some thoughts on feral cats tomorrow for our Caturday round up.