(Or was it Spooky Movie Monsters. I forget.)

First I want to say, it a great honor to work with all the animal actors who help in the making of these films. The supporting casts were stellar, but without a doubt our stars shined.
If you are looking for a spooky film to watch for Howl-N-Scream, you need look no further than one of these.
So without further ado, let us get started:
1. Wolfman Jake
Jake from the Misadventures of Me was cast for this role from the first. I could think of no other actor more purrfect for it than he. Clap for the Wolfman, he gonna rate your moovee high!
2. Night of the Living T'Abby Normal
Watching T'Abby stagger around looking for brain flavored temptations only proved she was natural for this role. Look at glazed, dead look in eyes and un-natural position of her head. Much like the great Lon Chaney, she communicate much with her body language.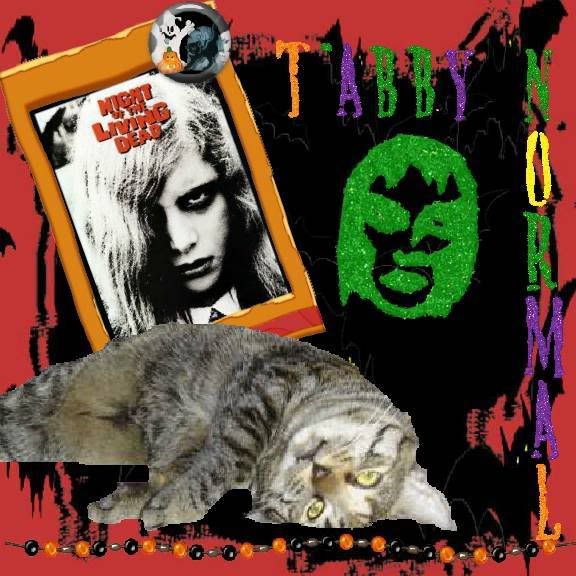 3. My Mummy
Zoey is all wrapped up with no where to go. But really, only thing she want is her mummy. I would not have picked her for this role, but in the end, she proved purrfect!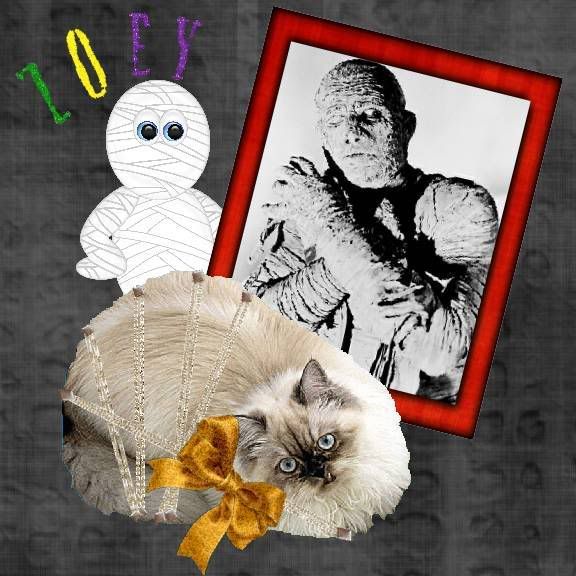 4. Orlando after Midnight
Again, who would have thought that sweet tempered Maggie would pull of her role so so brilliantly. You can feel the terror mount as he stalks through Seaworld, looking for her next victim!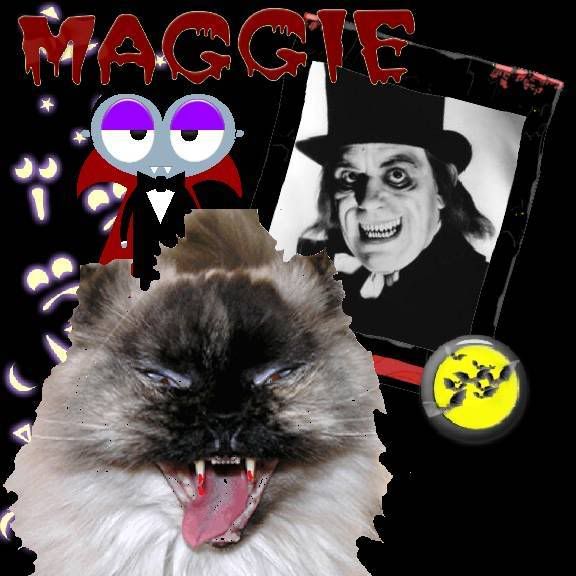 5. The Birds
If you do not think birds are scary to cats, guess again. I get dive bombed often - usually right after I raid a nest - and have to seek cover. Here Stryder has all four paws full this remake of an Alfred Hitchcock classic.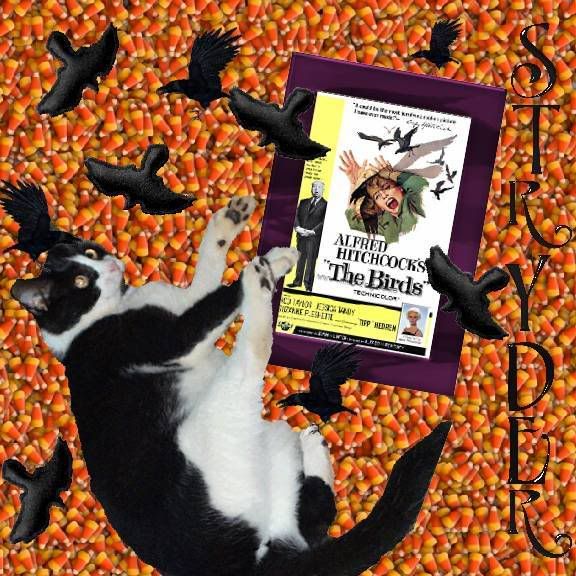 6. The Meep from the Black Lagoon
Or maybe it just the Florida Swamp. He look pretty good in green, don't you think?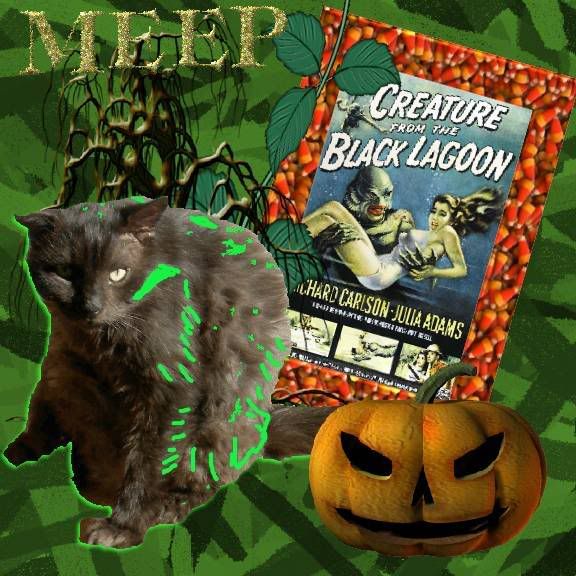 7. Dr Eric and Mr. Flynn
I not sure where one end the other begin, but they both played brilliantly.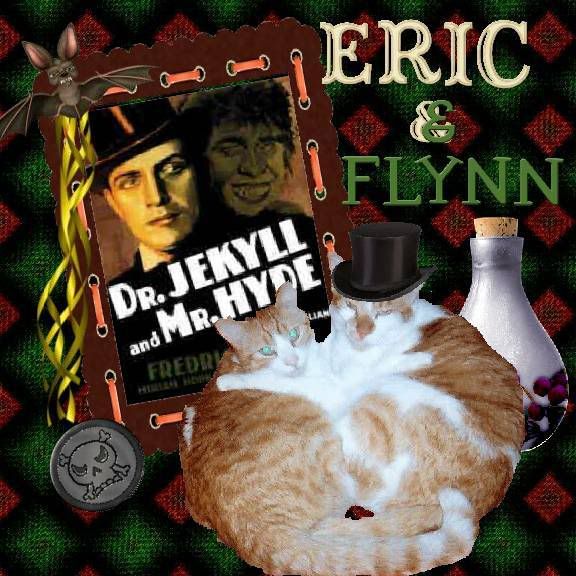 8. The Woofie of the Baskervilles
I get a stellar performance from one of the up and coming Divas of the screen, Roxy. I also want to give kudos to the special effects crew for the work on her evil glowing eyes.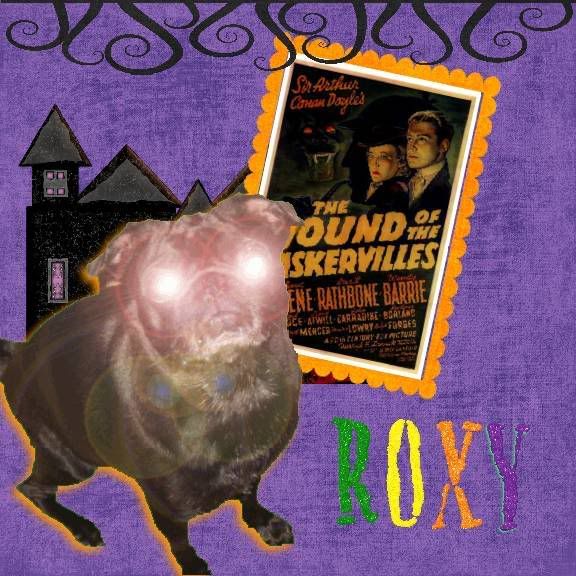 9. Harley-stein
Harley was one of those actor that could have played a number of roles for me, but I think he is perfect as the idealistic Dr. Frankenstein, who seeks to conquer death. Believe me, lady cats will by swooning in the theater when they get a load of his young star. He is a regular Leo DiCatrio.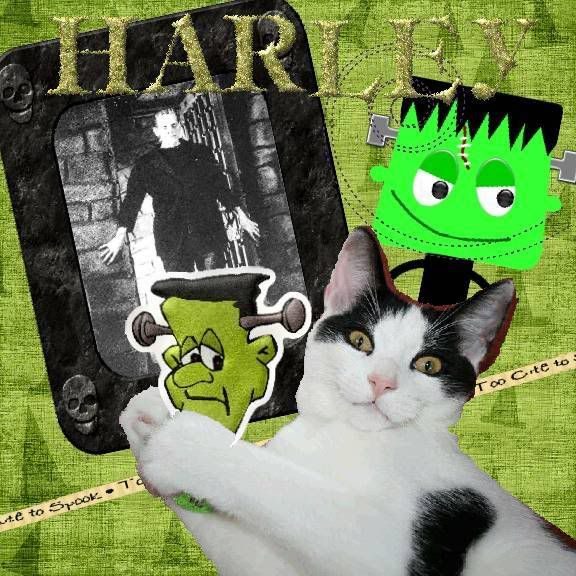 10. The Bride of Harley-stein
"What?" You say. "Samantha Black as the Bride of Harley-stein?" Absolutely. I need more mature cat to pull off the role of the monster's fiance in this stunning sequel. Much thanks to our prop department for procuring the wig for us on short notice.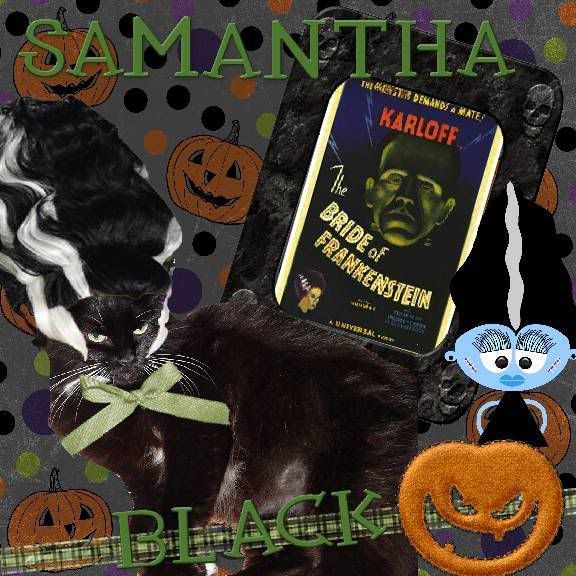 11. King Kat
I have to admit I was very impressed watching Dante drag Rachel Ray to the top of the Empire State Building. Not once did he drop her, although I know some people might think that a terrible tragedy. Sorry, but she was the best co-star I could sign on sort notice.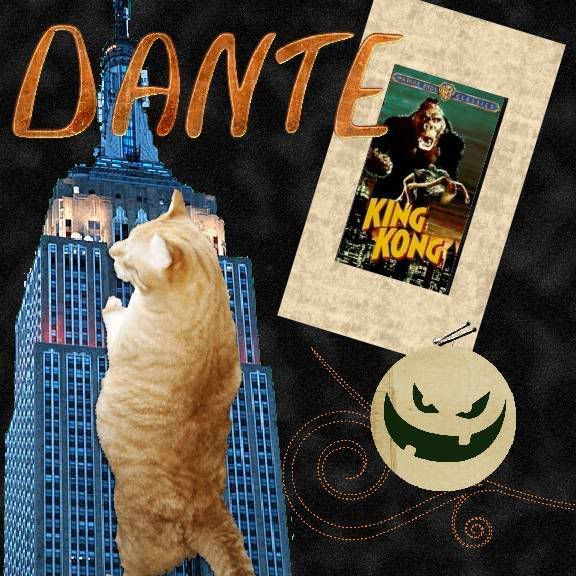 12. The Headless Horsecat
Of all the actors and actresses I work with, none impress me more than Sunny. Not only was this the first time he ride a horse, but he had to shoot all his scenes with pumpkin mask on his head. It was very hot and very uncomfortable, but he still proved to be terrifying in the extreme. This is a film you will not wish to miss.
Long live the Gravy!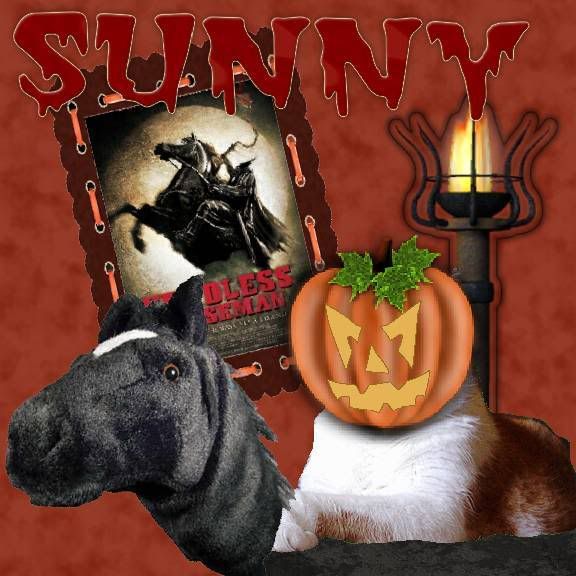 13. The Diamond of the Opera
It is very hard to write, direct, and produce a moovee, let alone act in one as well. So this was quite an experience for me. I enjoy it very much and I hope you will not feel all the best scenes are in the trailer. I think it turned out to be a stunning extravaganza. It just my small tribute the great Lon Chaney, man of a 1,000 faces.
In sleep she sang to me
In dreams she came
That voice which meows to me
And sings my name
And do I dream again?
For now I find
The Diamond of the opera is there,
Inside my mind
There is no Diamond of the Opera!
Raoul, I've been there -
to her world of
unending night . . .
To a world where
the daylight dissolves
into darkness . . .
darkness . . .