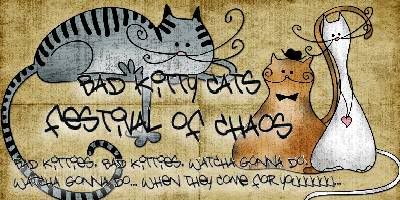 "What you mean," I meow, "no more treats?"
"You ate them all," my bean say.
"I not eat. You give them to tabby brofur." I know what happens in this house.
"No," she insist. "You ate them all. He didn't get that many."
She is wrong and I send her out to store to get more treats. As you can see, I am Angelic, good cat, deserving of many, many, many treats!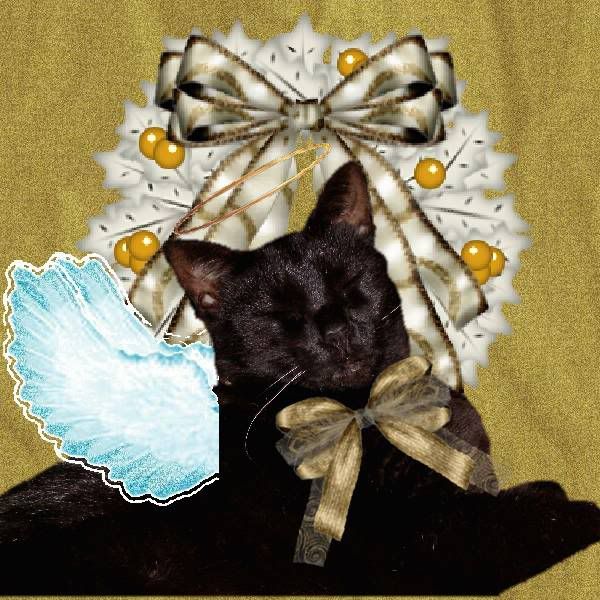 Maybe we should have Bad Human Festival of Chaos?
As for Bad Kitty Cats, Babeth start things off with a bit of
Motherly Love
posted at the
House of Chaos
.
I do not think that Babeth is Bad Kitty Cat either. She probably deserves treats, just not any of mine.
A year ago, Autumn was just
Minding her Own Business
when she get a surprise! Oh boy! Can I sympathize with this one!
OOooo...check it out. Phoebe is having
Friday Fun with Yarn
. My goodness, and that does look like fun too!
Cory Cat relates what happens when you get hooked on Adan Everyday. Things get
Ruined
! Although I don't know milk everywhere does not sound so bad to me. Be happy to help clean up!
Mog, as always have many things to share with us. Starting with the handsome Cece on
Tuxie Tuesday
.
Cece then demonstrates
Caturday Stretching
at
iInfidel
:
Evidently, CeCe gets around a lot.
Goma shows off his devilish side...and wins in
This Is Why I Am Late For Work...sometimes
. Okay, I admit I have not seen Goma's blog before. I will have to start reading. This looks like MUCH fun!
Parker gets an early holiday pressie, and it's very pink. Let her know
So, Whatdaya' Think?
over at
Perfectly Parker
.
In Tabbylicious land, it appears my Tabby Brofur has started a new trend on
Surfin' Saturday
: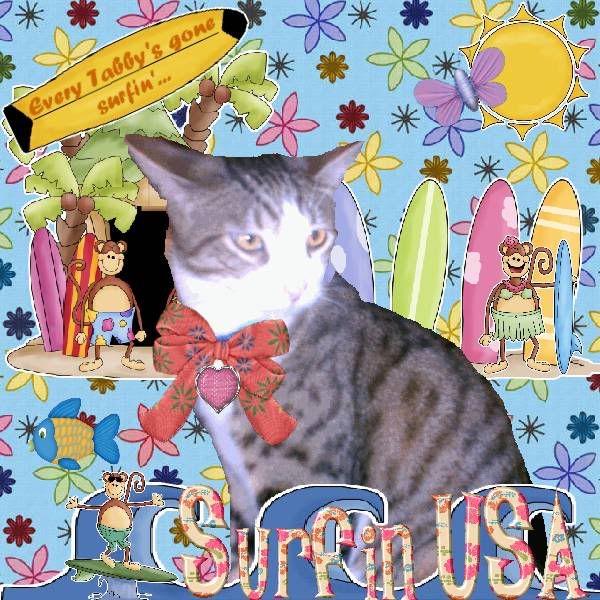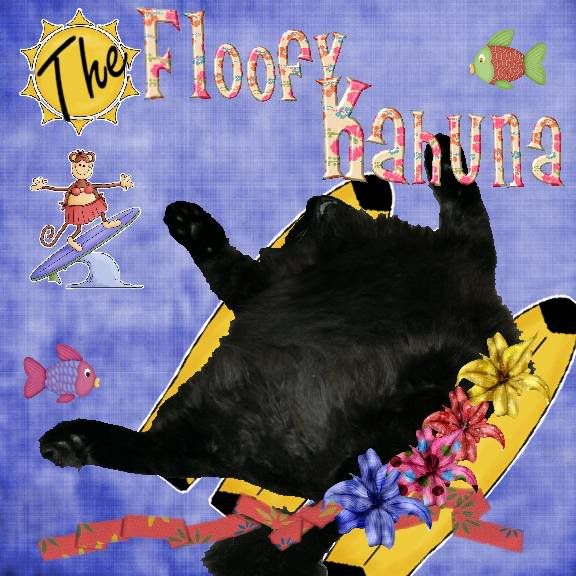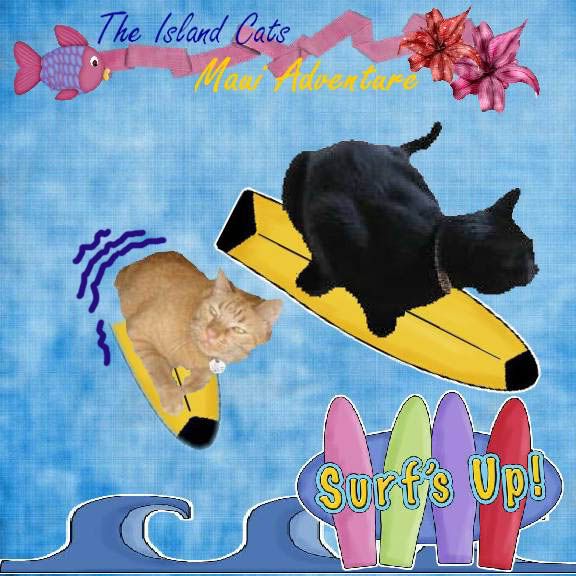 Vampy Victor demonstrates why Cats and plastic bags don't mix in
Plastic Bag + Cat = Bad News
:
Since you are already here at my Harvest Home, be sure to our 13 very special guest cats during this week's
T13: the Woods Out Back
. This finishes off a week in which I explore the world of my fairy minions. Very exciting news too...my
Wednesday post on the wee folk
has drawn the attention of the
Celitic Myth Podshow
and I have been asked to appear as a guest blogger!
My bean has an addition to that post which talks about fairies being hidden children and how it equates to the Scandinavian legend of the Huldra as she also shows us a
Pretty Fly
on
Digicats
.
Our furriend Moki has been furry sick with a urinary track infection. So while Rocky look like he taking it
Easy Like Sunday
he really doing something for Moki!
Over at Life from a Cat's Perspective, Samantha Black and Mr. Tigger
list 13 things they like doing
that can sometimes get them in trouble.
It's Caturday...and what are those kitties doing? Find out at
The Catboys Realm"
!
CeCe has also been working hard, doing some
Caturday Painting
. I hope he not get it all over his nice furs!
Hosting a blog carnival can be hard work, but hosting Bad Kitty Cats Festival of Chaos is no where near as hard as taking on the Carnival of the Cats, as Miss Mog finds out in
Easy Like Sunday Evening
.
Also, a public service announcements...this one from
Zoolatry
:
Remember to thank them for defending our freedom!
Also check out Zoolatry's
The Cat Realm "Dares"
...Zoey as been furry, furry, busy...
Need more Chaos? Check out the
Carnival of the Cats
at
The Catboys Realm
, and
Weekend Cat Blogging
at
CatSynth's FEMA Trailer
.
We will be hosing Weekend Cat Blogging on Sunday, November 30th for my Birthday Bash Blowout and House Trashing party, so mark your calendars!
Also, we're Talking Turkey this Thursday at
Diamond's Harvest Home
with special guests Geegaw Annie and Leah, the Mosaic Dog, her boyfriend woofie Titus, Mr Hendrix the Kitty, Bear, Ginger from Cory Cat's Blog, Ed, Fagin, Flynn, Cookie, and Gemini, Maggy & Zoey, and Eduardo the Snuggle Puggle. Be sure to stop by and grab some thanksgiving goodness!
Thank you for stopping by the
Bad Kitty Cat's Festival of Chaos!
That's a wrap!